360° Experience
We'd like to think you instinctively feel it's not just our passion for boating or the quality of craftsmanship that sets Nimbus apart. It's the result of generations of experience made stronger by modern technology.
Here below you can experience the Nimbus C9 up-close in a virtual tour.
The C9 is the third in the new nine-meter Nimbus series following the latest W9 and T9 models. The C9 is a purpose-built, rapid commuter vessel, constructed to equally meet the needs of year-round commuters, active day-trippers, or those planning longer, staged journeys with overnight stays.
Contemporary Scandinavian design
The Nimbus C9 is a boat for connoisseurs of contemporary Scandinavian design; those who appreciate well-thought-out solutions and smart functionality. The spacious cockpit offers splendid natural light, with a large, sliding glass roof hatch and a modern, snug helm position.
The swiveling cockpit chairs provide ample space for four people to dine or space for five people in total. The cockpit passenger sofa converts easily into an extra bed for two children or one adult. The forward cabin has room for a double berth with separate head and kitchenette.
"Unlike other boats in the commuter category, the C9 offers excellent overnight accommodation, with room for two adults and two children thanks to its spacious forward cabin and convertible salon." says Joacim Gustavsson.
In place of the glass roof (fitted as standard), the boat can be equipped with an electronically opening canvas canopy, ideal for those wishing to optimize the open-air feeling on warm summer days. The driver's position has space for two people and can be equipped with single 9″, 12″, or twin 12″ chart plotters. The foredeck features a large loading hatch with access to the cabin as well as an optional daybed which creates an extra seating area that seats 4 people with either a table or extended sunbed. The aft deck houses a wide sofa with ample stowage.
"It is important to us that we are able to meet the needs and wishes communicated to us by our customers, the people who use their boats to get around on a daily basis. This is why we have created a modern commuter, for those who travel in typical Nordic weather throughout the year. However, it would be remiss not to point out that this remains a leisure craft and should not be compared with models built for professional boat categories," says Jonas Göthberg, commercial director at Nimbus.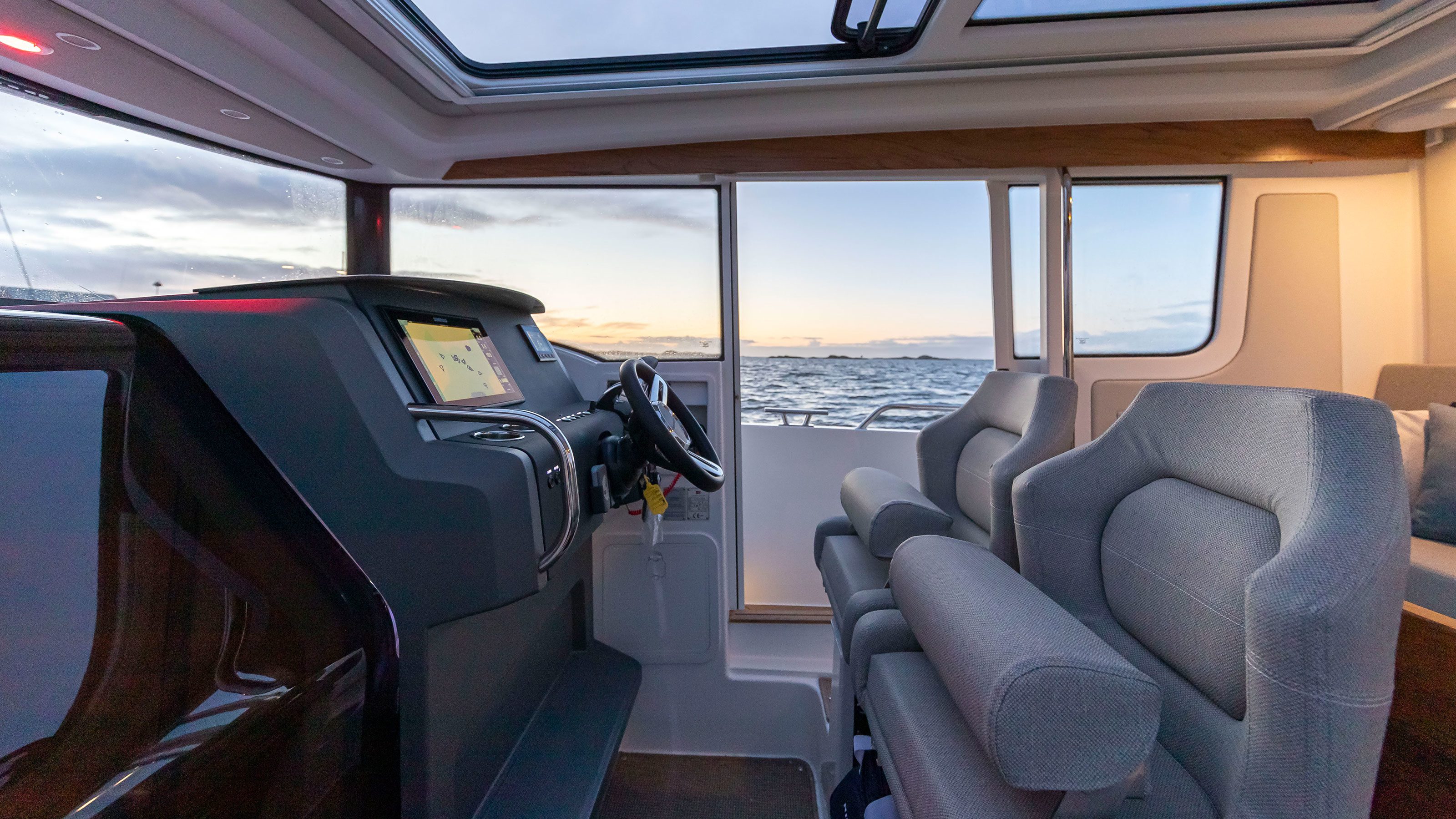 Dashboard can be fitted with single 12", 16″ or twin 12″ plotters.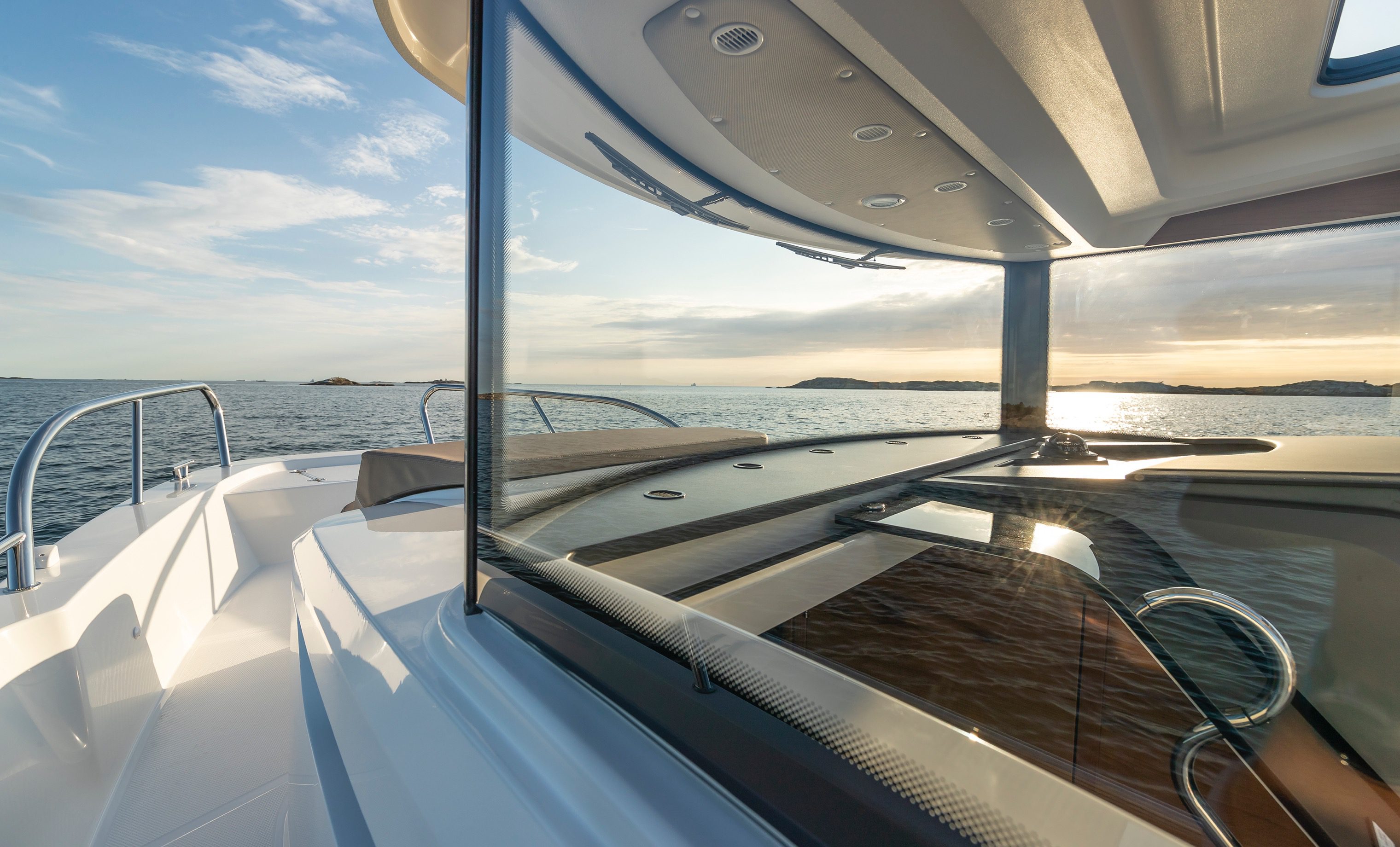 The panoramic windows provide a 360° field of view.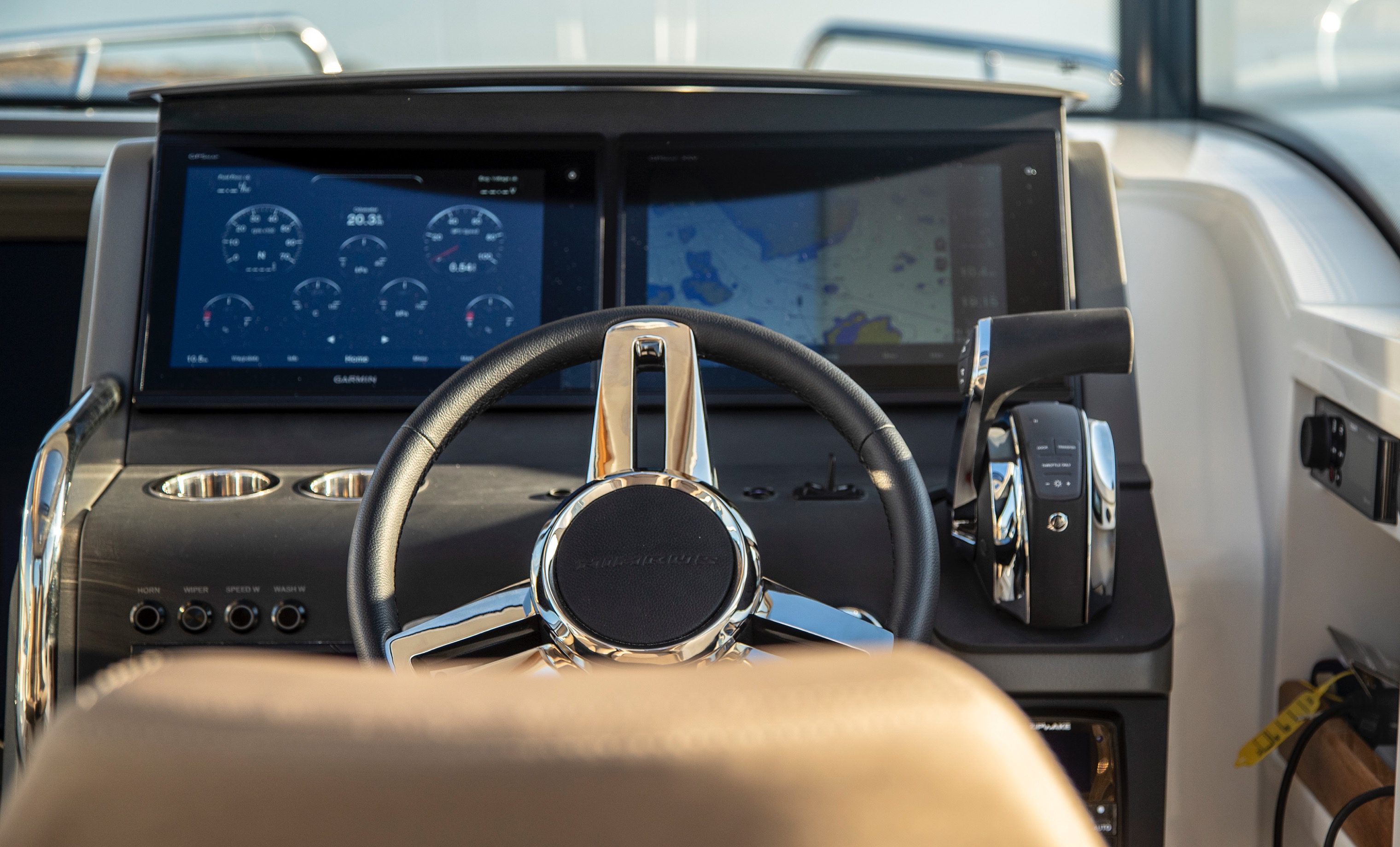 Dashboard can be fitted with single 12", 16″ or twin 12″ plotters.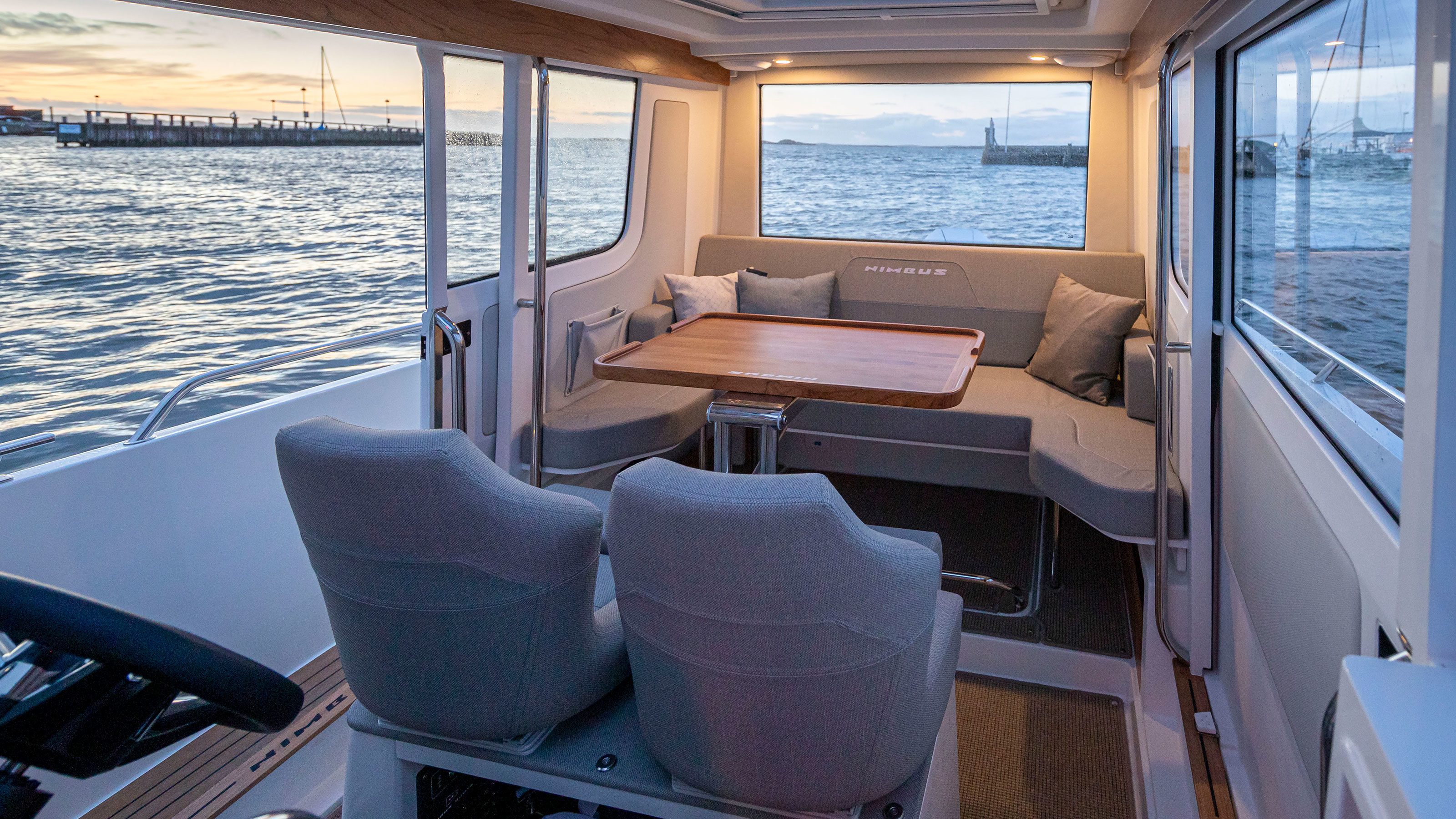 Extra-large sliding doors with passages through which two people can pass in comfort.
Comfortable all year around
"The C9 is a contemporary commuter vessel designed to make daily life onboard as simple and comfortable as possible, irrespective of whether you are travelling alone or with passengers. We have prioritized freedom of movement over interior volume in order to make it as easy as possible to board, move freely around the vessel and disembark. As a starting point for the design process, we sought inspiration and DNA from our Max II Coupé and Paragon Series," explains Joacim Gustavsson, chief designer at Nimbus Boats Sweden AB.
The Nimbus C9 is a thoughtfully designed vessel that offers appropriate functionality for those seeking a spacious, fast, year-round commuter but who would also like to travel under cover on longer staged journeys or active daytrips.
Joacim Gustavsson
Chief designer at Nimbus
Technical specification
On the link below you'll find a browsable and downloadable technical specification where we'll explain and show you images, features & functionality and more of the Commuter 9. Enjoy!
Nimbus C9 - Brochure 2020
Quick facts
Completely new air lubricated stepped hull design, built for exceptional sea worthiness and handling
Minimal planning threshold razor sharp bow section
Speed characteristics +40 knots, cruising speed 20-35 knots
Single or twin engines*
Walk-around deck layout
Extra-large sliding doors with passages through which two people can pass in comfort
Large sliding glass roof hatch, or electronically opening canvas canopy
Cockpit passenger sofa that can be converted to an extra bed
Aft deck sofa with storage
Indoor galley with fresh water and gas (LPG) or electric hob*
Nimbus crockery and cutlery for 4 people*
Dashboard can be fitted with 9″, 12″, or twin 12″ plotters
Fishing rod holders and roof racks*
Sunshade on fore and aft deck*
Eco-Teak or Teak deck*
Electric windlass*
Diesel heater / defroster*
Hifi package High-end*
Multiple navigation equipment options*
Great choice of equipment for personalization
Sofa/seating on foredeck with table*
Large loading hatch on fore deck with access to cabin
*Optional Equipment
Commuter 9
Technical Specifications
| | |
| --- | --- |
| Length | 9,35 m / 30 ft 8 in |
| Width | 2,95 m / 9 ft 8 in |
| Weight (Mercury 350 hk) | 3 170 kg / 6 989 lb |
| Max Air Draft | 2,65 m / 8 ft 8 in |
| Fuel Capacity | 320 l / 84.5 US gal |
| Fresh Water Capacity | 56 l / 14.8 US gal |
| Black Water Capacity | 40 l / 10.5 US gal |
| Design Category | C8 |
| Number of beds | 2 |
| Speed | 40+ knots |
Engine Alternatives
| | |
| --- | --- |
| Mercury Verado V8 | 250 hp |
| Mercury Verado V8 | 300 hp |
| Mercury Verado V10 | 350 hp |
Standard Equipment
Mercury Verado 250 hp (COLD WHITE)
Bow thruster
Zipwake dynamic trim-control system
Simrad Plotter, NSX 9"
Shower on aft deck
Fresh water system
Separate head with wash basin
Refrigerator
Lightning package
Stainless steel pulpit
Carpets and decoration pillows
Table in cabin
Mooring canopy