360° Experience
We'd like to think you instinctively feel it's not just our passion for boating or the quality of craftsmanship that sets Nimbus apart. It's the result of generations of experience made stronger by modern technology.
Below you can experience the Nimbus T8 up-close in a virtual tour.

A multifunctional, well-equipped and fast day boat intended for day-to-day activities and water sports, with overnight accommodation for two – a worthy successor to the Nova and R-series.
Integrated functionality and freedom of movement
Like the T9, the T8 has a wide walk-around deck design which allows for maximum freedom of movement and makes it easier for passengers to board and deboard.
On the foredeck is a sunbed which provides lounging space for 4 people. The foredeck also conceals a large loading hatch with access to the cabin for easy loading.
The cockpit has inherited the same clean "look-and-feel" as the T9 and can be equipped with either a 9" or 12" plotter. Reversible helm seats and a mounted retractable table allow for a dining area for five people in three easy movements. The aft sofa accommodates 6 people, 3 facing aft and 3 facing the forward. The backrest on the aft sofa can be set to three different positions depending on intended use – seating while underway (upright position), aft lounge sofa (angled) or full sunbed (folded down).
Under the aft sofa there is a retractable refrigerator and an easily accessible storage compartment for storing equipment. On the aft deck there is also a shower outlet and two side storage compartments.
Below deck there is a two-person berth with integrated ventilation, LED lighting, ample stowage and a separate head with sink. A galley facility is available via a retractable gas burner, as well as an optional wet bar with wash basin on the port side of the cabin.
The T8 is available with three different canopy solutions – harbor cover, helm canopy or as a T-Top design with a large canopy that covers the entire aft deck.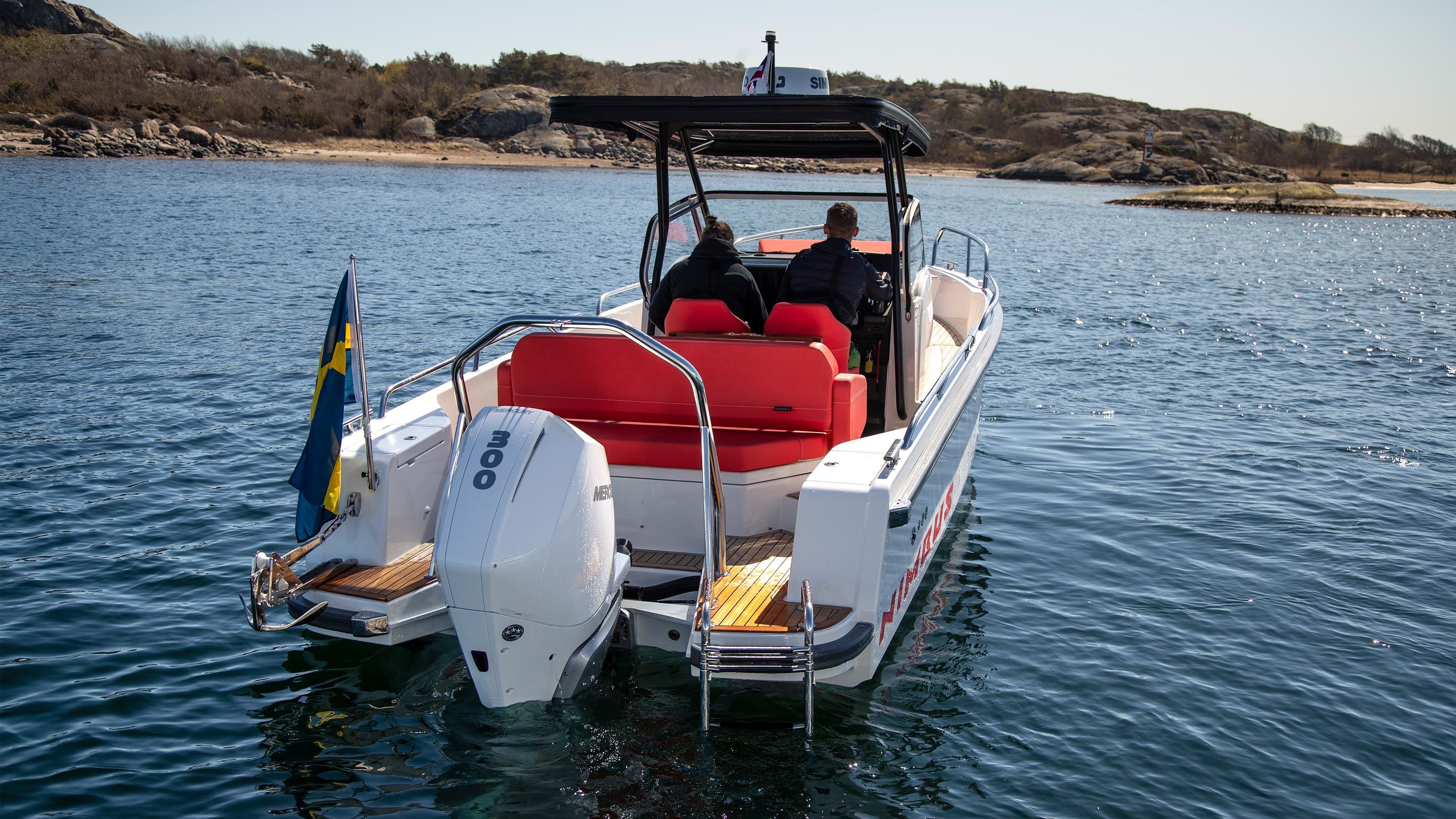 T8 has a wide walk-around design with generous areas for moving around the boat, which contributes to extra freedom of movement on board and makes it easy for passengers to board and deboard.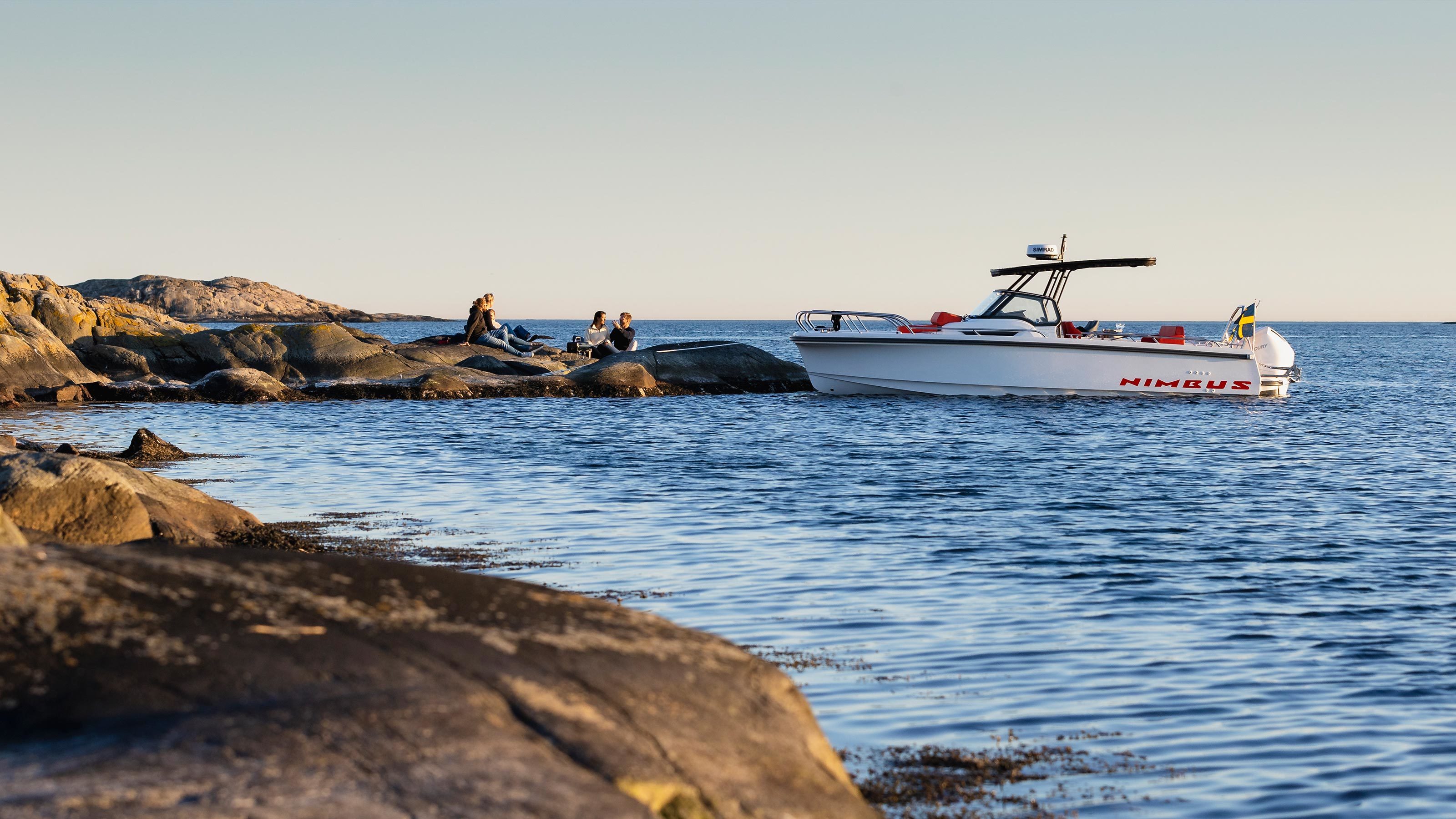 The T8 is available with three different canopy solutions – harbour cover, helm canopy or as a T-Top design with a large canopy that covers the entire aft deck.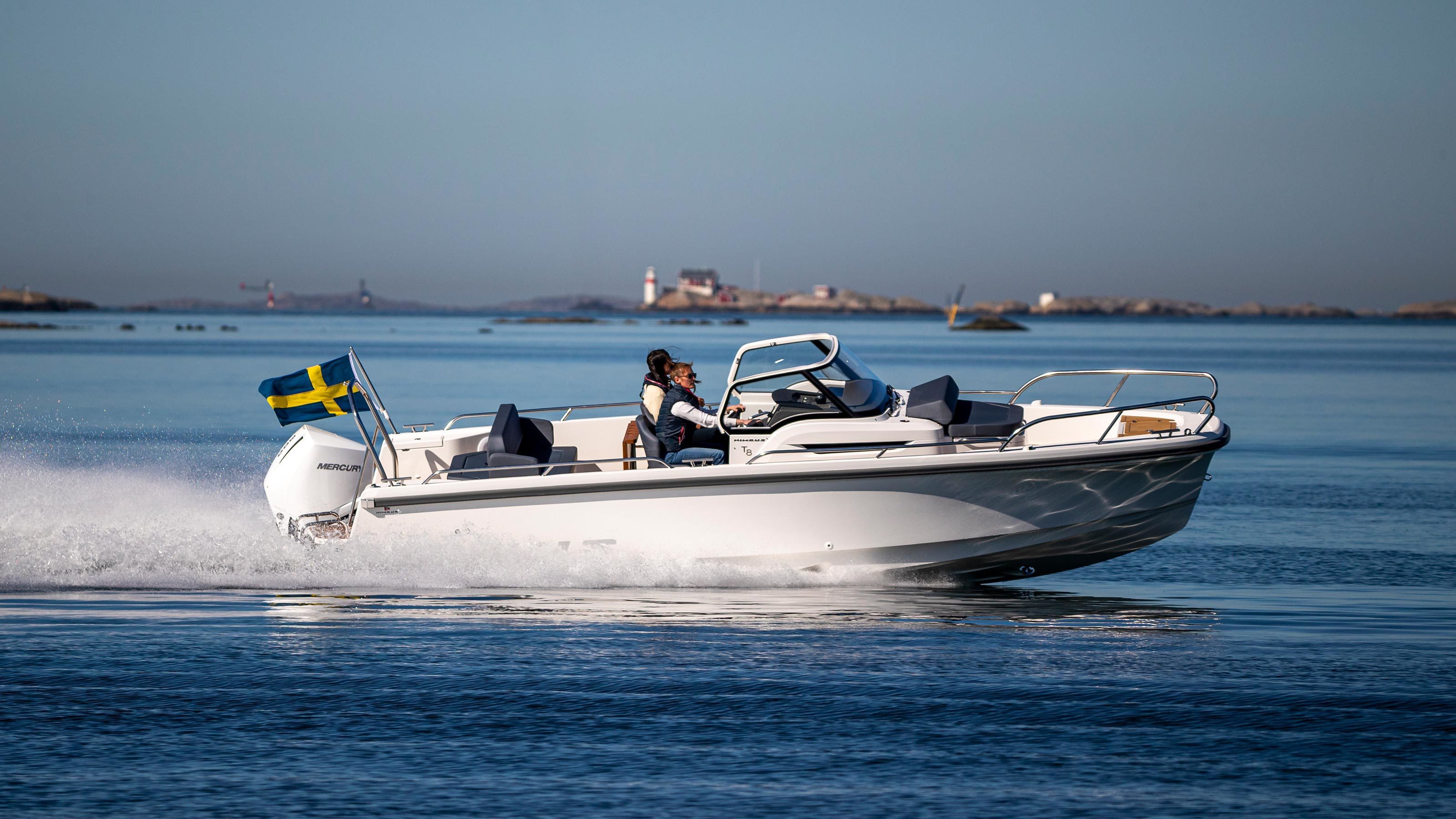 T8 was designed with a newly developed air-lubricated stepped hull with excellent seafaring qualities and a low planning threshold.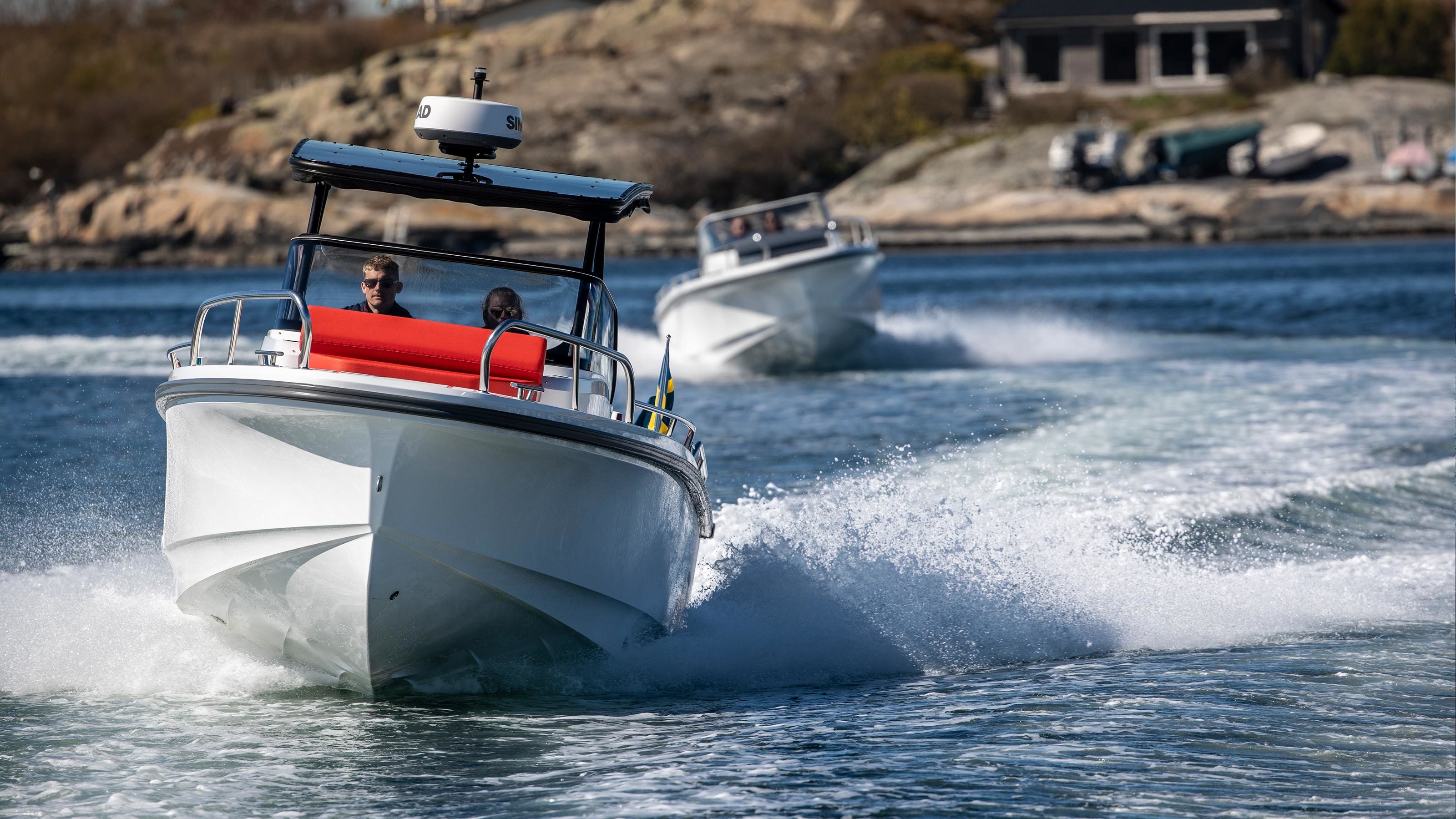 The T8 has a cruising speed between 20-35 knots, with a maximum speed in excess of 40 knots.
T-Top with polycarbonate roof
A new feature of the T8 is that it can be equipped with a robust T-top with a polycarbonate roof that provides sun protection without detracting from the open-air feel you want from a day boat.
The combination of the T-top and large canopy, which covers the entire aft deck, makes it possible for 5 people to sit comfortably in a bright and spacious yet sheltered setting. The T8 is approved for a maximum of 8 people.
"The polycarbonate roof on the T-top, in combination with the canopy, makes it possible to stay sheltered during the journey, even when the weather takes a turn for the worse. This extends the boating season and expands the areas of use, not least in Scandinavia", says Jonas Göthberg.
The T8 is a Scandinavian day boat that represents a further evolution of the Nova and R-series. The T8 combines elements of design, functionality and DNA from the 230R, 250R and 26 Nova with Nimbus' current classic style – a functional day tender for those who appreciate genuine Scandinavian design and value well-considered solutions and comfort
Jonas Göthberg
Commercial Director at Nimbus
Is the T8 the right boat for you?
The Nimbus T8 is a genuine, well-equipped, fast day tender with walk-around design that is perfect for day trips and water sports. It has a two-person berth and is an ideal boat for those who appreciate classic Scandinavian design and value functional solutions and comfort.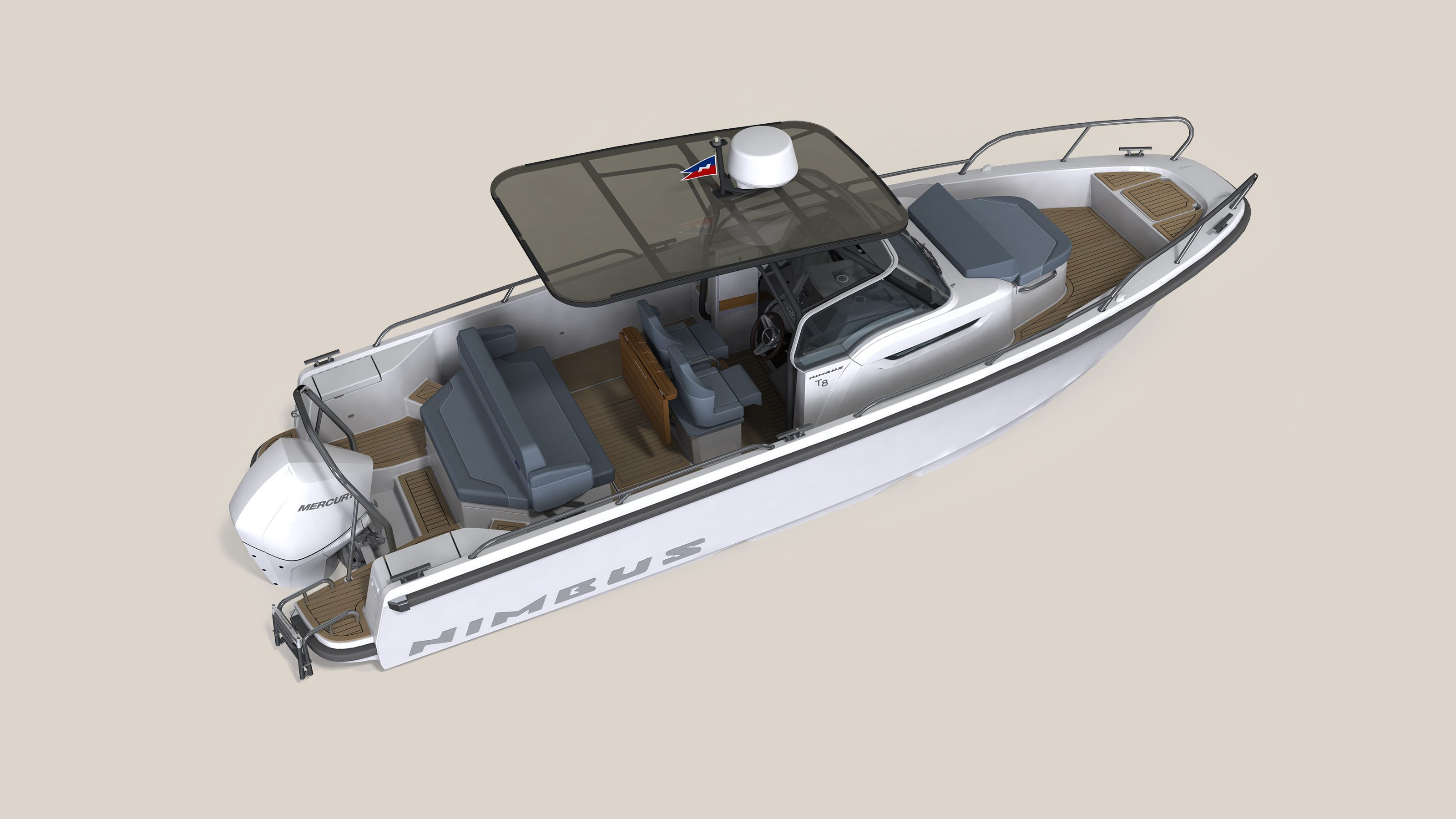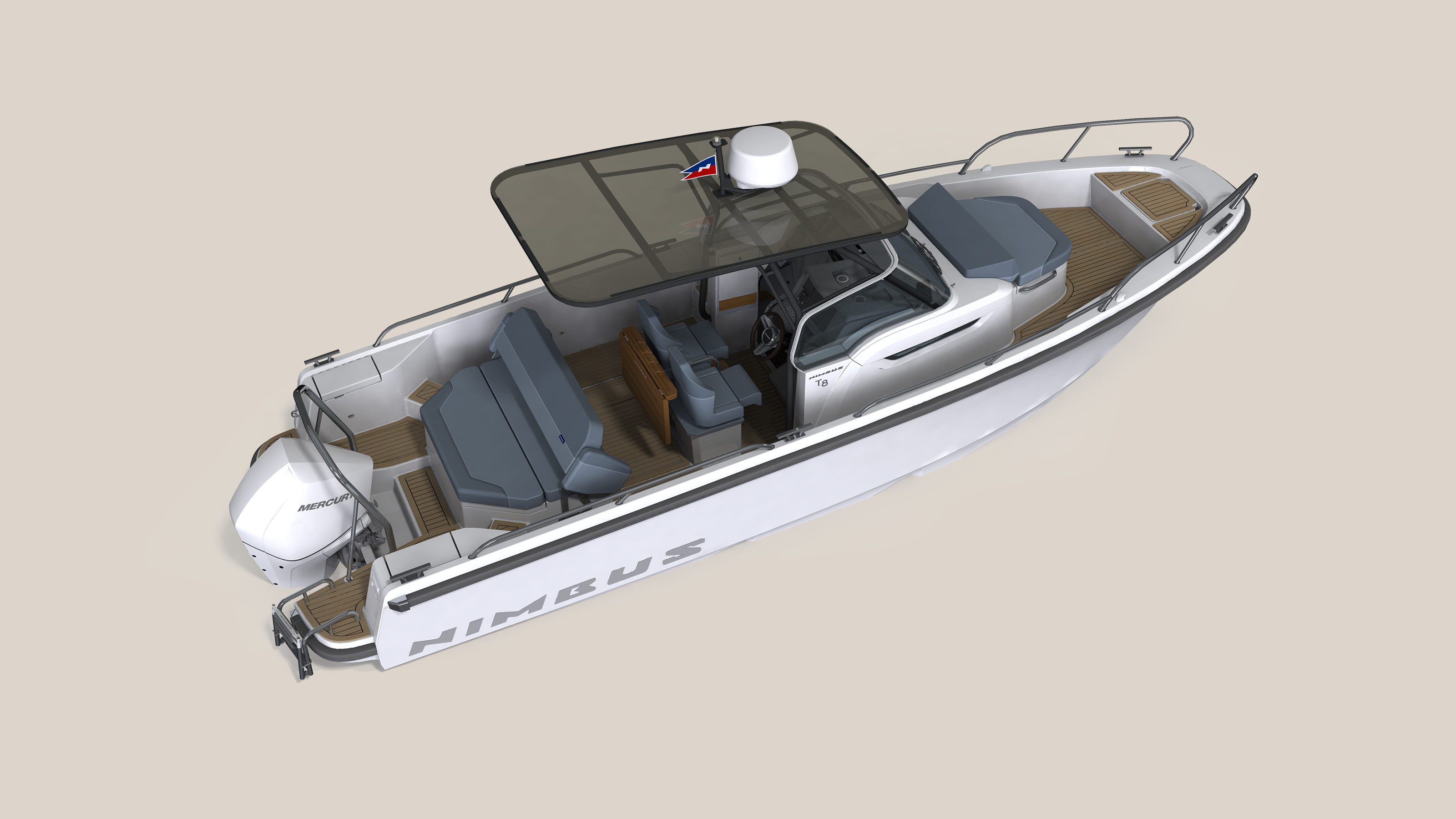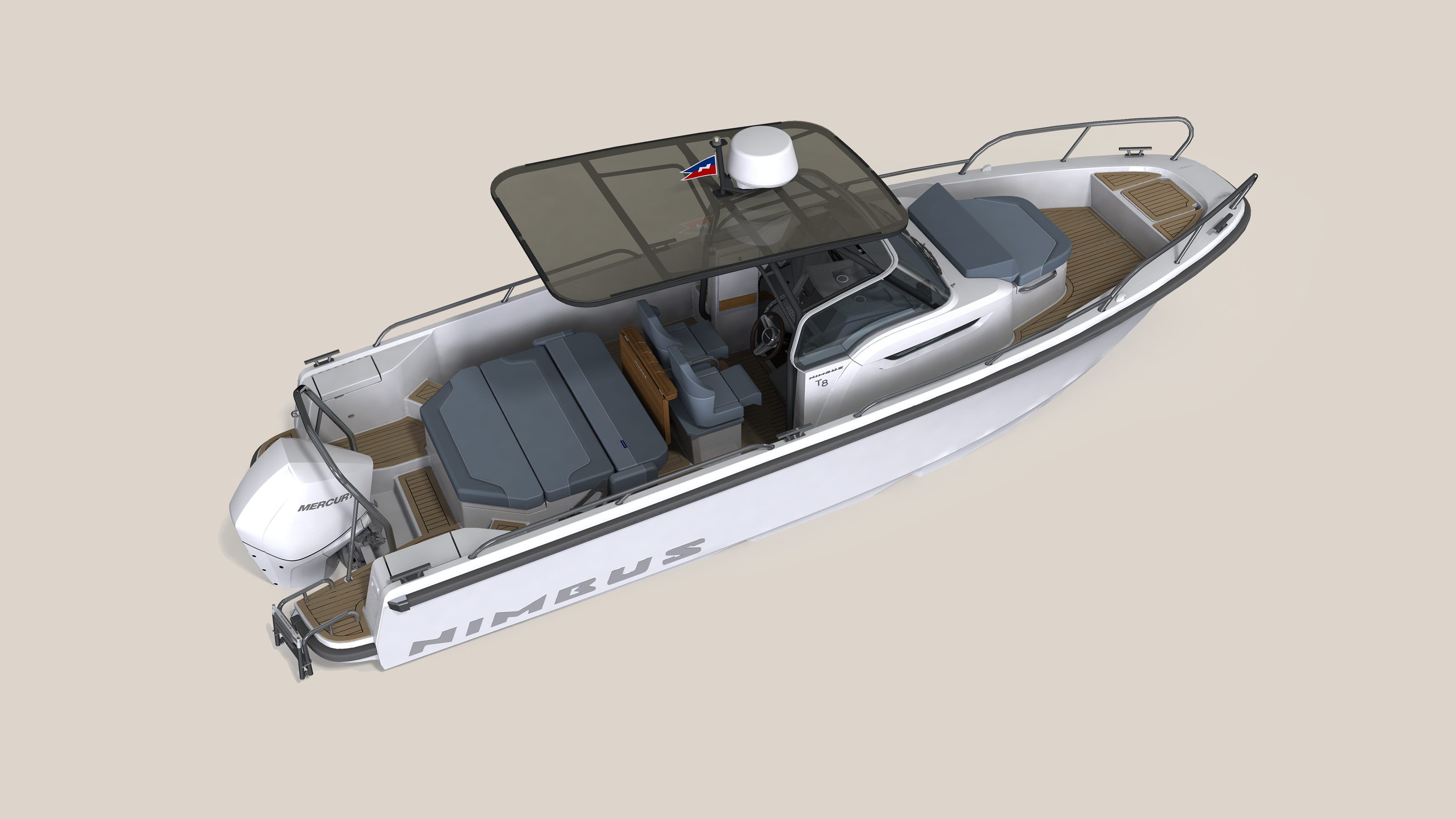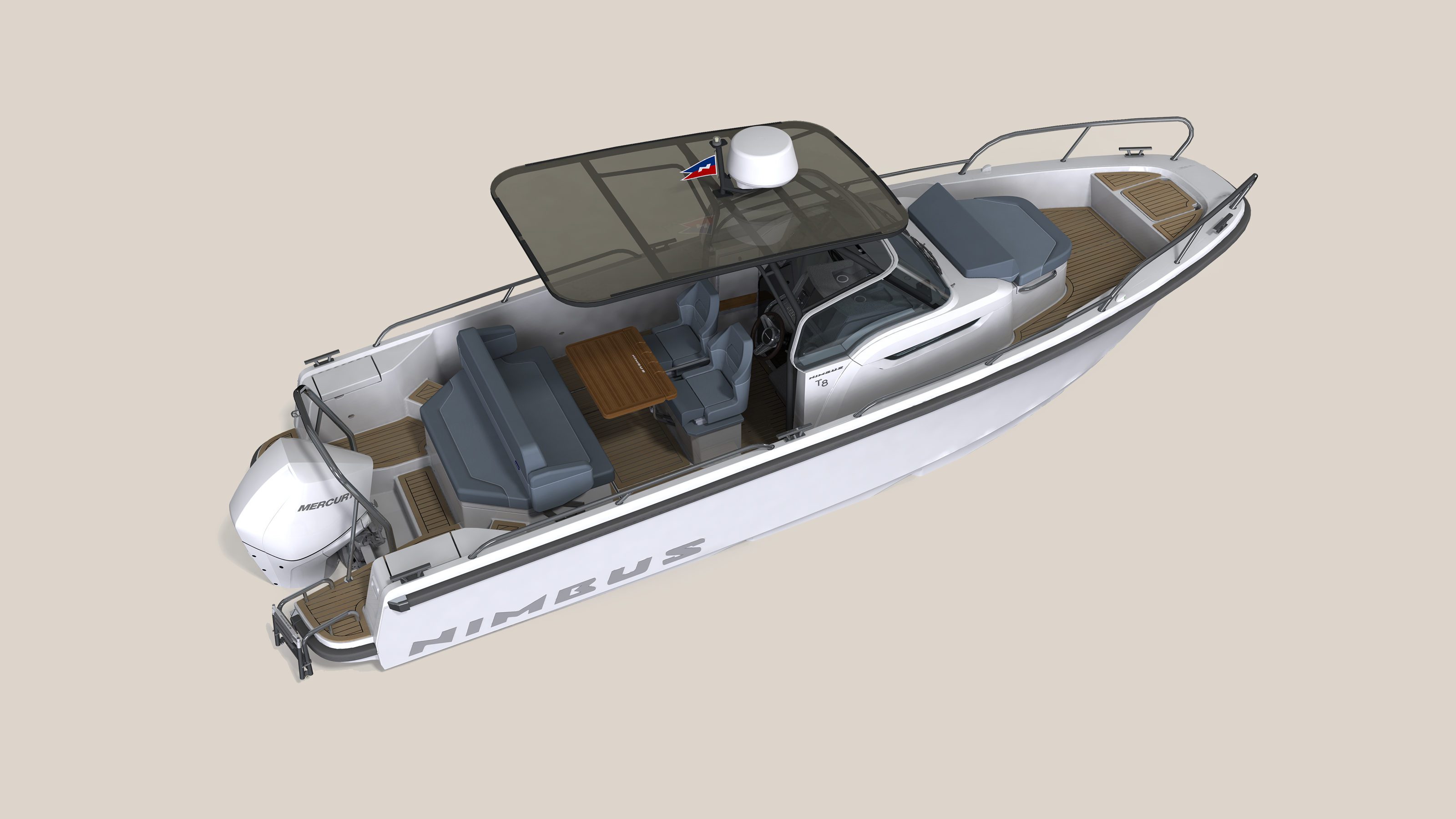 Technical specification
On the link below you'll find a browsable and downloadable technical specification where we'll explain and show you images, features & functionality and more of the Tender 8. Enjoy!
Nimbus T8 - Brochure 2020
Technical Specifications
| | |
| --- | --- |
| Length | 7,93 m / 26 ft 2 in |
| Width | 2,55 m / 8 ft 4 in |
| Weight (no engine) | 2300 kg / 5070 Ib |
| Max Air Draft | 2,97 m / 9 ft 9 in |
| Fuel Capacity | 240 l / 63.3 US gal |
| Fresh Water Capacity | 50 l / 13.1 US gal |
| Refrigerator Capacity | 30 l / 7.7 US gal |
| Design Category | C8 |
| Number of beds | 2 |
| Speed | +40 knots |
Engine Alternatives (COLD FUSION WHITE)
| | |
| --- | --- |
| Mercury Verado V6 | 200 hp |
| Mercury Verado V8 | 250 hp |
| Mercury Verado V8 | 300 hp
 |