360° Experience
We'd like to think you instinctively feel it's not just our passion for boating or the quality of craftsmanship that sets Nimbus apart. It's the result of generations of experience made stronger by modern technology.
Step aboard the Nimbus 365 Coupé via virtual tour.
The 365 is an international award-winning boat with superior design qualities - where large spaces for socializing and leisure activities have been combined with excellent long distance cruising characteristics. The 365 is all about functional design and is built for the conscious boater who appreciates simplicity, comfort and safety, but also for families who want to enjoy a perfect weekend cruise.
Model year 2022
The model year 2022 for Nimbus 365 offers some exciting modifications that will improve the look of the boat, both exterior as well as interior. The side cabin portlight has changed shape and doubled in size, offering more natural light in the cabin. All portlights are also painted in a fresh white color, which, in combination with their new shape and size, result in a more modern look and feel throughout. Additionally, a new Nordic Oak wood finish is available. The oak, in combination with a new cushion fabric color "Carbon Beige", and the new roof panel in "anthracite" above the dashboard gives the boat a light, modern, and elegant Scandinavian touch.
On the exterior, the signature waterline has also been modified. The new colors, dark blue and smoke silver, give the boat a fresh elegant look.
Technical specification
At the link below you'll find a brochure including technical specification, images, features, functionality, and more on the 365 Coupé.
365 Coupé - Brochure 2020
Function, function
and function
The most eye-catching feature of the 365 is its exterior profile. The new 365 has a more modern design language, with sportier contours inherited from its sisters, the 305 and 405. The intention has, of course, been to provide the boat with an appearance more in harmony with the rest of the Coupé range, but above all it is a matter of improved functionality.
Examples of this functional and improved design are a stronger bumper list, improved visibility from the helm position and salon, a new D-pillar with integrated ventilation, double sunroofs allowing for more natural light in the salon, an extended aft roof for better shelter and easier canopy handling, a new, improved side door and redesigned pulpits with improved functionality and safety.
"With our new Coupé models, we are reaching an entirely new and generally younger target audience, one that prioritizes simplicity, quality and ability to socialize. This process began with the introduction of the 365 Coupé side-walk design, which won European Powerboat of the Year 2012. Since then, all new Coupé side-walk models have been nominated for or won prizes. We are positive about the future and feel secure in the knowledge that we have a series of really great models stuffed with functionality that we know customers want," says Jonas Göthberg, commercial brand manager at Nimbus.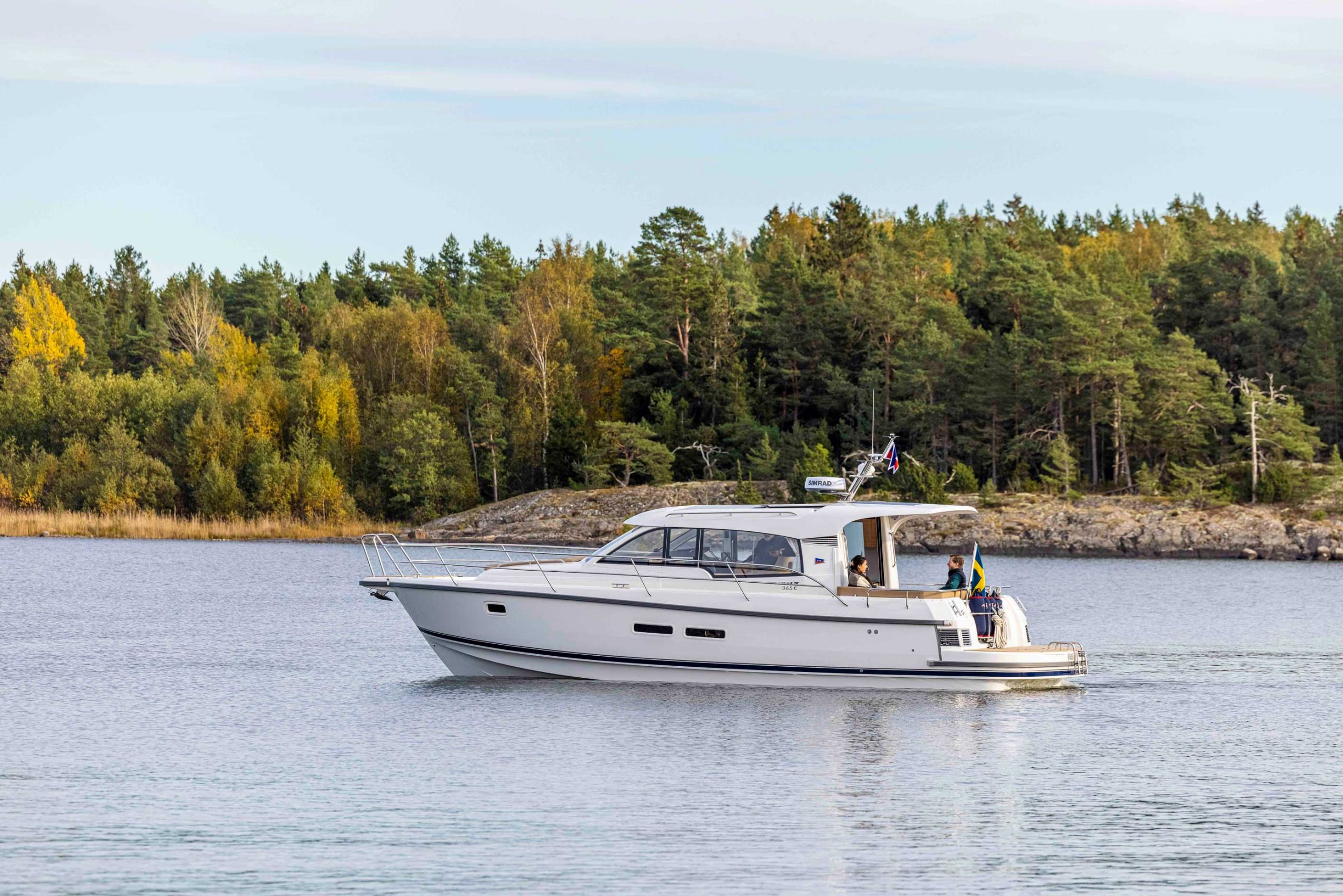 The 365 Coupé is a modern, sturdy and functional boat perfect for a reliable and enjoyable life at sea.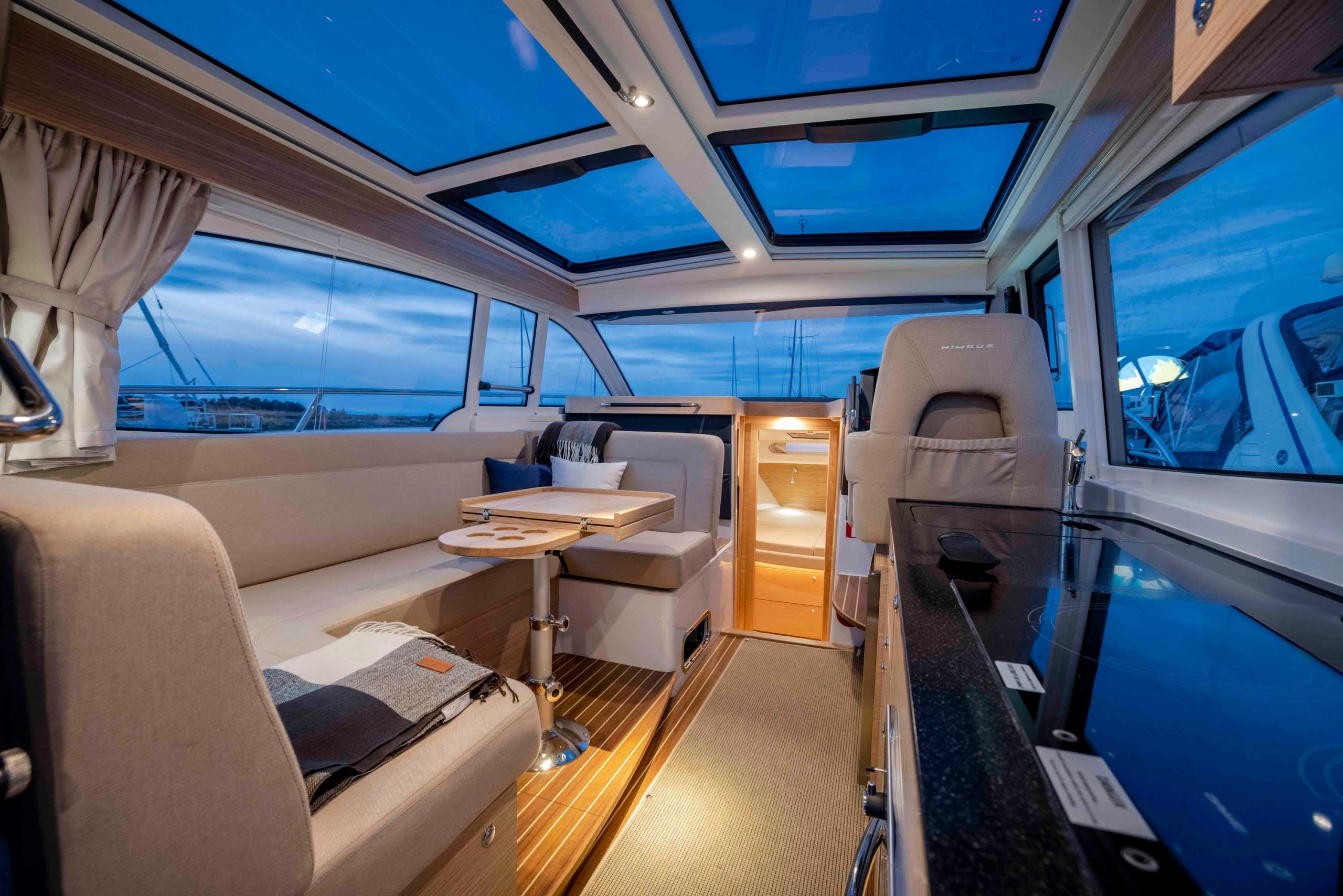 The 365 Coupé is a modern, sturdy and functional boat perfect for a reliable and enjoyable life at sea.
As we are aiming at aware and often knowledgeable boat owners and families that actually use their boats, we always prioritise function over design. We call this functional design, something which is deeply embedded in the Nimbus brand and DNA. At the same time, we naturally strive to make our boats as beautiful as possible,
Joacim Gustavsson
Chief designer at Nimbus
An interior characterized
by Scandinavian design
The interior of the 365 offers genuine quality with a beautiful dark mahogany finish, creating a delightful contrast to the light varnished surfaces and adding a feeling of warmth. The boat has two cabins – the master cabin and guest cabin – with a common toilet. One key innovation is that both cabins are equipped with high cupboards/wardrobes for increased storage. The bulkheads in each cabin are fabric-covered in light sound-absorbent material. LED lighting throughout the boat is well appointed and creates a cozy interior. Integrated ventilation makes a considerable difference to air circulation and quality.
Space in the salon has been maximized so it feels even lighter and more spacious than the previous model.
The extra-large glass roof and two large sunroofs with integrated blinds (electric or manual) offer generous natural light. The salon has large even surfaces but still feels cozy.
The reversible passenger sofa has space for two adults or one adult plus two children who can face in the direction of travel. The U-sofa in the salon is large and has room for a large table, with ample space for four people to eat or six to relax in comfort. The U-sofa also easily converts to an extra double bed.
The 365 has laminated windows with a large arched front windshield, a new flush-fitting sliding door to starboard and a fully openable window to port.
Sidewalk design
The 365 Coupé is the second largest model in the Nimbus
award winning side-walk Coupé series. The side-walk
design concept provides generous freedom of
movement, making getting on and off the boat easy and
safe. It also adds ease-of-movement around the boat
from bow to stern. The 365 is equipped with solid
pulpits in stainless steel for extra safety and a large
integrated sunbed on the foredeck. Concealed on the
starboard side you will find the fuel tank, septic tank
discharge and improved efficiency drainage.
The 365 has a large aft deck leveled with the swim platform
and salon. The high frame and heavy door to the swim platform give
an additional feeling of security. In comparison to previous models, the L-sofa
provides better comfort thanks to its greater depth and better back
support. The table is also larger to accommodate a better dining experience.
The 365 also been adapted for a smaller engine in order to meet stringent
environmental requirements, such as those for Lake Constance.
Equipped with a single Volvo Penta D4-260, the 365 is lighter,
more fuel-efficient and exhibits "smart speed" similar characteristics.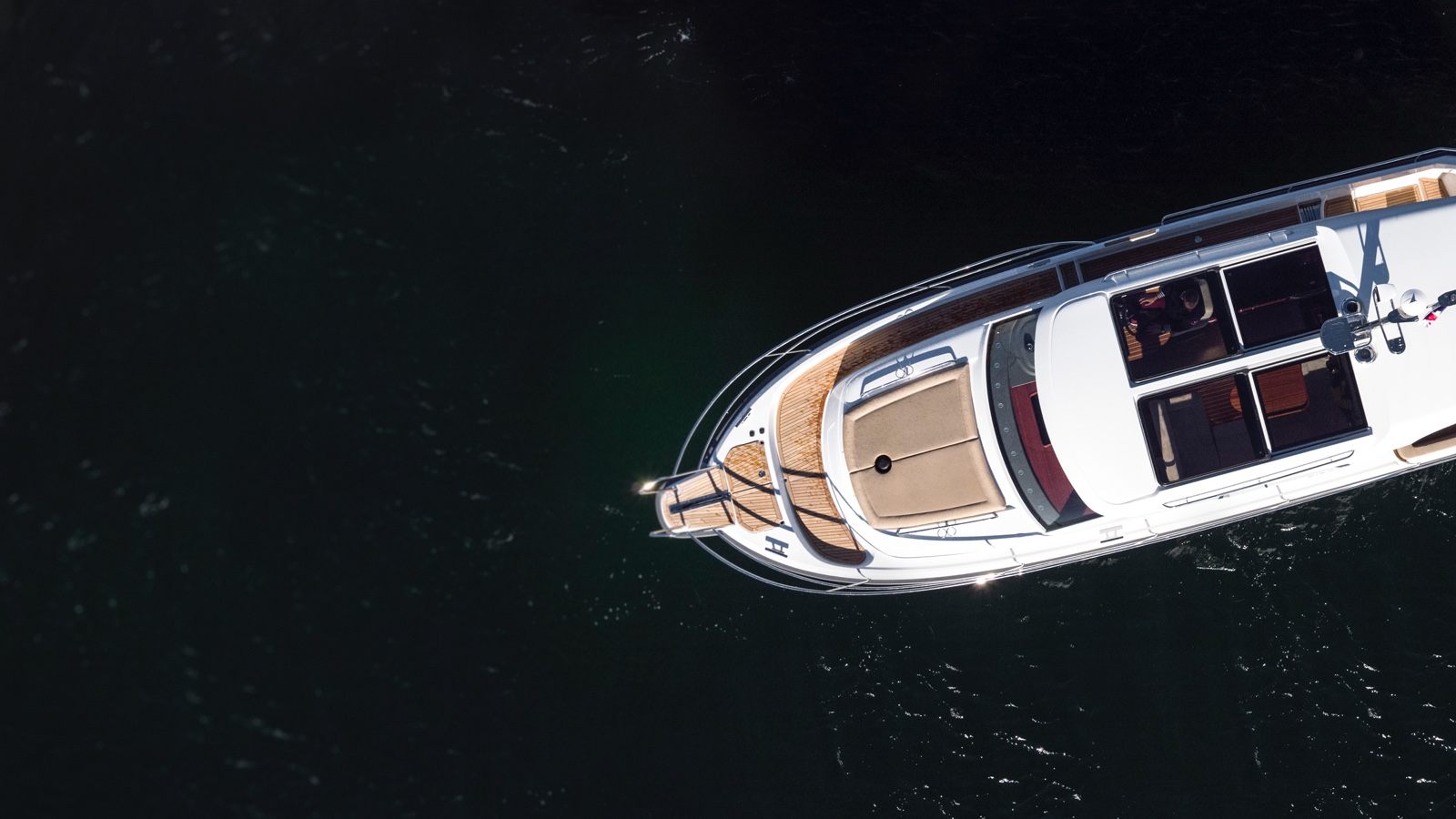 In summary, the 365 Coupé is a boat well-suited for experienced boat owners, families and people who love to entertain; those who value a simple life of style and comfort at sea for long periods.
Optimized cockpit environment
The cockpit has matte finishes for minimal disturbance, handholds for safety in heavy seas and a customizable instrument panel that can be equipped with one large 16-inch plotter or two smaller models. All surfaces are treated with satin-resistant matte lacquer that both reduces reflective glare and is easy to wipe clean.
The side door to starboard provides an access to the deck through an extremely generous door opening. The sliding door enables maneuvering or docking alongside from a standing position on the side deck – a function that is used often. The stainless-steel pulpits are divided in the middle allowing better and easier ingress and degress to and from the boat through the opening when laying alongside.
The entire boat is equipped with LED lighting.
The new modular galley provides more storage space and a wider range of opportunities to meet individual requirement. Options include gas, electric or induction hob, oven or microwave; extra cool box (36 liters), freezer or extra storage lockers. A kitchen fan and extra overhead lockers are also available as an option.
Quick facts
Purpose-built weekend boat and long-distance cruiser focusing on functional design. 
Sidewalk design – easy and safe to move around the boat and on the foredeck.
Reversible passenger sofa with room for four and converts into an extra double berth.
Light and spacious salon with large flat surfaces.
Double sunroof with integrated blinds. 
Large wet bar with a wider range of opportunities to meet individual requirements.
An optimized cockpit that allows for maneuvering or laying alongside from a standing position on the sidewalk.
Large L-sofa on aft-deck with seating for 5 people.
Owner's cabin and head with integrated ventilation.
Berth: four adults and two children (double berth in salon).
Built by Nimbus at the Mariestad yard, Sweden.
365 Coupé
Technical Specifications
| | |
| --- | --- |
| Lmax, Overall | 11,56 m / 37 ft 11 in |
| Lh, Length of hull | 11,37 m / 37 ft 3 in |
| Bmax, Overall beam | 3,50 m / 11 ft in |
| Bh, Beam of hull | 3,50 m / 11 ft 5 in |
| Ha, Max Air Draft | 3,92 m / 12 ft 10 in |
| Air Draft, Folded mast | 3,60 m / 11 ft 9 in |
| Th, Transport height | 3,70 m / 12 ft 1 in |
| Thv, Transport height in cradle | 3,85 m / 12 ft 7 in |
| Tmax, Draft | 1,14 m / 3 ft 8 in |
| CoG, Center of gravity D6 | 3,90 m / 12 ft 9 in |
| CoG, Center of gravity 2 x D4 | 3,75 m / 12 ft 3 in |
| MLDC, max weight allowed | 8 471/ 8 994 kg |
| MLCC, Weight | 6 391 / 6 914 kg / 14 090 / 15 243 lb |
| MMTL, Max total load | 2 080 kg / 4 586 lb |
| Max people | 8 |
| CE category | B |
| Cabins | 2 |
| Berths | 4 + 2 |
Capacity of Tanks
| | |
| --- | --- |
| Fuel Capacity | 700 l / 184.9 US gal |
| Fresh Water Capacity | 270 l / 71.3 US gal |
| Hot Water Capacity | 20 l / 5.3 US gal |
| Waste Capacity | 120 l / 31.7 US gal |

Electrical System
| | |
| --- | --- |
| Start battery | 5*12V x 80 Ah |
| Service battery | 5*12V x 80 Ah |
| Service battery Heavy Duty | 2*12V x 77 Ah |
| Frequency | 50 Hz |
| Shore power | 230V AC |
| Battery charger | 12V 35 A |
Engine Alternatives
| | |
| --- | --- |
| Volvo Penta D4-260 191 kW (260 ps) | V-Max 20 kn |
| Volvo Penta D6-370 272 kW (370 ps) | V-Max 25 kn |
| Volvo Penta D6-435 320 kW (435 ps) | V-Max 28 kn |
| Volvo Penta 2 x D4-225 330 kW (450 ps) | V-Max 28 kn |
| Volvo Penta 2 x D4-260 382 kW (520 ps) | V-Max 30 kn |
| Volvo Penta 2 x D4-300 442 kW (600 ps) | V-Max 32 kn |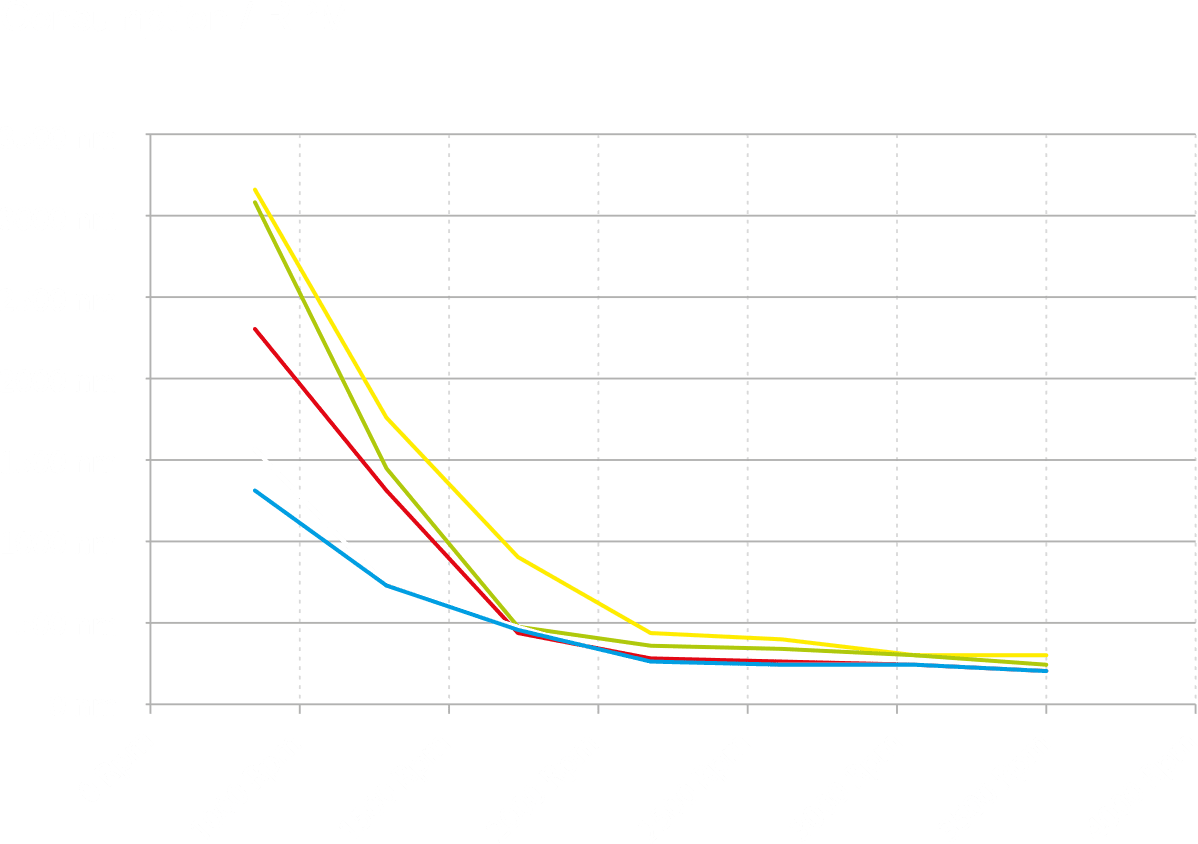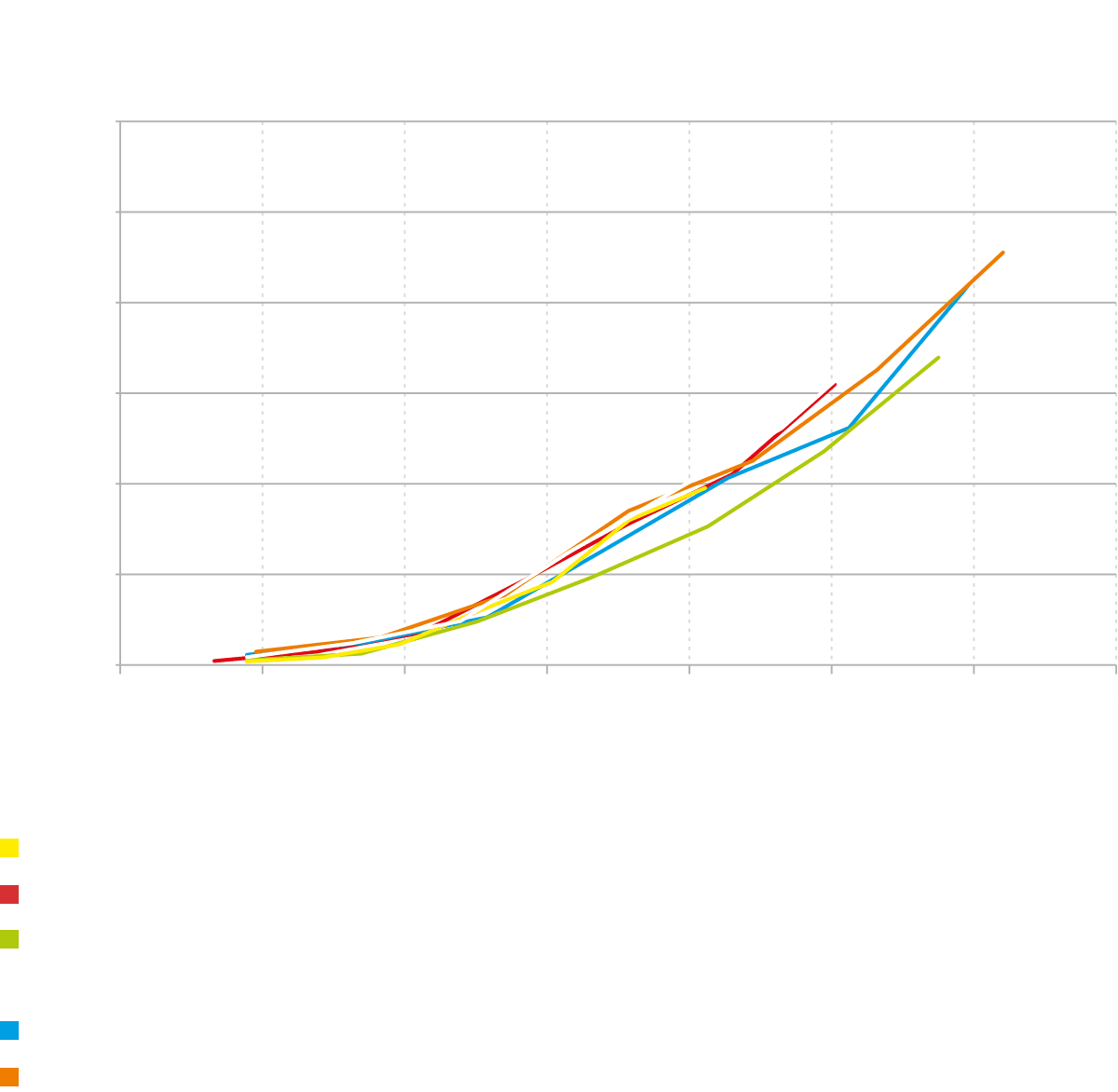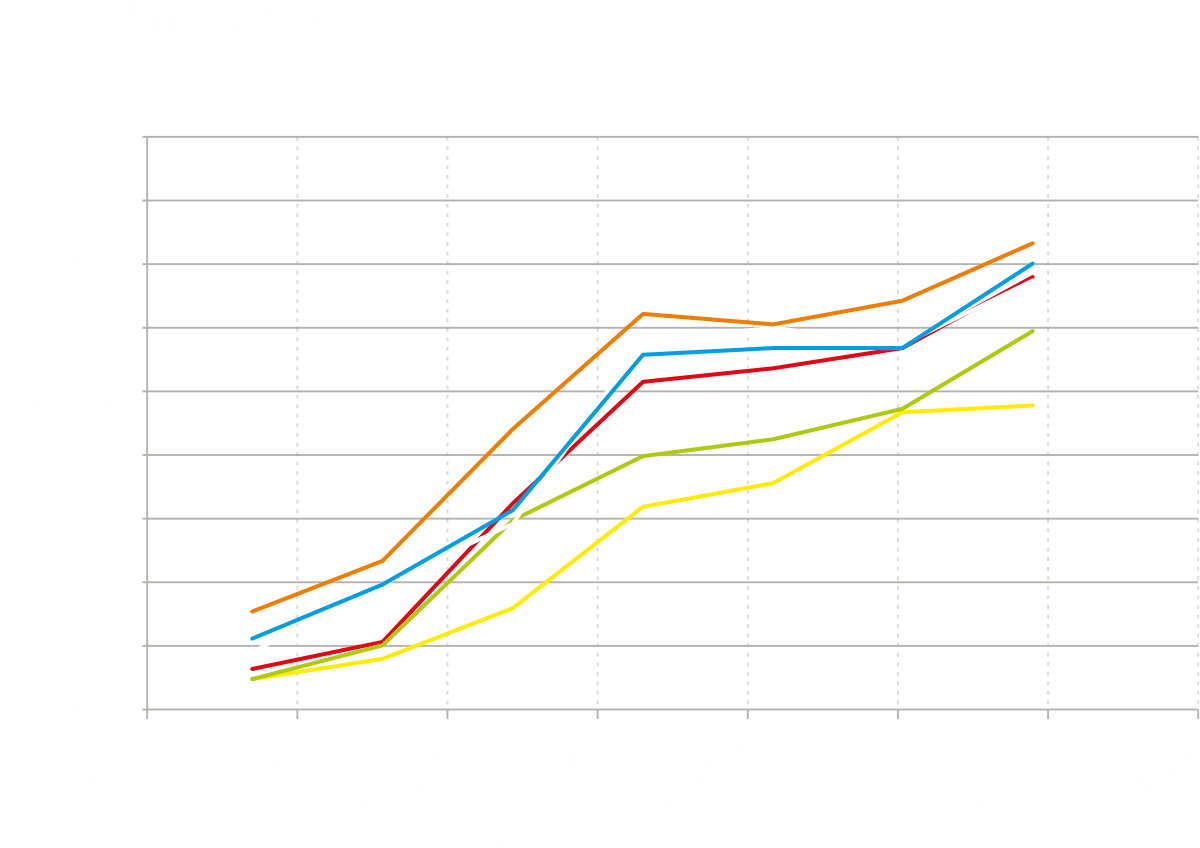 Ready-to-cruise
Simrad Plotter 12″ NSS
Anchorwinch at the bow (electric)
Shore power and battery charger, Mastervolt 50A
Bow thruster SE 80
Depth / Log in Volvo instrument
Electric toilet x 2
Electric pump-out of septic tank
Heater system, Ebersprächer D5
Defroster
Intervall viper
Hot water system 20-liter
Radio Fusion 205 USB/ 3,5mm aux
Sunblind, internal Coupé roof
EcoDeck complete boat
Trimtabs, Volvo Penta BTS
Volvo Penta Trip computer
24″ TV/DVD with electrical lifting bracket
Standard equipment
12 V electric outlet
Anchorbox with drainage
Bathing platform with anchor box
Bathing ladder
Bowsprit
Table on aft deck
Fire extinguisher
Boat hook
Aft shower
Shower in toilet room / Shower cabin
Cushions in cockpit
Cushions in cabin
Electrical panel with fuses
Electrical engine controls
Sea chart compartment
Fender holders or fenderbox
Flagpole
First-aid-kit
Glass/bottle holder in dashboard
Grab rail mahogany / stainless steel
R design instrument panel
Compass
Fridge/Cooler box
Log and sounder
Manual and electric bilge pump
Marine varnished mahogany interior
Carpeting in sleeping cabins
Black-out curtains
Nimbus toolkit
Nimbus cutlery and crockery
Galley with sink
Plotter / GPS Simrad NSE12
Pillows (Nimbus design)
Pulpits and bollards in stainless steel
Stainless steel fuel tank
Stainless steel navigation lights
Holdingtank with deck outlet
Signal horn
Cushion, aft deck
Self-bailing aft deck
Leather steering wheel
Sandwich laminate
Skylight on deck with curtain
Step-light aft deck
Toilet room and WC
Ceramic gas hob
Windshield washer
Volvo Penta Trip computer