The C8 is the third in the Nimbus Commuter series following the latest C9 and C11 models. The C8 is a purpose-built, rapid commuter vessel, constructed to equally meet the needs of year-round commuters, active day-trippers or those planning shorter, staged journeys with overnight stays.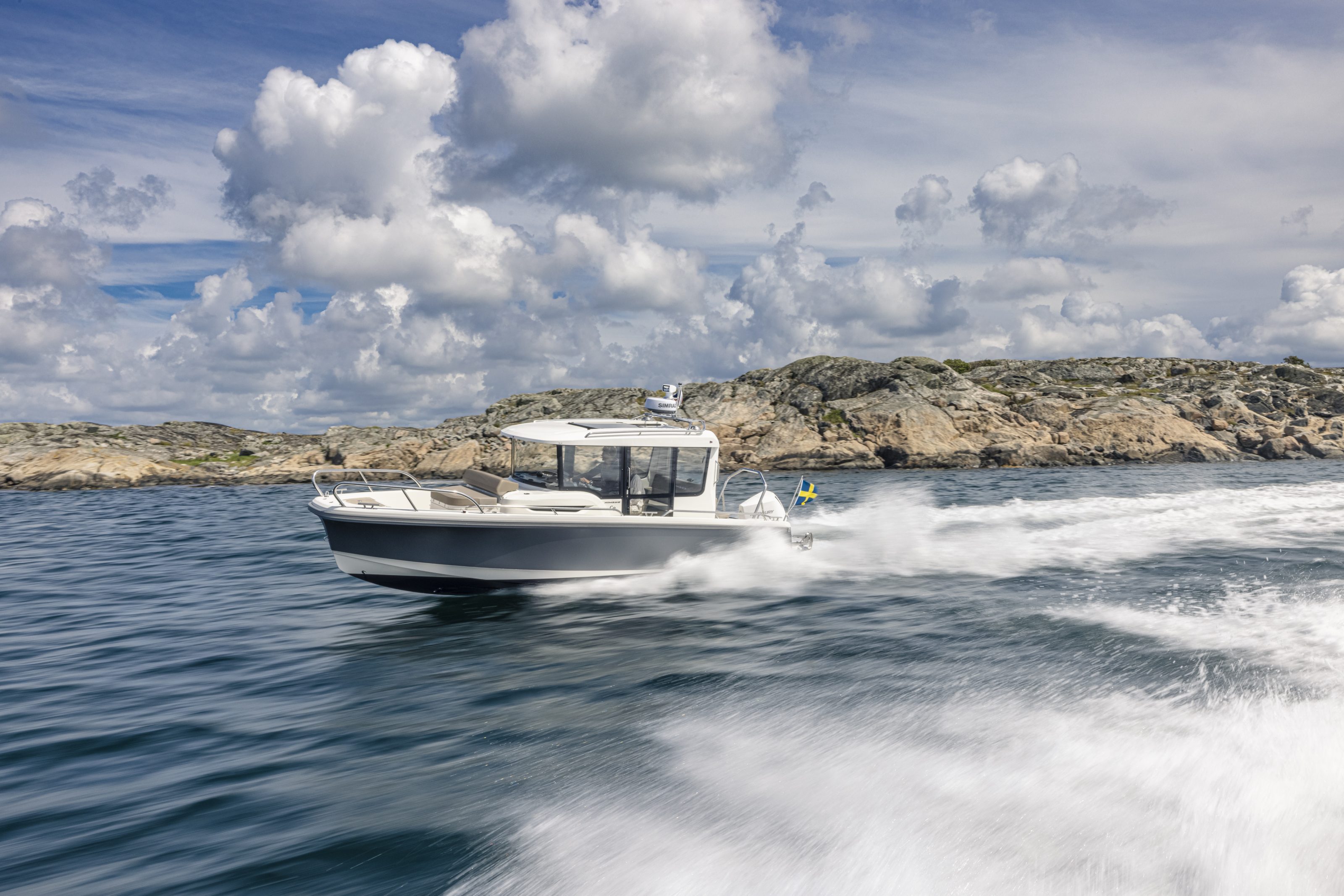 The Ultimate Commuter
Like its siblings the C8 has a wide walk-around design which contributes to extra freedom of movement and makes it easy to move around onboard.
Thanks to its easy-to-use, functional and agile design, it is the perfect choice for those who want to use their boat daily, regardless of the weather. In the C8, priority is given to space, surfaces and functionality that provide the best possible moveability and a feeling of freedom on board. The result is easily-accessible storage spaces, wide walkways, large sliding doors and wide passages.
C8 is a flexible and comfortable year-round commuter that works just as well whether you are traveling alone or with company. Despite the smaller size, we have prioritized space that makes it easy to get on or off and move onboard. The trick with the C8 was to build in the same high level of functionality and flexibility as the C9 but in a smaller hull, says Joacim Gustavsson, chief designer at Nimbus Boats Sweden AB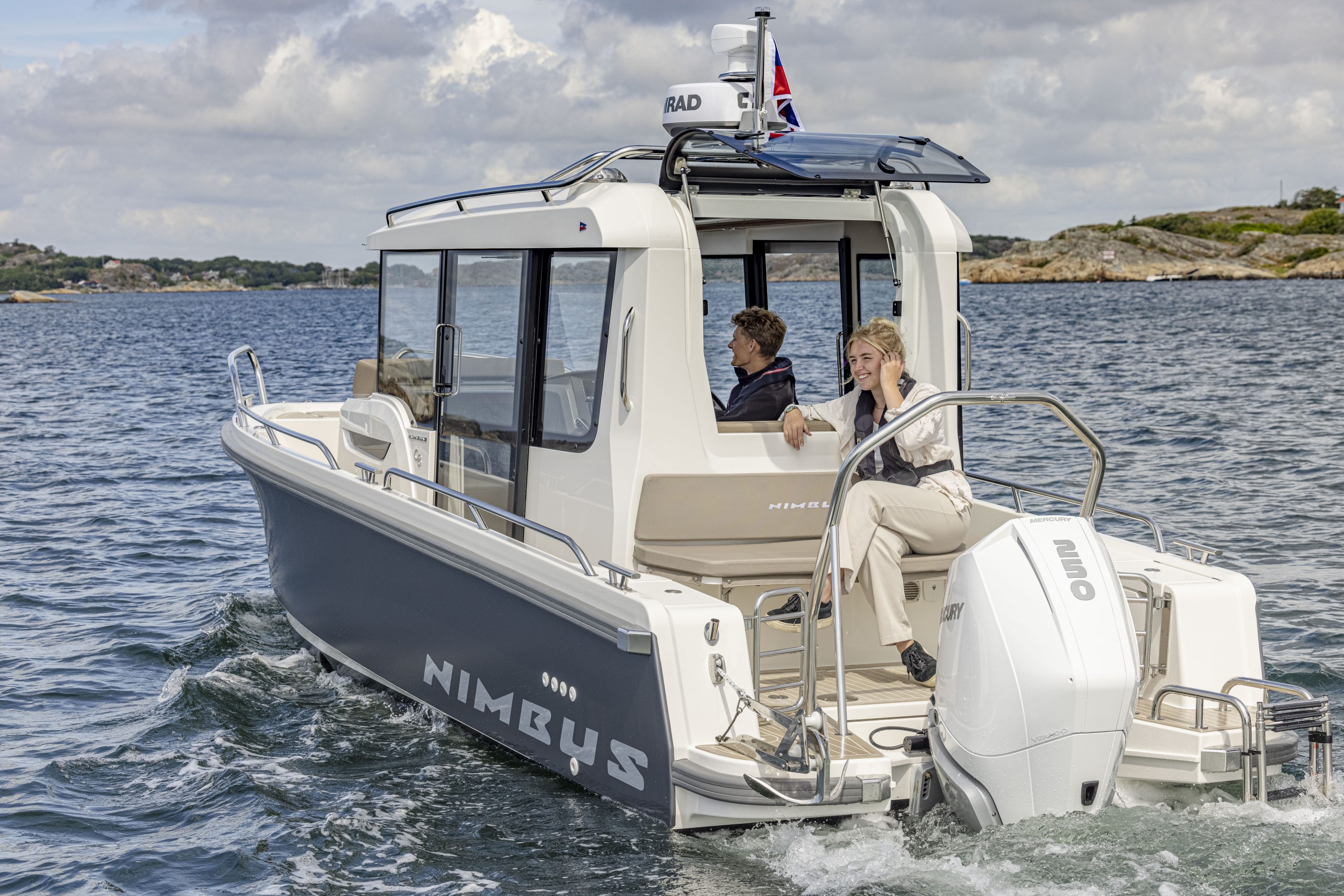 Light and Spacious
The foredeck of the C8 offers a multi-functional space with seating that can be transformed into lounge, chill or drive mode depending on the situation. The light and spacious cockpit offers plenty of natural light thanks to its extra-large glass doors, the sliding glass roof hatch and the openable aft deck hatch. The boat can easily be transformed from closed to open within seconds. In addition to creating a light and open boat, the large aft glass hatch makes loading and unloading the boat easy and efficient plus it makes communication between the crew outside and inside smoother.
The aft deck has space enough for up to 4–5 people to sit: On the benches, on the aft sides, and on the foldable aft sofa. Thanks to the foldable aft sofa, the aft deck can be purposefully adapted as needed: seating for socializing, loading place for luggage or space for activities like fishing or swimming.
When out driving, Nimbus C8 offers comfortable seating for both the driver and its passengers. The swiveling helm seats can easily be turned towards the passenger sofa and the table extended to a full dinner table. The passenger sofa can be converted to an extra bed for two children or one adult. The forward cabin has room for a double bed with a separate head and a kitchenette. The top of the cockpit is equipped with integrated loading arches, which helps transporting larger items such as an SUP, kayak or surfboards, etc.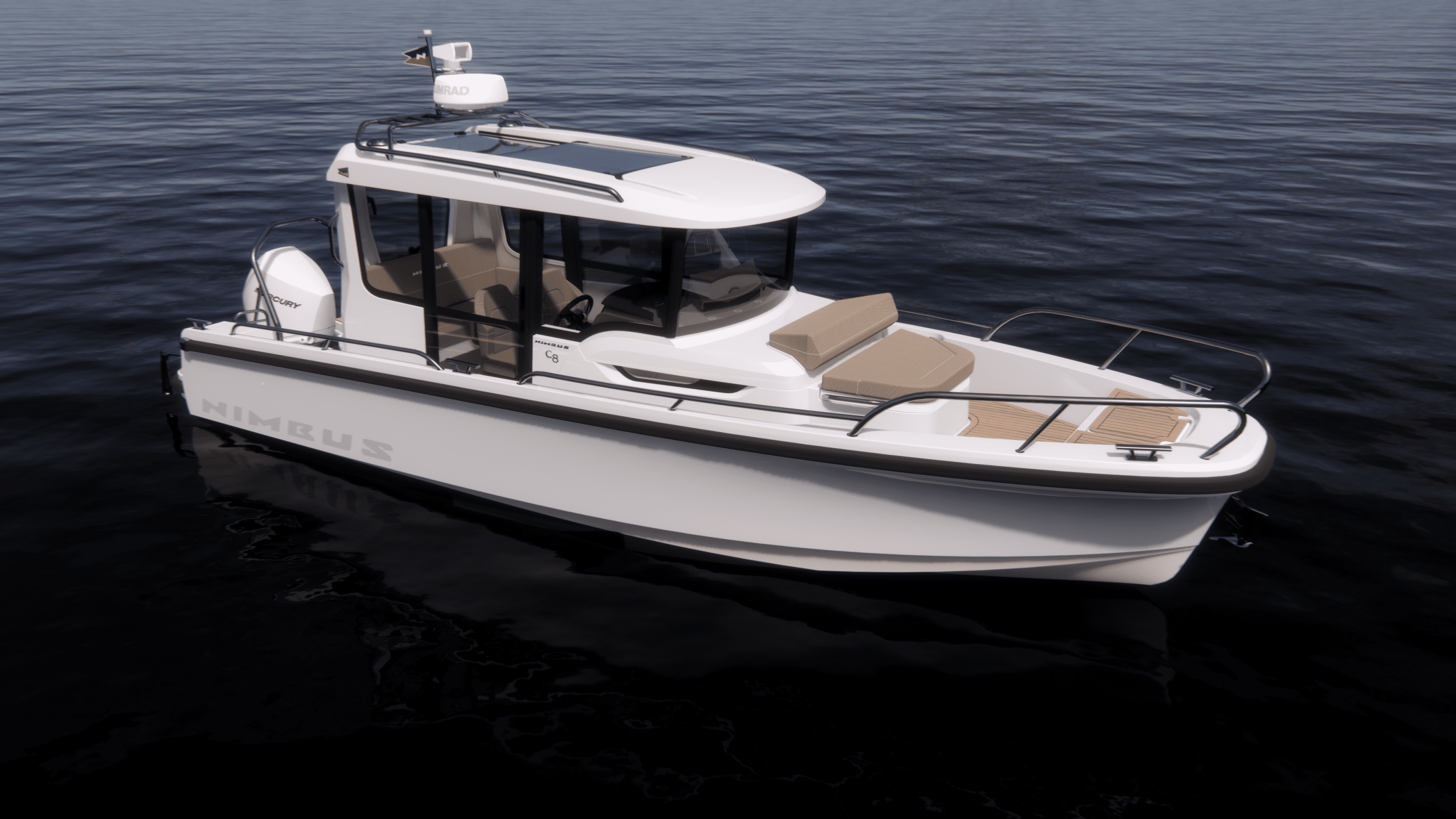 The foredeck can be adjusted depending on intended use: from chill mode to lounge mode to drive mode.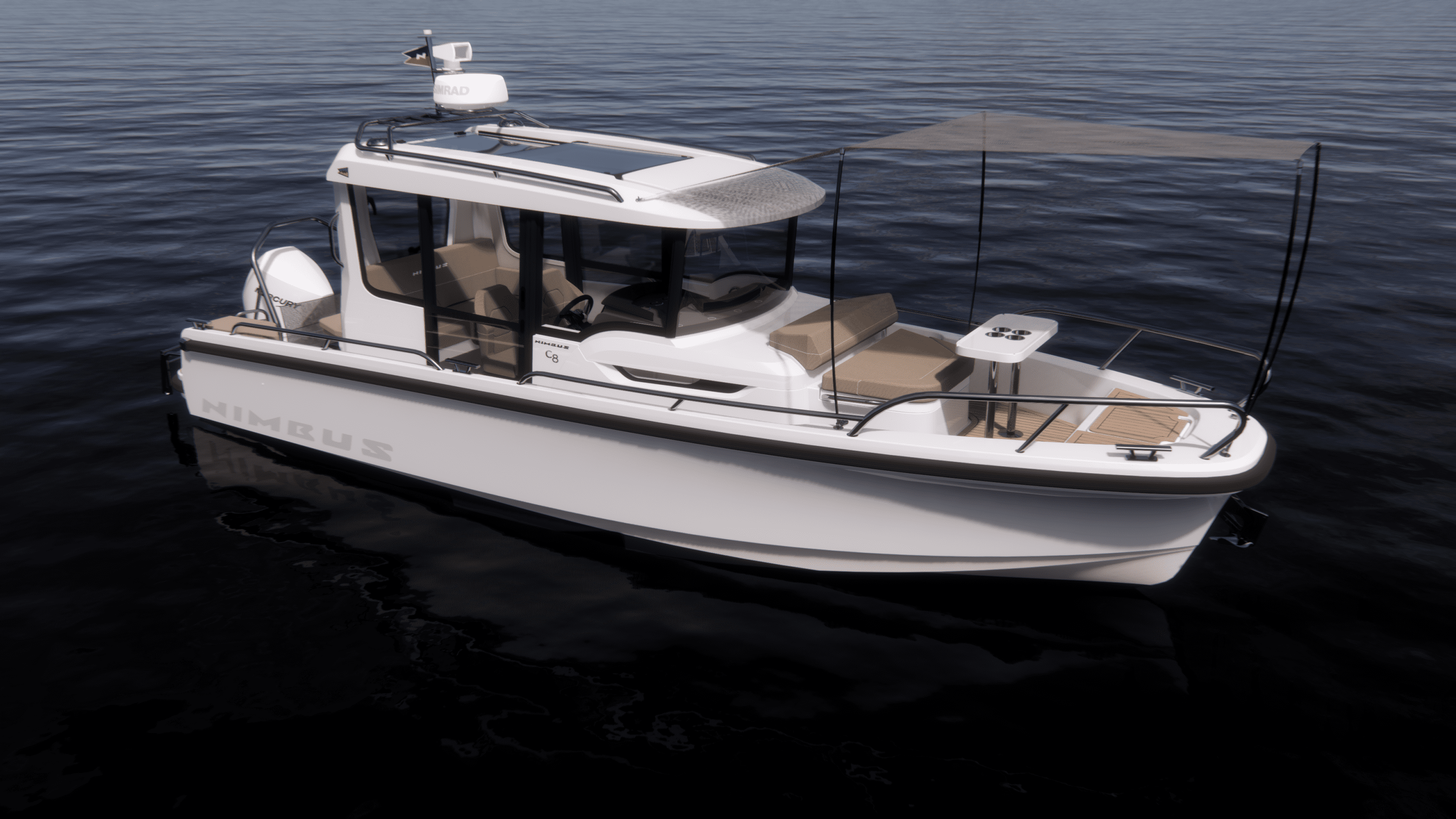 The foredeck can be adjusted depending on intended use: from chill mode to lounge mode to drive mode.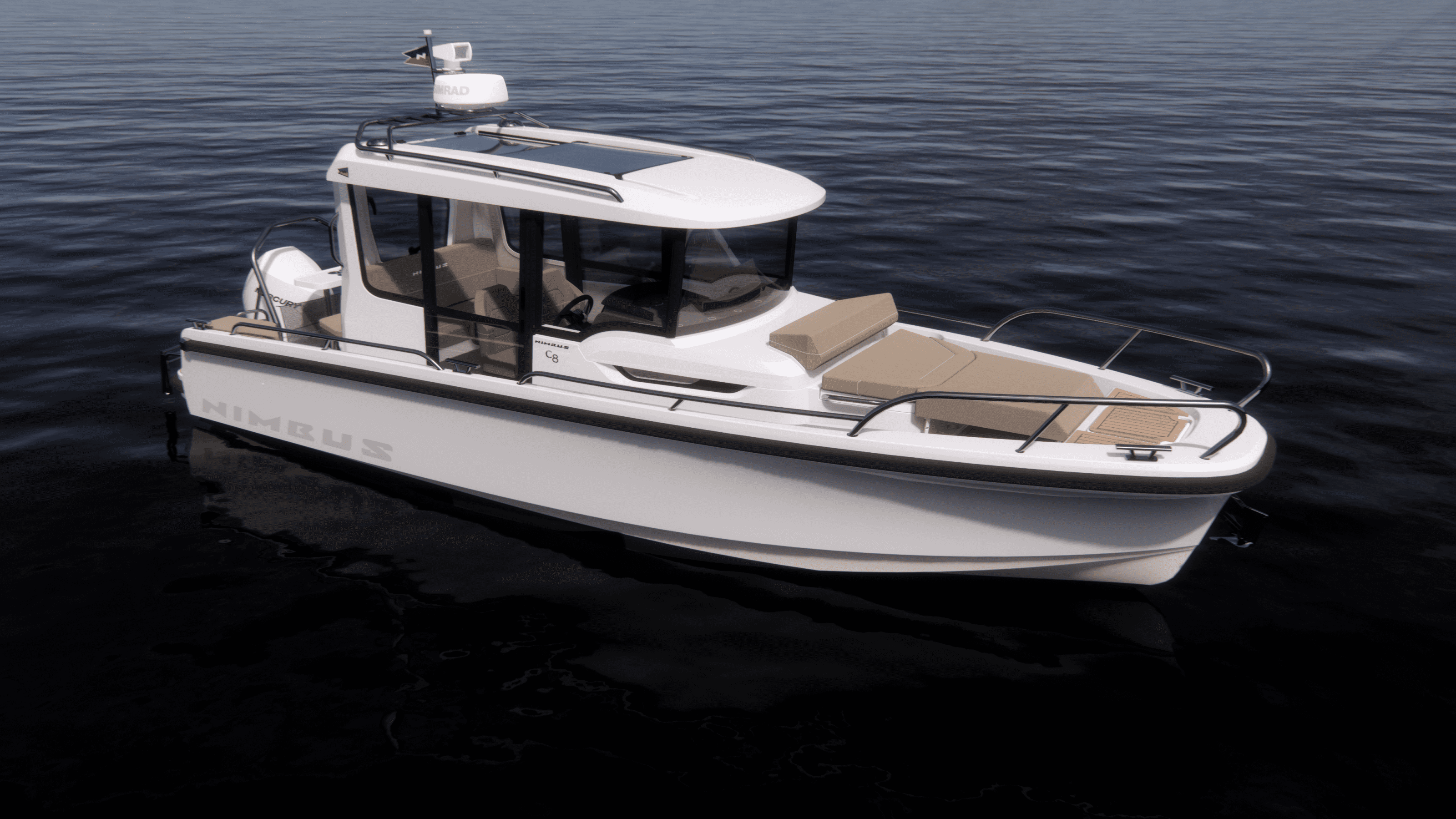 The foredeck can be adjusted depending on intended use: from chill mode to lounge mode to drive mode.
With C8 we reach a broader audience, partly because it has a lower price tag, but also because of its smaller size. Due to its smaller size the C8 can moore in harbours where it would otherwise be too tight. In addition, the boat is easy to transport with a trailer.
Jonas Göthberg
Commercial Director at Nimbus
Quick facts
Minimal planning threshold razor sharp bow section
Speed characteristics +40 knots, cruising speed 20-35 knots
Walk-around deck design
Extra-large aft glass hatch to make the boat open and easy to load
Large sliding glass doors to make maneuvering onboard simple
Cockpit passenger sofa that can be converted to bed
Double bed in fore cabin with separate head, with integrated ventilation
Aft deck foldable sofa 
Kitchenette
Daybed/seating on fore deck with table and sunshade
Integrated arches on top of cockpit
Commuter 8
Technical Specifications
| | |
| --- | --- |
| Length | 7,93 m / 26 ft 2 in |
| Width | 2,55 m / 8 ft 4 in |
| Weight | 3 009 kg / 6 633 lb |
| Max Air Draft | 2,89 m / 9 ft 5 in |
| Fuel Capacity | 240 l / 63.3 US gal |
| Fresh Water Capacity | 50 l / 13.1 US gal |
| Design Category | C8 |
| Number of beds | 2 |
| Speed | 40+ knots |
Engine Alternatives
| | |
| --- | --- |
| Mercury Verado V8 | 250 hp |
| Mercury Verado V8 | 300 hp |
Standard Equipment
Mercury Verado F250 XL EFI DTS V8 in Fusion White
Glass hatch openable in the cabin roof.
Separated head with basin
Freshwater system
Bowthruster Sleipner SE 30
Zipwake dynamic trim control system
Simrad plotter NSX 9"
Bow Eye for trailing
Carpets
Cabin cushions
Shower on aft deck
Convertible cockpit passenger sofa
Carpets and decoration pillows
Table in cabin
Toilet in separate cabin
Kitchenette