360° Experience
We'd like to think you instinctively feel it's not just our passion for boating or the quality of craftsmanship that sets Nimbus apart. It's the result of generations of experience made stronger by modern technology.
Here below you can experience the Nimbus 305 Coupé up-close in a virtual tour.
Sturdy, smart functionality in an attractive design and with elegant lines for families, bons vivants and inveterate seafarers. Apart from a number of improvements and smart functional solutions, it's below deck that the greatest innovation is to be found.
Hull design
The biggest news is the boat's hull, which has been developed and optimized for speeds from 0 to 22 knots. It is made for smaller engines (Volvo Penta D3), Torqeedo fully Electrical and built to run comfortably irrespective of speed. The hydro-dynamic shape of the hull means that the boat has no planing threshold at all.
"At Nimbus our belief is that a boat should run comfortably at the speeds at which it is used. We know that Coupé owners are fond of cruising at speeds
from 4 to 20 knots, when normally boats produce large wake burn a lot of fuel. For the 305 Coupé we have designed a hull that rides comfortably throughout the entire speed range. In practice, the 305 has no real planing threshold and returns low fuel consumption at all speeds. Speed can be adjusted to weather conditions, which provides better safety, comfort and the best possible ride from which to appreciate your natural surroundings," said Mats Jacobsson, product development manager at Nimbus.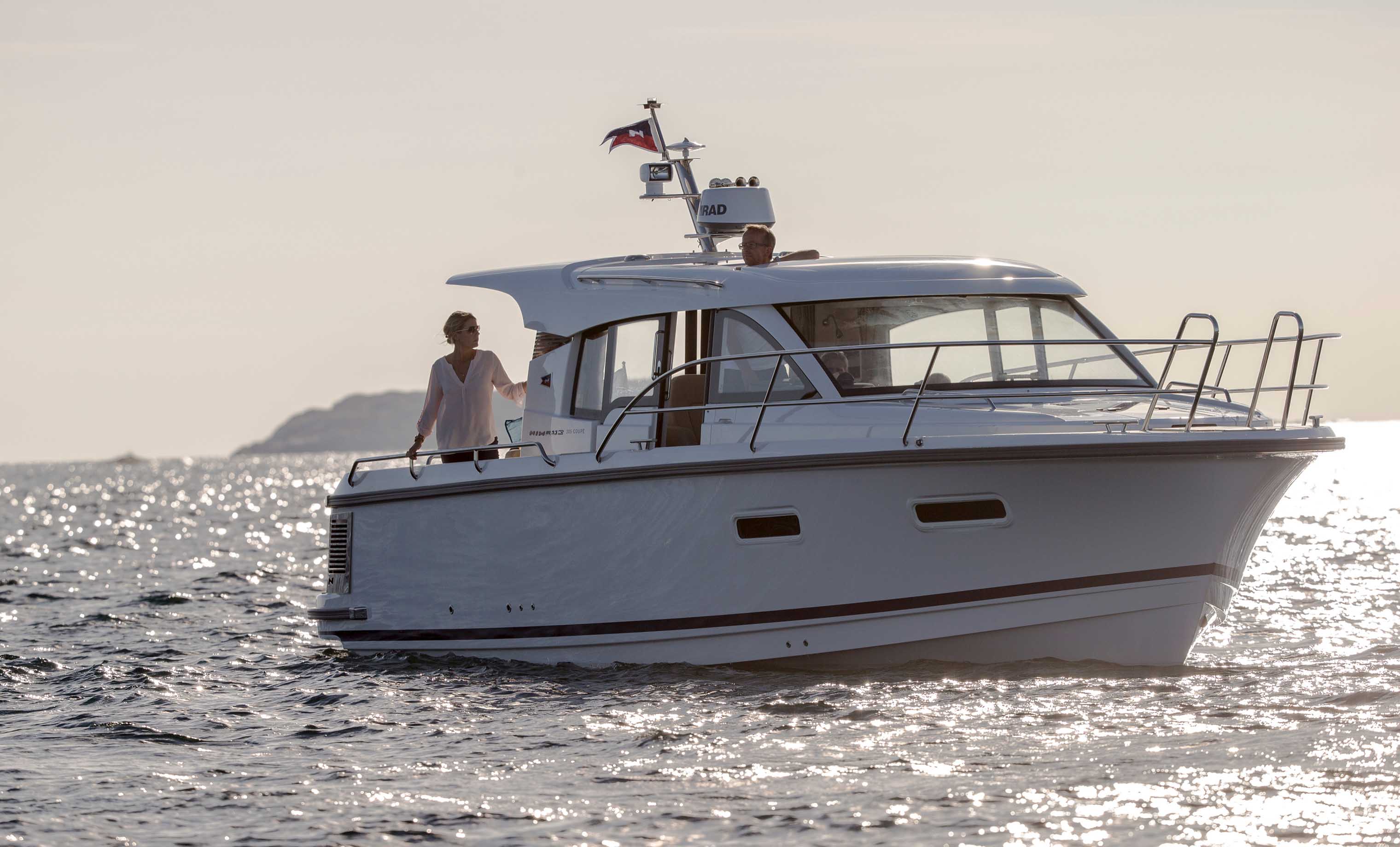 "Sidewalk" is an asymmetrical deck layout where the side deck along the starboard side is extra wide and provides safe and generous freedom of movement.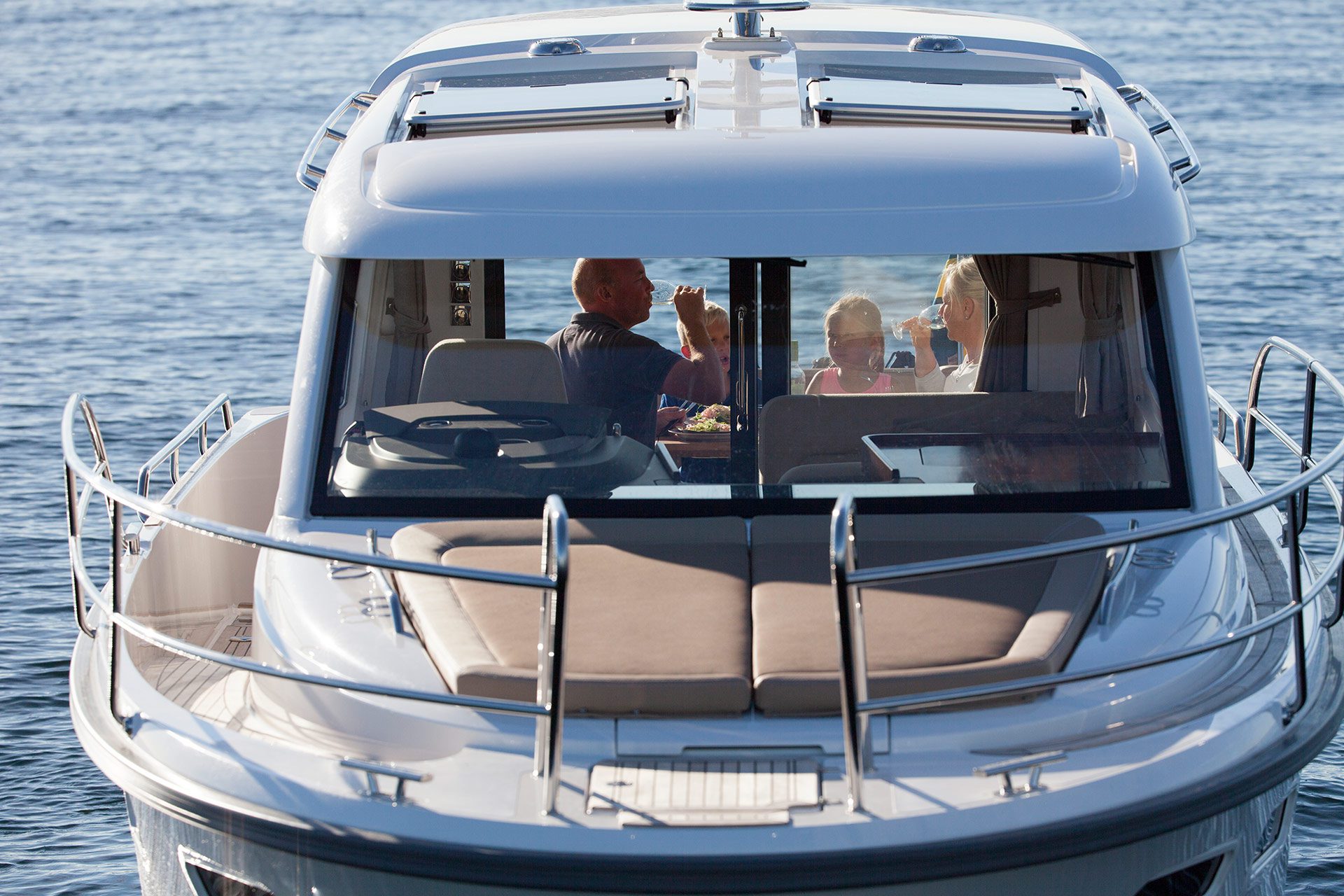 Based on the same Scandinavian design philosophy as her popular and award-winning sisters 405 and 365 Coupé, the 305 Coupé will mark a new entry into Nimbus' popular Coupé series featuring the "sidewalk" concept.
"Sidewalk" is an asymmetrical deck layout where the side deck along the starboard side is extra wide and provides safe and generous freedom of movement. It becomes convenient and enjoyable to move about on-board from bow to stern, and easy to get on and off the boat along the entire starboard side. Maximum use is made of the interior volume, allowing the cockpit, salon, lower deck and cabin to be larger than would otherwise be the case in a boat of this size. An important feature of the Nimbus sidewalk design concept is the large flush fitted sliding door to starboard. The sliding door provides quick access when docking alongside and enables maneuvering the boat from a standing position on the side deck.
The helm has been maximized to provide the greatest possible flexibility and can be equipped with accessories according to individual requirements. Glued windows with a large, curved windscreen provide a great panoramic view. The saloon features large flat surfaces and is both light, airy and cozy, thanks to the choice of materials and LED-lighting. The large glass roof and roof hatches provides generous light. A dinette solution provides plenty of room for four people and converts easily into a double berth. The dining table folds down into a cocktail table with glass holders, making the salon a perfect place for socializing. The galley is equipped with ceramic gas heated glass hob with integrated ventilation, Corian top, 65-liter refrigerator and extra refrigerator/freezer box below sofa (option).
Textiles have been carefully selected. Not only shall these be pleasantly attractive but also withstand sun, salt water and hard wear. As option textiles are from Sunbrella and renowned for withstanding hard climates and UV rays without colours and performance being affected. The cushion covers are machine washable, this being a demand among our customers.
Joacim Gustavsson
Chief designer at Nimbus
Fun, relax or dining
The aft deck shares the same level as the swim platform and salon. It has a generously sized, comfortable L-shaped sofa for five persons with foldable seating. The dining table folds down into a cocktail table with glass holders with stainless steel handles. Perfect for relaxing or social activities with friends and family.
The interior of the boat is of wonderful quality and atmosphere, particularly in regard to space and light. The boat has integrated ventilation and five large opening port lights for extra light intake. Upholstered bulkheads in light colors help to reduce noise. The boat has two cabins, an owner's cabin (available with Queen bed or V-bed) and a guest cabin, sharing a common head with shower.
In all, the 305 Coupé is a contemporary, super-functional boat with reduced environmental impact, and which is perfect for a reliable and enjoyable life at sea. The boat is built in Sweden at the Nimbus yard in Mariestad.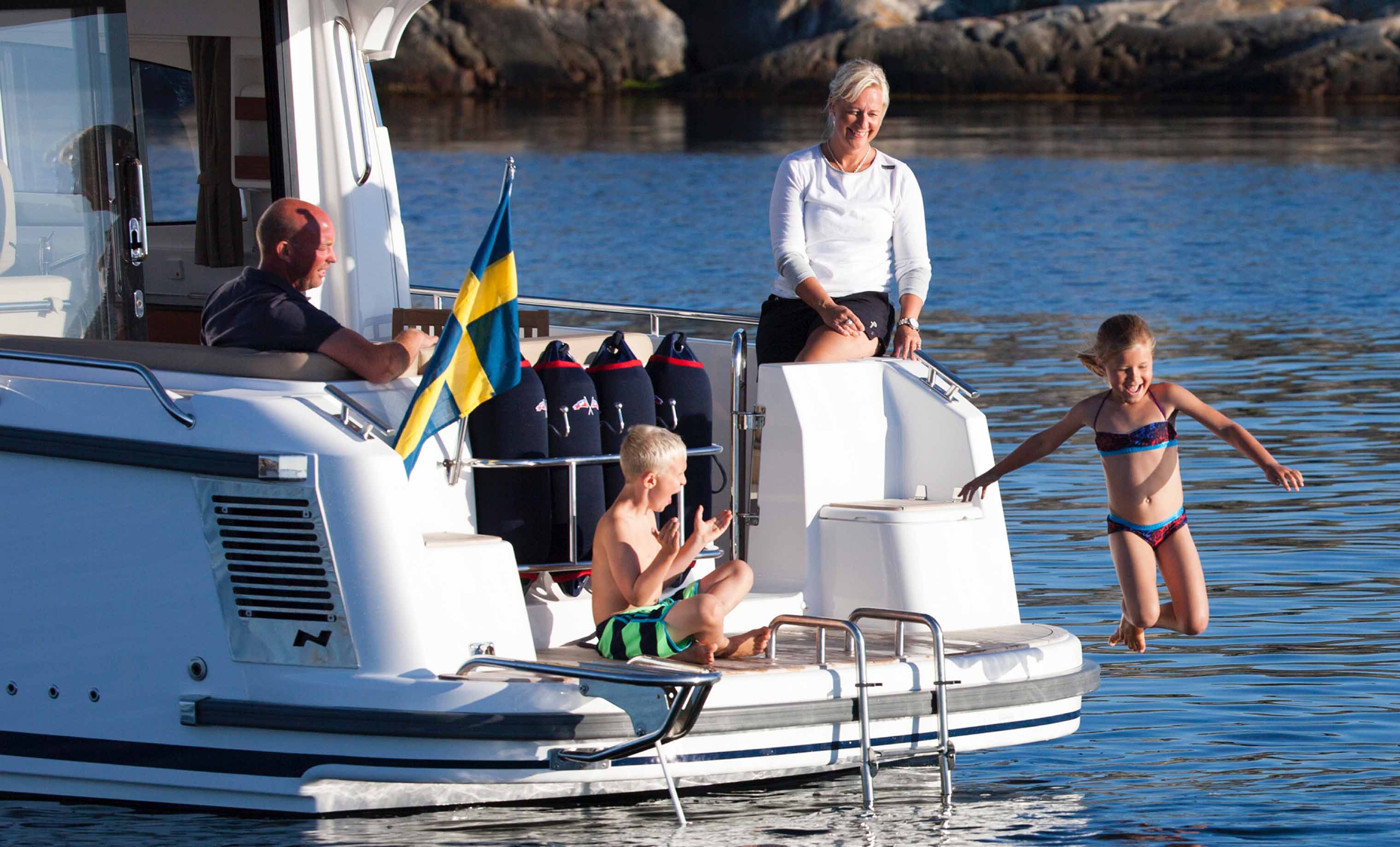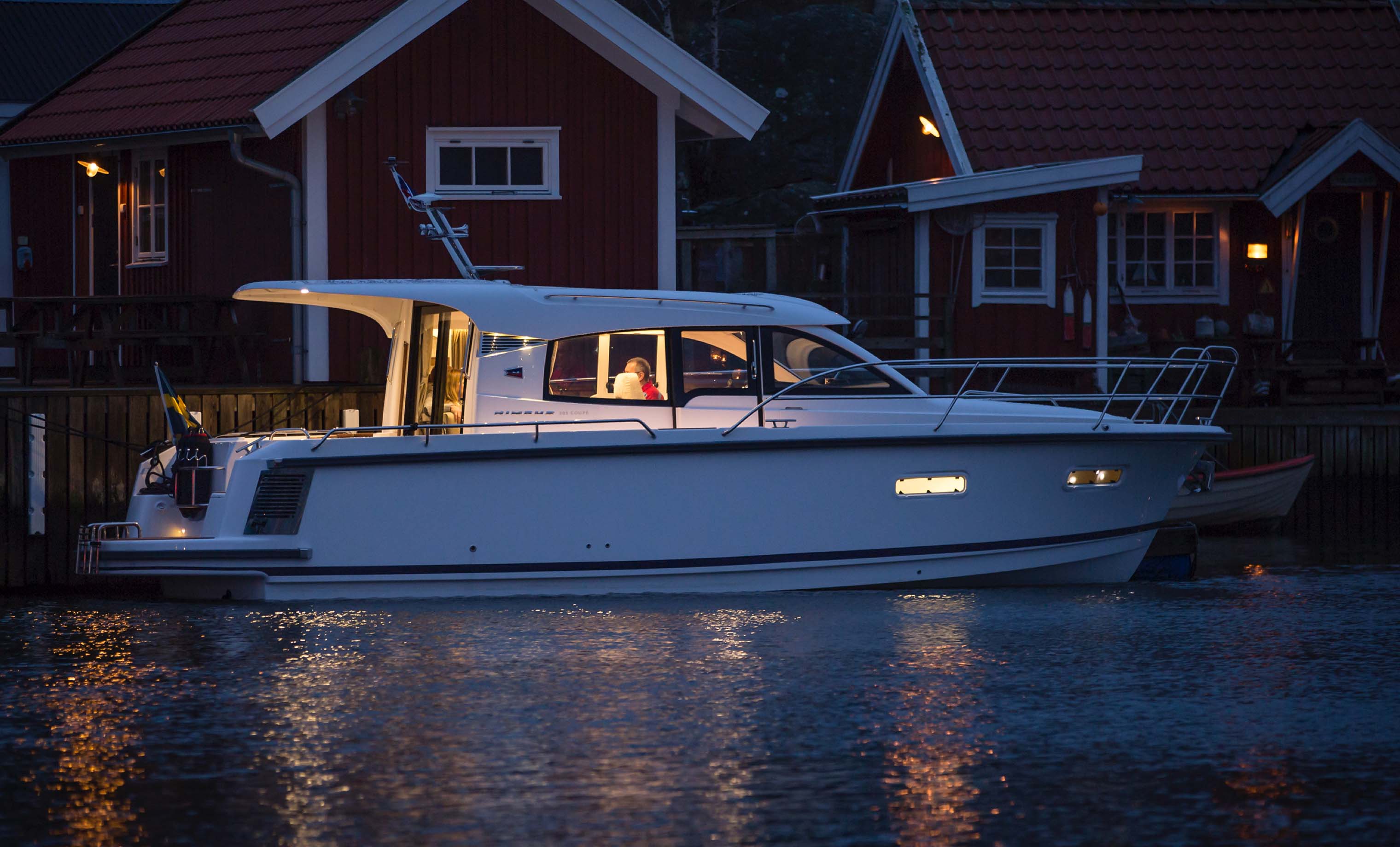 Interior in varnished Mahogany with textiles in light Scandinavian beige or marine classic blue. All lights are LED and with several points of curtesy lights. Dinette for 4 people in deck salon. The helm seat features an easy handgrip foldable to host passengers facing forward while driving.
Technical specification
On the link below you'll find a browsable and downloadable technical specification where we'll explain and show you images, features & functionality and more of the 305 Coupé. Enjoy!
305 Coupé - Brochure 2020
Quick facts
Sidewalk design with large flush fitted sliding door in starboard side.
An underwater body that eliminates the planing threshold and facilitates comfortable driving at speeds from 0 to 22 knots with lower fuel consumption.
Polyurethane glued windows in the superstructure and a large wrap around windscreen provide a contemporary look, exceptional stability and a quiet saloon.
Helm position with great flexibility – can be equipped with accessories according to individual requirements.
Opening port side/passenger window.
Reversible passenger sofa turns salon into a dinette with comfortable seating for up to 4 persons.
Very generously sized and comfortable L-shaped sofa on aft deck.
Integrated ventilation for owner´s cabin and toilet on foredeck.
Main cabin available with Queen bed or V-bed.
Five large opening port lights.
Generously sized sun cushion on foredeck.
Integrated bow ladder folds down into anchor box.
Technical Specifications
Mass and weight
| | |
| --- | --- |
| Lmax, Overall length | 10,07 m / 33,0 ft |
| Lh, Length of hull | 9,74 m / 32,0 ft |
| Bmax, Overall beam | 3,25 m / 10,7 ft |
| Bh, Beam of hull | 3,14 m / 10,3 ft |
| Ha, Air draught | 3,65 m / 12 ft |
| Air draught, folded mast | 3,32 m / 10,9 ft |
| Th, Transport height | 3,58 m / 11,8 ft |
| Thc, Transport height in cradle | 3,67 m / 12,1 ft |
| Tmax, Draught | 0,90 m / 3,0 ft |
| CoG, Centre of gravity | 3,46 m / 11,4 ft |
| MLDC, max weight allowed | 5697 kg / 12560 Ibs |
| MLCC, weight | 4100 kg / 9040 Ibs |
| MMTL, Max total load | 1600 kg / 3527 lbs |
| | |
| --- | --- |
| Max people | 8 Pers |
| CE Category | B |
| Cabins | 2 |
| Berths | 4+2 |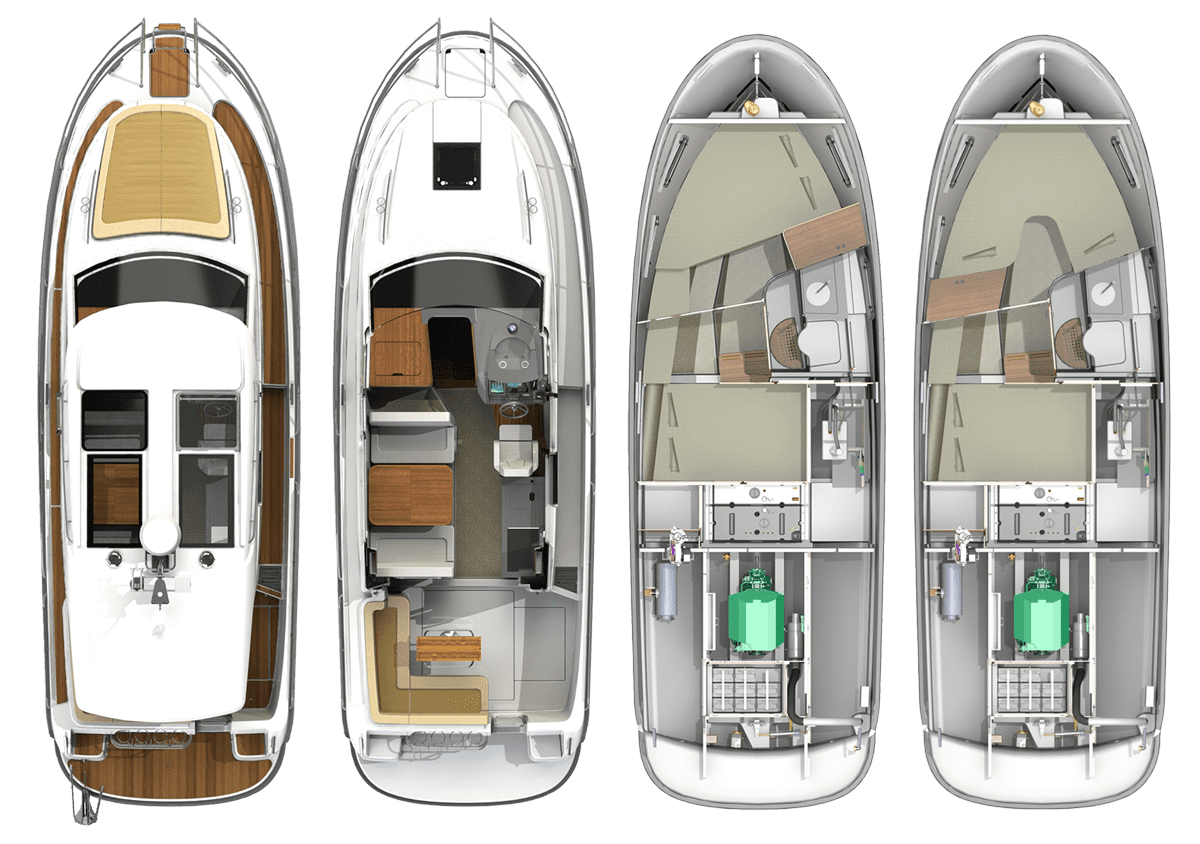 Capacity of tanks
| | |
| --- | --- |
| Fuel Capacity | 250 l / 66 US gal |
| Water Capacity | 150 l / 39,6 US gal |
| Hot Water Capacity | 20 l / 5,28 US gal |
| Waste Capacity | 80 l / 18,5 US gal |
Electrical system 12 V and 230 V
| | |
| --- | --- |
| Start Battery | 1 x 12V x 77 Ah |
| Service battery | 3 – 6 x 12V x 80 Ah |
| Service battery Heavy Duty | 1 x 12V 77 Ah |
| Frequency | 50 Hz |
| Shore power | 230V AC |
| Battery charger | 12V 35A |
Engine Alternatives
| | |
| --- | --- |
| Torqeedo Deep Blue i 1800 rpm | Cruise 5,5 - 6,5 |
| Volvo Penta D3-110 81kW (110 PS) | Data missing |
| Volvo Penta D3-150 110kW (150 PS) | V-Max 17 kn |
| Volvo Penta D3-220 164kW (220 PS) | V-Max 21 kn |
| Volvo Penta D4-270 Shaft | 270 hp |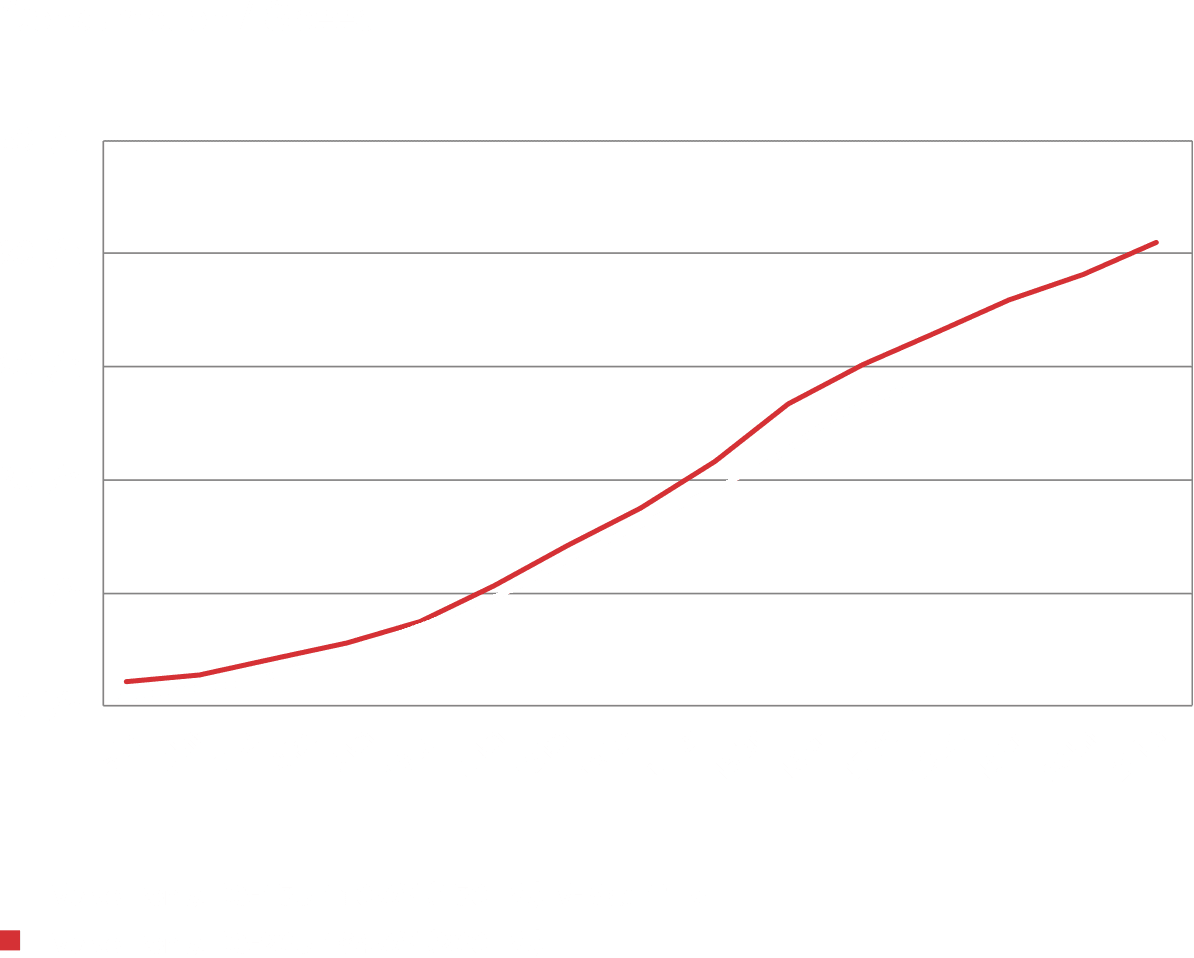 Ready-to-cruise
Plotter Simrad 9″ NSS, Evo3
Shore power and battery charger Mastervolt 35A
Bow thruster SE 60
Depth / Log in Volvo instrument
Electric pump-out of septic tank
Heater system Ebersprächer D4
Hot water system 22 litre
Defroster
Intervall viper
Sunblind, internal Coupé roof
Trimtabs
Volvo Penta Trip computer
Standard Equipment
Kitchen with 65 l refrigerator and ceramic gas top
LED lights
Queen bed
12 V electric outlet
Anchor box with drainage
Bathing platform with anchor box
Bathing ladder
Table on aft deck
Seafire automatic fire-fighting system
Manual fire extinguisher
Shower in toilet room / Shower cabin
Cushions in deck saloon
Cushions in cabins
Cushions on aft deck
Electrical panel with fuses
Electrical engine controls
Sea chart compartment
Fender holders or fender box
Flagpole
First-aid-kit
Glass / bottle holder in dashboard
Grab rail in stainless steel
Compass
Manual and electric bilge pump
Marine varnished mahogany interior
Carpets in cabins
Nimbus toolkit
Nimbus cutlery and crockery
Nimbus Décor Pillows
Pulpits and bollards in stainless steel
LED navigation lights
Septic tank with deck outlet
Signal horn
Self-bailing aft deck
Vacuum-infused sandwich laminate with divinycel core
Skylight on deck with curtain
Step-light aft deck and side-walk
Toilet room and WC
Hidden windshield wiper and washer
Extended curtesy light in cabin and deck saloon