Established in 1968 in Gothenburg, Sweden, Nimbus builds boats that meet the requirements of the conscious yachtsman who appreciates smart functionality, comfort, safety and Scandinavian design. These are properties we consider essential whether you go for a quick drive, a social weekend or a long international cruise.
Core values
A vital part of Nimbus that encompasses more than just safe driving capability in all weather conditions and the amount of space on board. It includes every ingredient that goes into each Nimbus – from design, production method, and materials, to delivery, service, and accessibility. Our ambition is to make boat ownership simple and life onboard as comfortable as possible.
A holistic view in which functionality is central to each model's design. Why? Because we build boats for conscious people who want their boat to be as good as it can possibly be when used in its natural element.
Built to the highest standards and tested to optimize your experience at sea. Not only can you feel the difference, you have certified proof by DNV (Det Norske Veritas) – The most highly renowned marine certification agency in the world. Every Nimbus built is tested and certified by DNV.
Environmentally conscious and award-winning high-tech production facilities, vacuum infusion technology combined with a passionate team of boat builders with more than forty years of know-how who strive to achieve perfection in every detail. The result? Satisfied Nimbus owners who appreciate the quality of life experienced onboard.
Scandinavian Design
A holistic view in which functionality is central to each Nimbus model. Form, function and materials should all fulfill a clear purpose. When the proportions of the boat, materials, functionality and sea keeping abilities are in harmony, we have created true timeless Scandinavian design.
Smart speed
concept
Comfort and safety before speed
Smart Speed features a hull designed for a comfortable driving experience at speeds up to 22 knots. The speed can be adapted to sea conditions for higher safety, better comfort and the best possible experience at sea.
At Nimbus our belief is that a boat should run comfortably at the speeds at which it is used. We know that Coupé owners are fond of cruising at speeds from 4 to 20 knots, when boats normally produce large wake and burn a lot of fuel. For the 305 Coupé we have designed a hull that rides comfortably throughout the entire speed range. In practice, the 305 has no real planing threshold and returns low fuel consumption at all speeds.

Speed can be adjusted to weather conditions, which provides better safety, comfort and the best possible ride from which to appreciate your natural surroundings.
Smart speed
hull design
The hull shape is hard chine with concave cross sections. The transom is lifted with a propeller tunnel that kick upwards at transom. Above the chine there is an additional chine in order to offer additional stability but also for better spray deflection.
The hull is relatively deep in order to avoid the need for additional keel and to offer good sea keeping behavior in head seas and excellent maneuvering performance in low speed. (3-5 kt). At center of gravity the deadrise is 21.5 degrees but towards transom the hull flattens out to reduce resistance.
In order to optimize the hull, CFD (Computational Fluid Dynamic) calculations are conducted using the commercial code SHIPFLOW.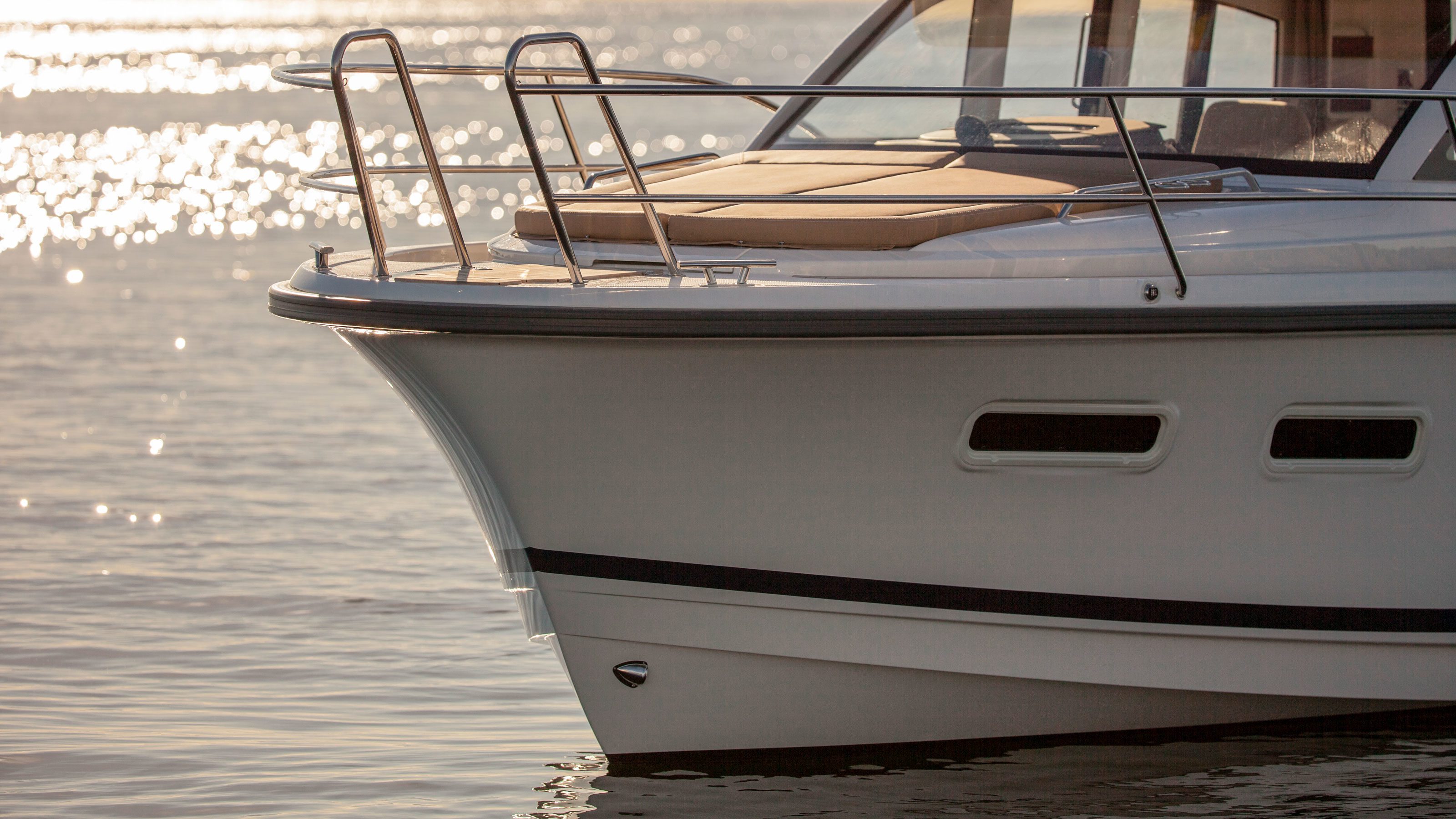 E-Power Concept
As one of the most respected brands in Europe, Nimbus shoulders a responsibility to influence environmentally sustainable thinking. Our corporate policy is to take great pains over building boats that enhance the relationship between boats, people and the environment. We have a vision:
the increased freedom of people to move at will across the sea shall not be achieved at the expense of the environment.
Environmental responsibility
As a result of our business concept, we have set a course for the future in which environmental issues play an increasingly important part. In line with this ambition, we have introduced our E-Power Concept. The E-power Concept, also known as "Environmental Power", represents Nimbus' environmental thinking for the future, in which we include the entire boat-building process from production engineering to climate-smart materials. We also look closely at construction engineering and hull design to attain ultimate propulsion, striving to achieve a state in which the entire chain makes as little impact as possible on our environment.
Sustainable
thinking
Decades of pro-environment thinking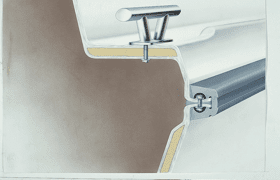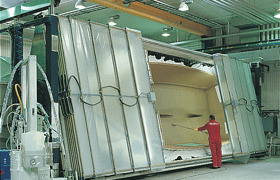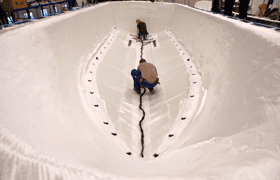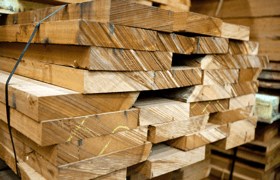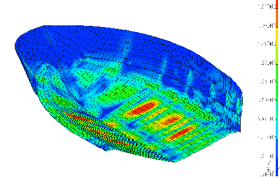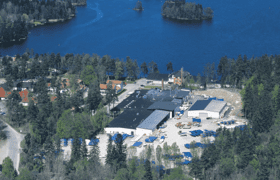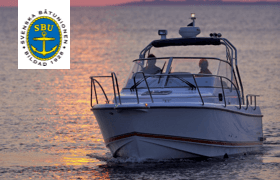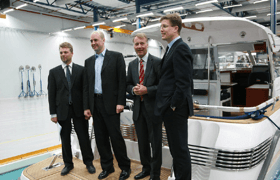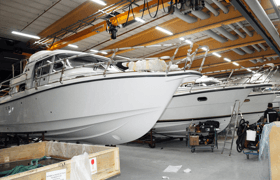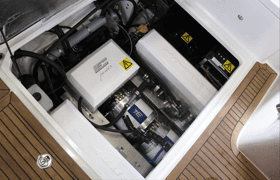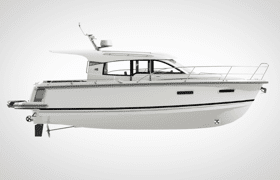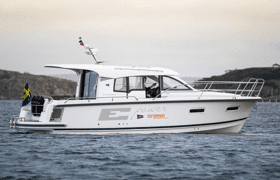 Aftermarket support
Our availability is your guarantee
Security for you as a customer is not just about having the right equipment on board your boat. It's also about the fact that we always have the most essential spare parts and components in stock in case they are needed. We know that things can happen without warning. If it does, you want to feel secure in the knowledge that the necessary parts are readily available from us. As a Nimbus owner you shall feel safe in every way.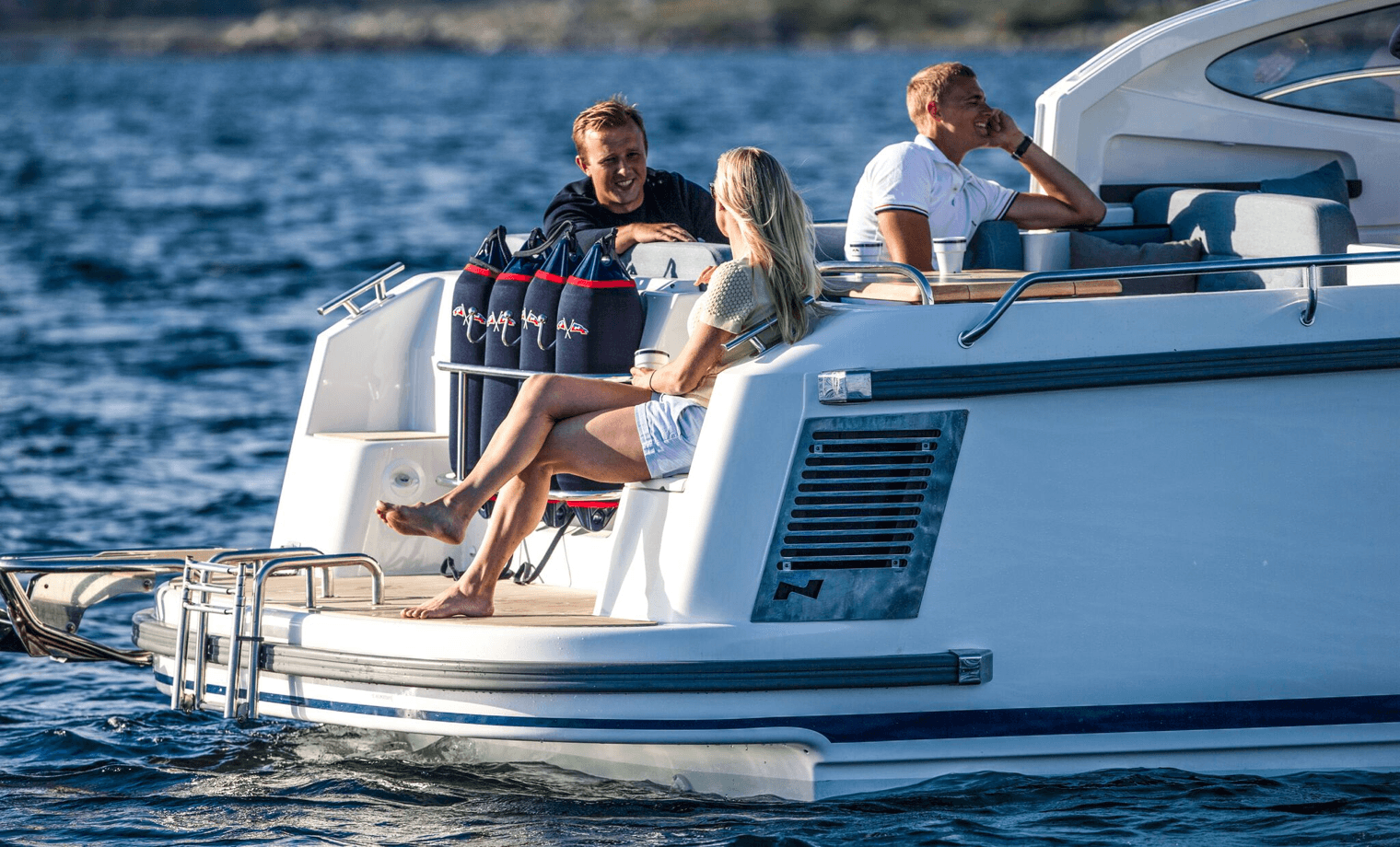 Sidewalk design
"Sidewalk" is an asymmetrical deck layout where the side deck along the starboard side is extra wide and provides generous freedom of movement. It becomes convenient and enjoyable to move about on-board from bow to stern, and easy to get on and off the boat along the entire starboard side. Maximum use is made of the interior volume, allowing the cockpit, salon, lower deck and cabin to be larger than would otherwise be the case in a boat of this size. An important feature of the Nimbus sidewalk concept is the large flush fitted sliding door to starboard.
The sliding door provides quick access when laying alongside and enables the captain to maneuver the boat from a standing position on the side deck. The sidewalk concept also allows the use of the aft deck for various activities. And on the foredeck the extra space is used to integrate a large sun deck as a natural feature of the boat's design.