360° Experience
We'd like to think you instinctively feel it's not just our passion for boating or the quality of craftsmanship that sets Nimbus apart. It's the result of generations of experience made stronger by modern technology.
Below you can experience the Nimbus T11 up-close in a virtual tour.
The T11 is a 12.4-meter-long walk-around for excursions with plenty of space for up to 12 people to socialize or take part in leisure activities, while also providing enough room for everyone onboard to face the direction of travel when moving at higher speeds.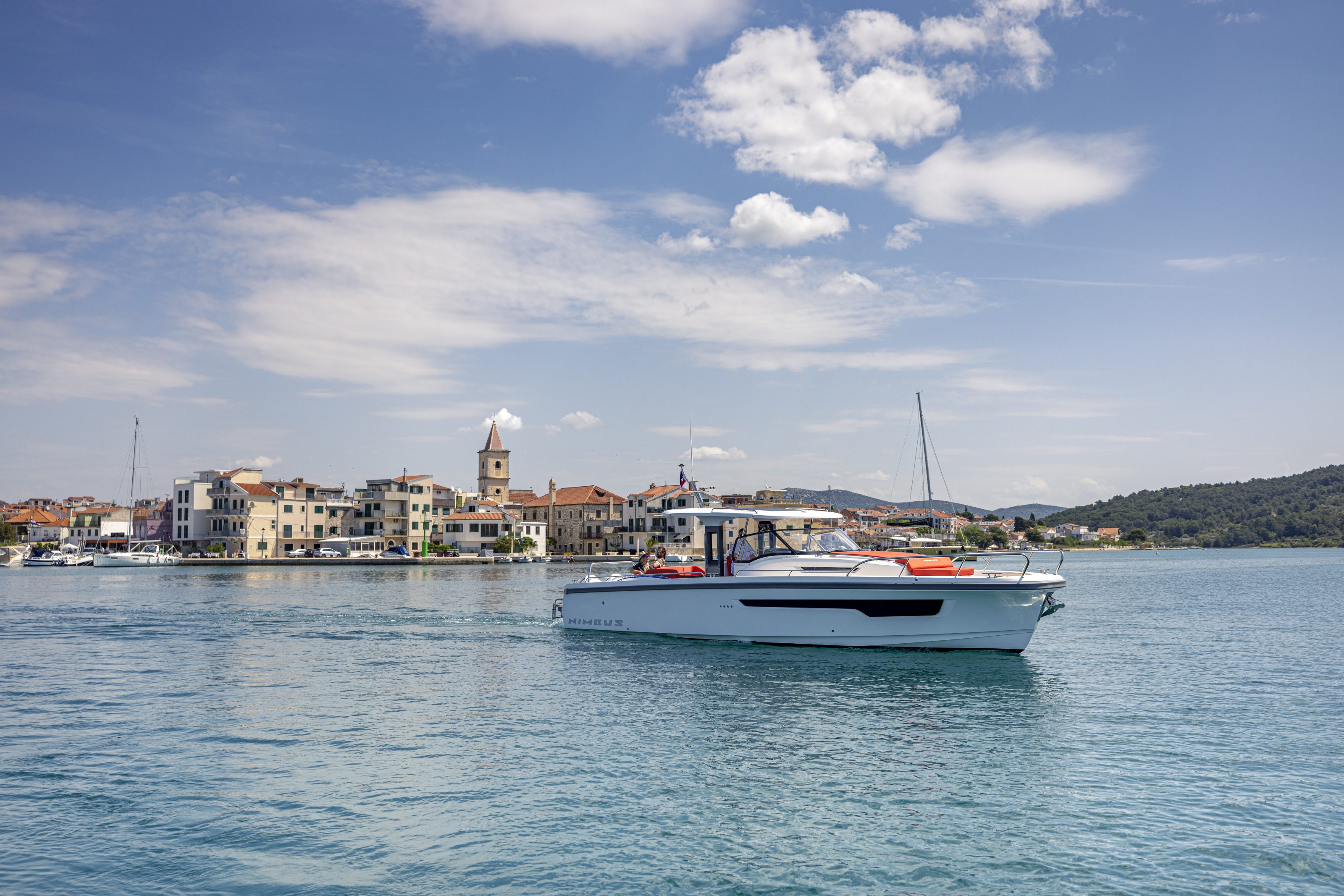 The boating experience
"In the design and development process, we deliberately focused on "simplicity" and "easy living" for everyone on board. This includes being able to easily and conveniently board or deboard the boat, to load, to travel, to stay aboard and to own the boat. Everything that has to do with your Nimbus should feel natural and easy regardless of activity. When things are easy, we quite simply feel more relaxed and can focus on the boating experience", Says Mats Jacobsson, Technical Director at Nimbus.
Simplicity and flexibility
Throughout the design process we were constantly guided by a single question: "What components make for the best days out on the sea together in great company?"
The answer was big, flexible socializing spaces, plenty of room to move around, proper protection from the sun that covers a good part of the boat and several spots to lie back and sunbathe or lounge. It was also plenty of fridge space for storing food and drink, a proper outdoor galley with barbecue, a large swim platform with room for several people to enjoy a dip at the same time and finally an extra-large, but easily accessible stowage area for gear and water toys.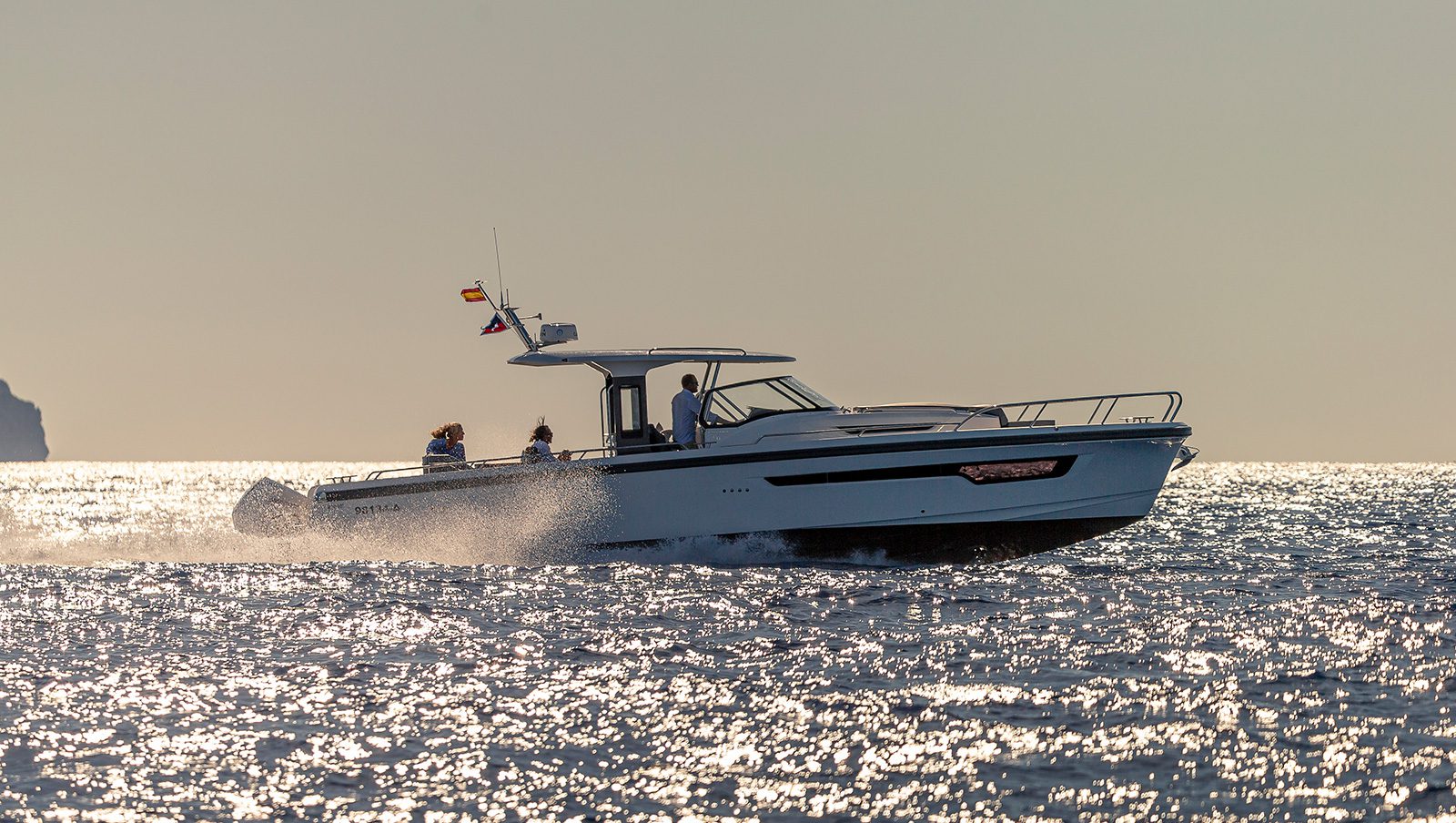 The T11 has a new, well-balanced stepped hull with great high-speed properties in combination with a low planning threshold.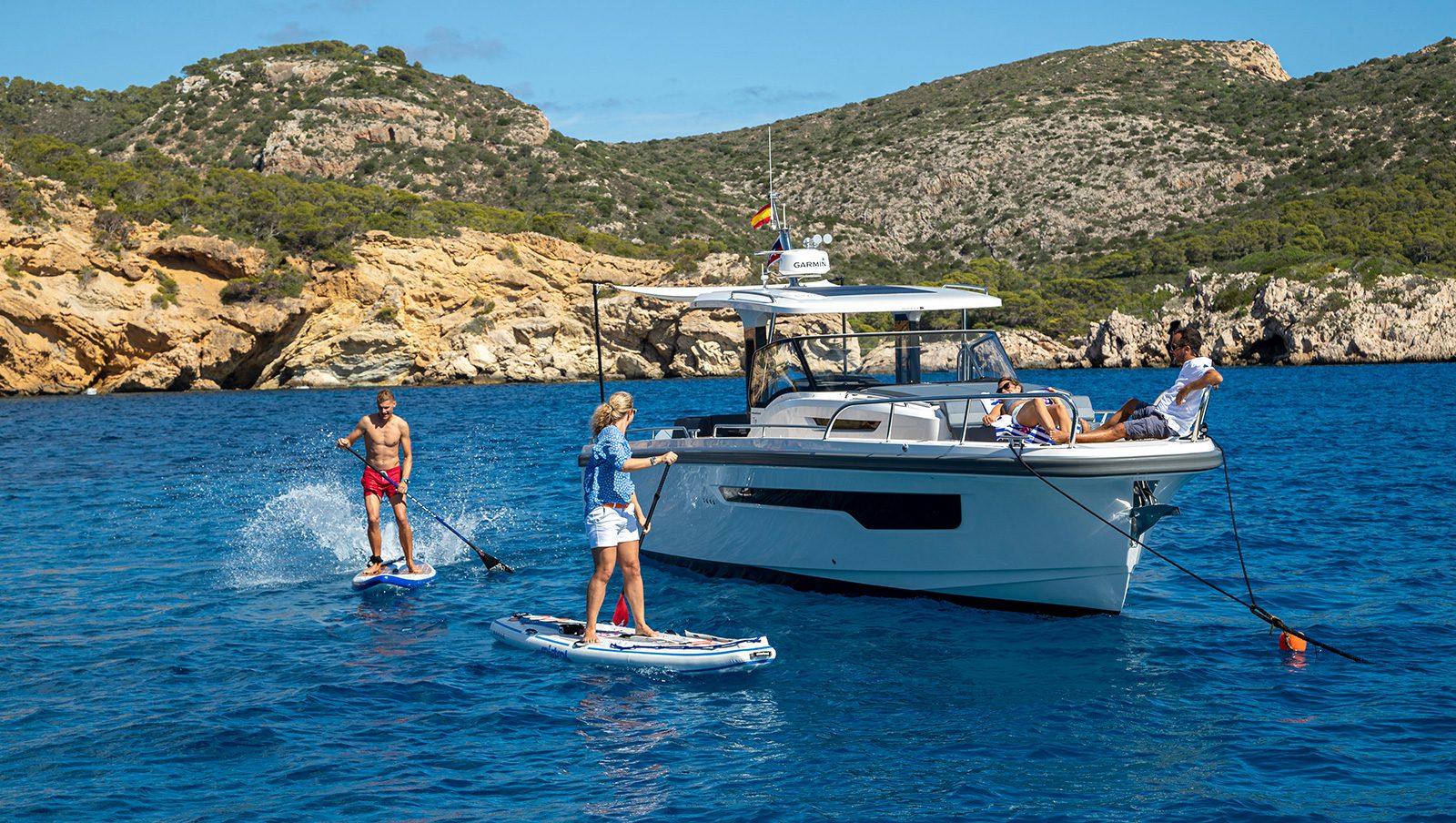 Big, flexible socializing spaces, plenty of room to move around, proper protection from the sun that covers a large part of the boat and several spots to lie back and sunbathe or lounge.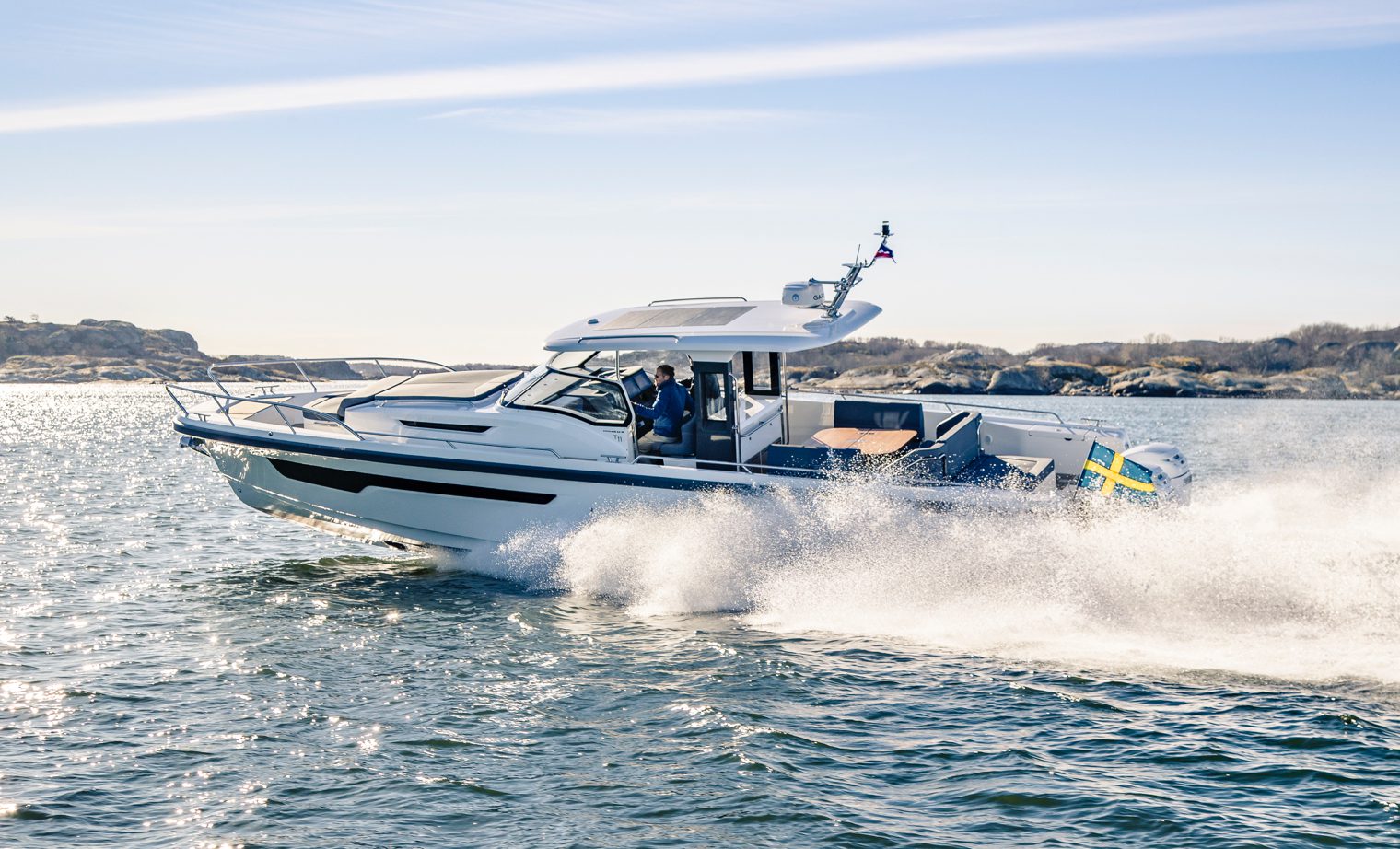 The T stands for Tender, and this is a new interpretation of the Nova and R-series – a multifunctional, snug, quick walk-around vessel that easily adapts to its area of use.
The boat's heart is found in its lounge area. This is an extra spacious and multifunctional socializing space that can be easily adapted for different activities such as cruising, sunbathing, swimming, entertaining, lunch and dinner or a quiet afternoon of reading in the shade. Flexibility is provided by sofas, tables and awnings with simple handles that can be used to rotate, fold and move into different positions depending on the intended use.
The lounge area has a large table and three sofas which, depending on their position, can function as a large sun pad or a seating area that can either have all seats facing forward or alternatively facing one another. The outdoor galley has drawers for cutlery and tableware, a kitchen sink with hot water and space for a gas stove or electric grill. The large stowage space measures just over 2500 liters and boasts a hydraulic opening mechanism that is easily accessible from the aft deck. It has space for everything you could ever want to bring with you, whether that be SUPs, sea bobs, wakeboards or simply an inflatable rubber boat. The swim platform and the aft deck are large and easily provide enough space for several people at the same time.
"We already added some extra deck space, treading surfaces and wide passageways on this boat's little sister, the T9, but the T11 takes things to a whole new level. The surface areas are exceptionally generous and the freedom of movement you get onboard is palpable – not just in the lounge area, but on the aft deck and the foredeck as well. The boat is far from being over-furnished and freedom of movement is something that you truly feel whenever you step onboard" says Joacim Gustavsson.
The cockpit is meticulously put together in typical Nimbus fashion, with extra storage compartments and space for three people to sit in the direction of travel. The foredeck offers room for a divan and a sun bed. Much like the T9 series, the T11 also has a large storage hatch at the front of the cabin. Thanks to the large gunwale sides, the foredeck can also be used as a seating area and socializing space.
Below deck you will find two separate cabins with space for two couples or a family of four. Additionally, there is a spacious bathroom with toilet, shower and sufficient headroom.
"Our customers feel that we have really done our utmost to design the boat in a thoroughly considered way that makes it easy to use no matter your chosen activity. In addition, they also appreciate its excellent sense of 'seamanship' which gives an added feeling of comfort and security onboard"
Joacim Gustavsson
Head Designer at Nimbus Boats Sweden AB
Technical specification
On the link below you'll find a browsable and downloadable technical specification where we'll explain and show you images, features & functionality and more of the Tender 11. Enjoy!
Nimbus T11 - Brochure 2020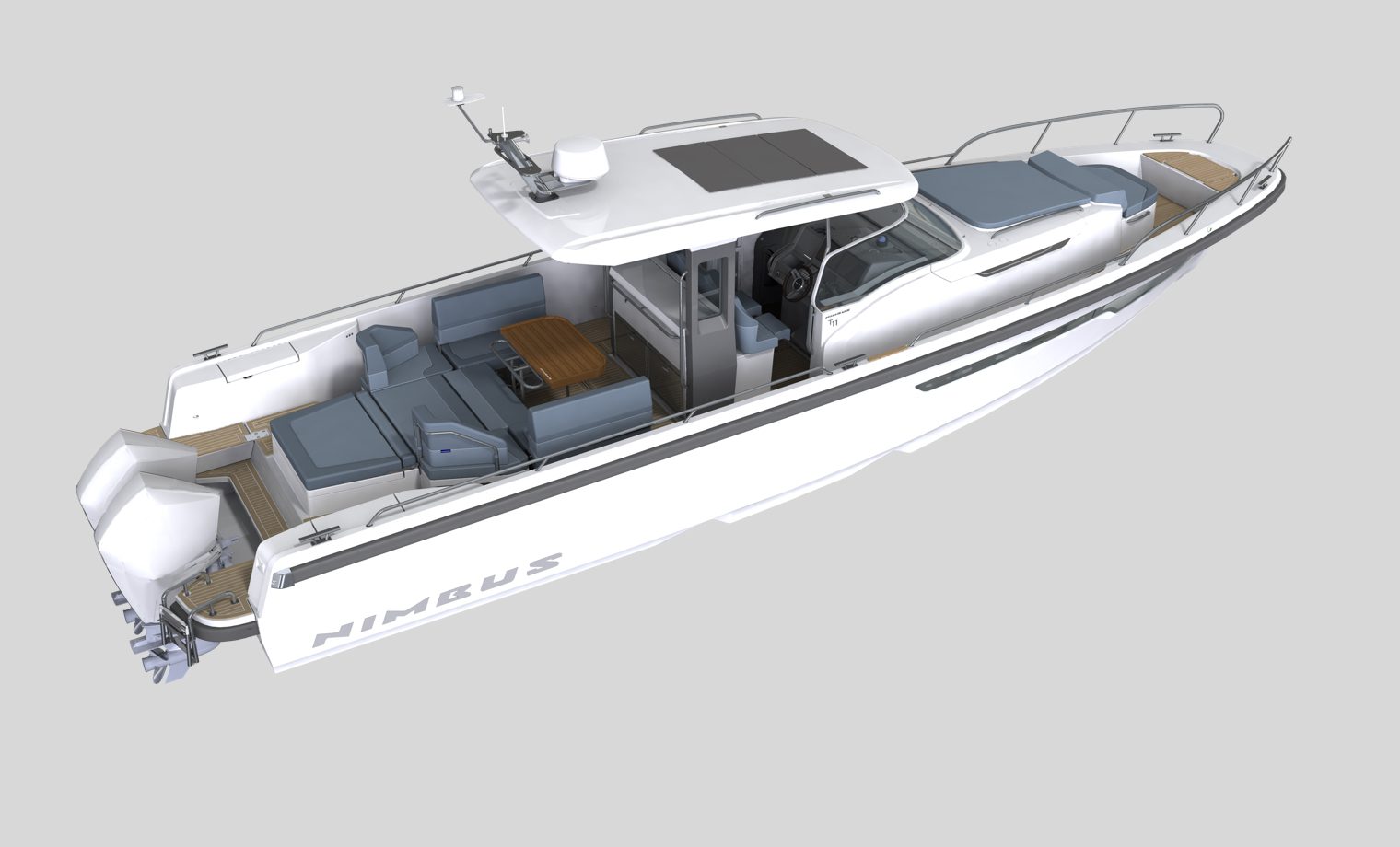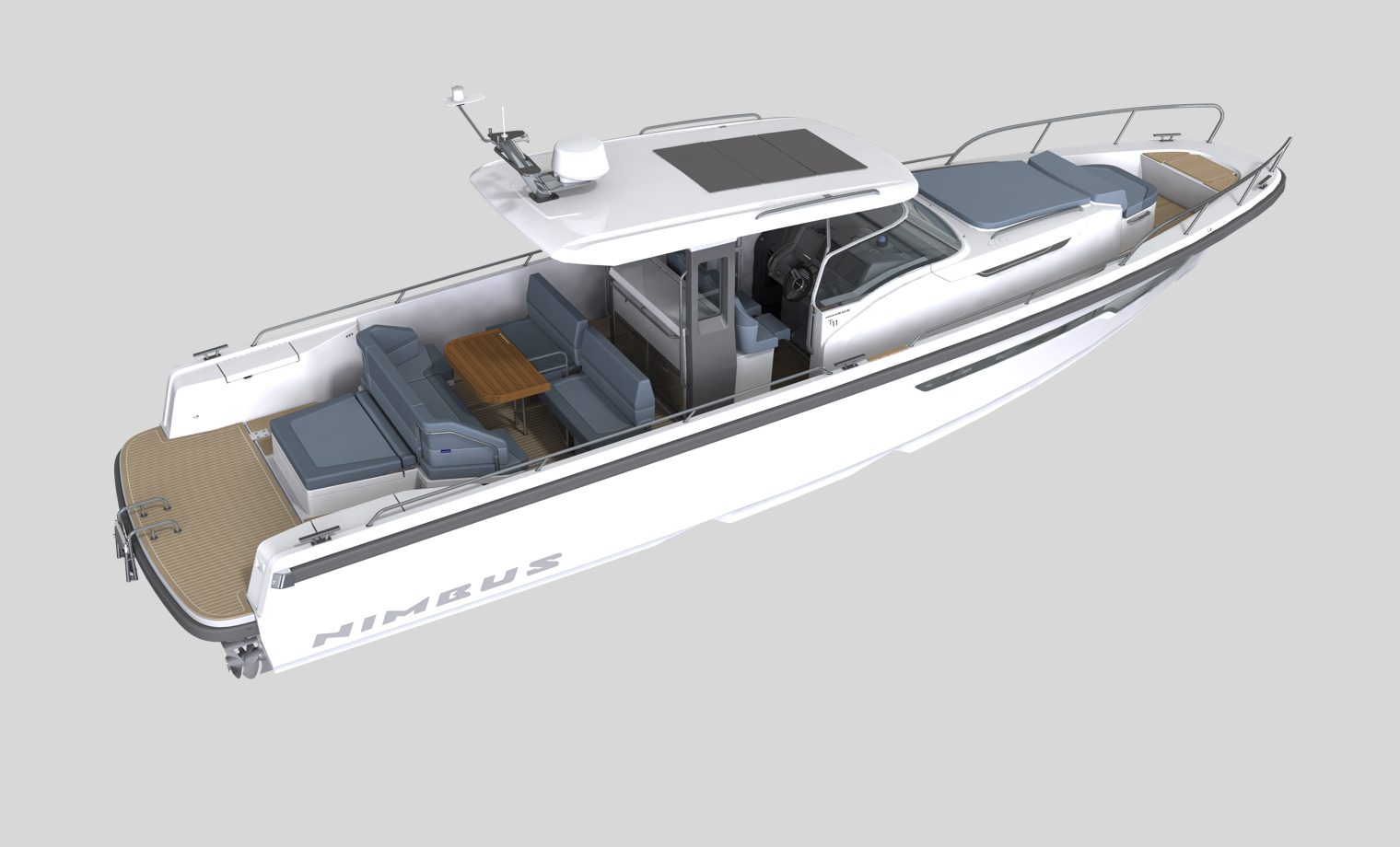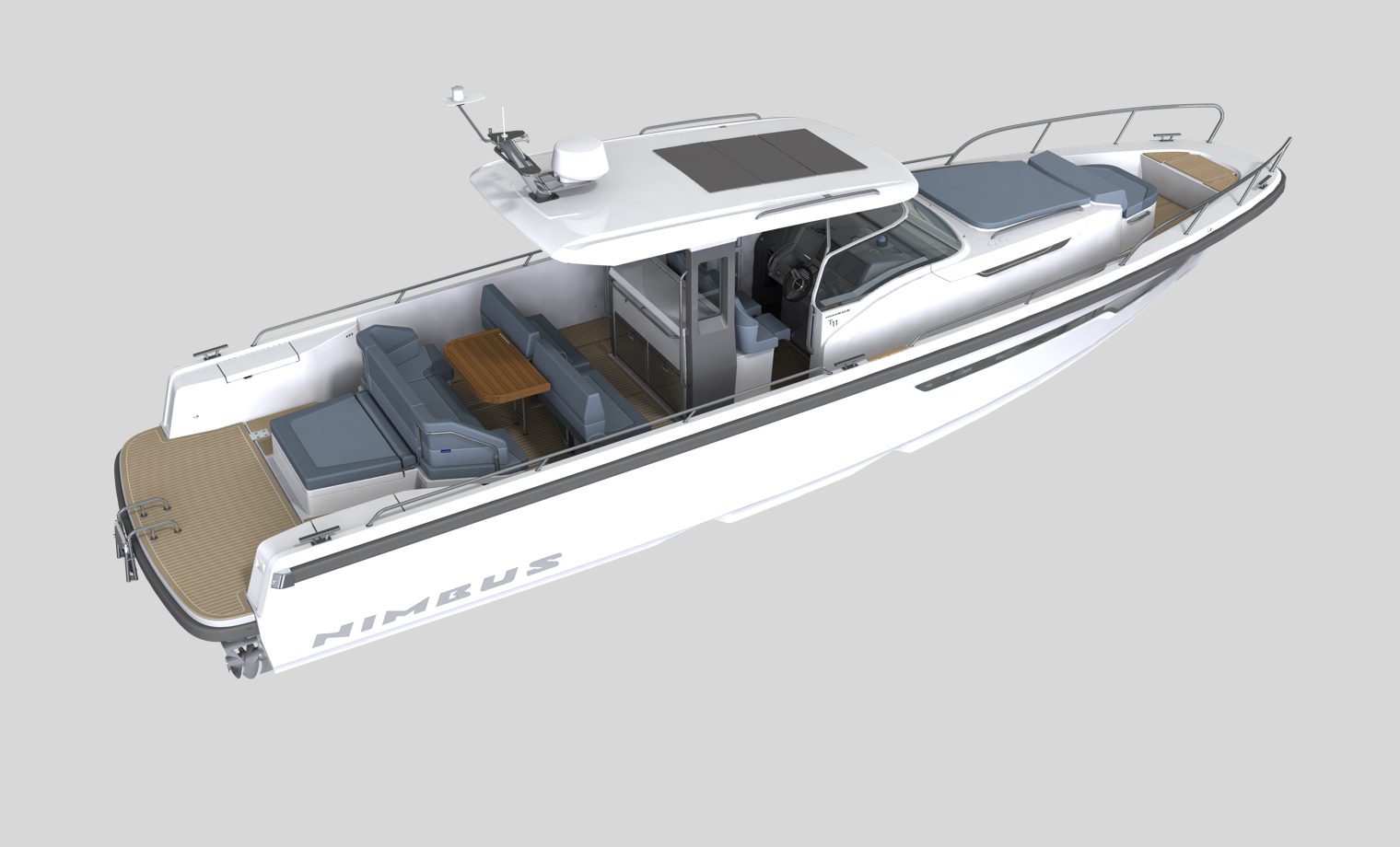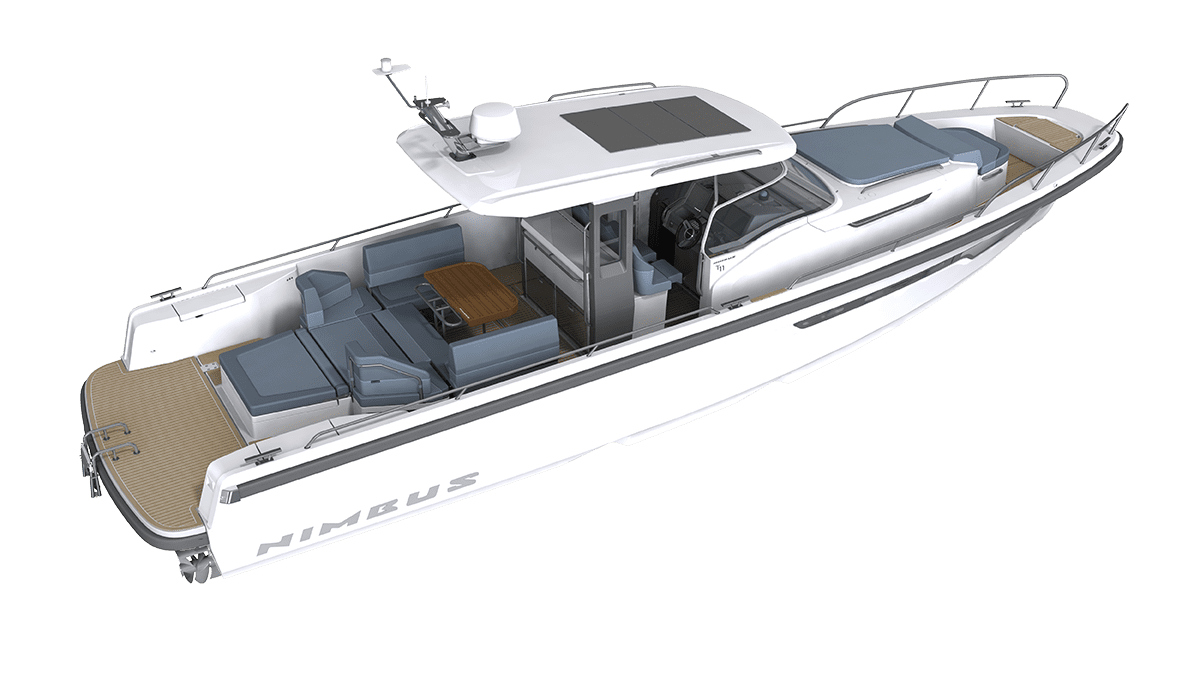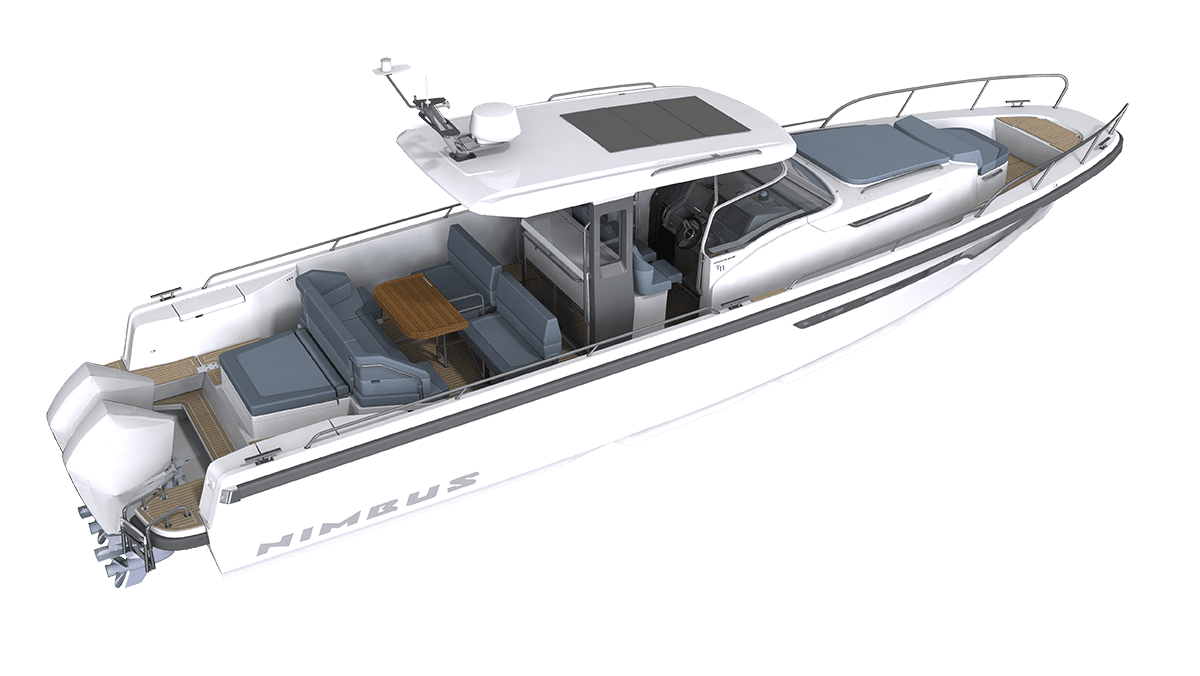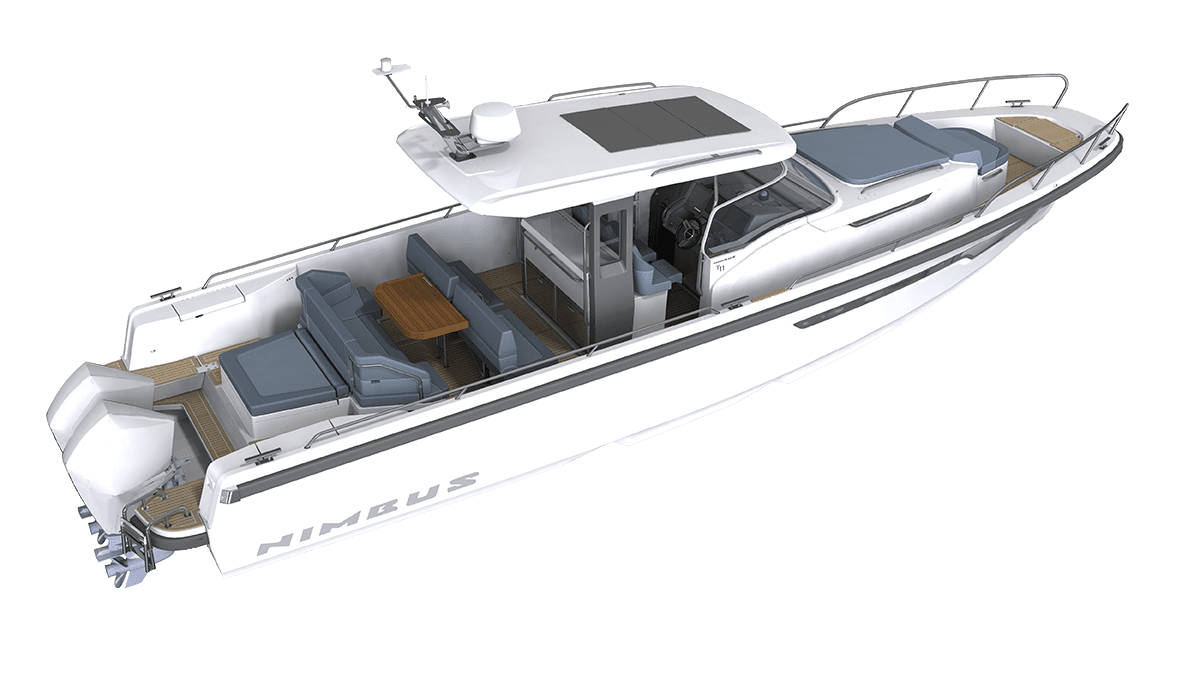 Who is the T11 for?
The Nimbus T11 is a spacious and adaptable day boat for full days on the water spent with family and friends. It is a boat that values seaworthiness, smart functionality, user-friendliness and a careful, contemporary Scandinavian design.
Quick facts
Completely new 11-meter air lubricated stepped hull design
Low planning threshold and razor-sharp bow section
Built for speed, exceptional seaworthiness and handling
Speed characteristics +40 knots, cruising speed 20-40 knots
Walk-around design
Large lounge area with flexible seating arrangements
Large outdoor galley with grill*, refrigerators and/or ice machine*
Electric sun shade on aft deck*
High end HIFI system with subwoofer*
Extra-large aft stowage 2500 liter for gear and toys
Cockpit with seating for 3 people
Dashboard can be fitted with twin12 inch plotters
Double bed in front cabin with separate head and shower
Mid cabin with double bed
Large loading hatch from foredeck with access to cabin
Solar panels on T-top*
Sunbed and divan on foredeck*
Joy stick steering*
Gyroscopic stabilization*
Active trim stabilization*
Diesel generator and air conditioner*
*optional equipment
Technical Specifications
| | |
| --- | --- |
| Length | 12,40 m / 40 ft 7 in |
| Width | 3,46 m / 11 ft 4 in |
| Weight incl. 350hk engine | 5 600 kg / 1 2345 lbs |
| Draft | 0,9 m / 3 ft |
| Max Air Draft | 3,85 m / 12 ft 7 in |
| Fuel Capacity | 850 l / 224.5 US gal |
| Fresh Water Capacity | 135 l / 36 US gal |
| Black Water Tank | 80 l / 21 US gal |
| Grey Water Tank | optional |
| Refrigerator Capacity | 70+70+85 l /2,47+2,47+3 cu/ft |
| | |
| Design Category | B10, C12 |
| Number of beds | 4 (2+2) |
| Speed | +40 knots |
Engine Alternatives
| | |
| --- | --- |
| Mercury Verado V8 | 2x300 hp |
| Mercury Verado V10 | 2x400 hp |
| Volvo Penta D4 DPI | 2x320 hp |
Standard Equipment
2 x Mercury Verado V8 300 hp (COLD WHITE)
Zip wake automatic trim system
Bow thruster SE100
Fresh water system
Separate head with shower
Shower on transom
Refrigerator 70 liter
Simrad Plotter, NSX 12"
LED deck lights
Interior LED lights with dimmer
Lounge with three sofas, table and sunbed