Nimbus boats has a boat building legacy that stretches over 50 years. We have been building premium boats through the decades and like every brand we needed to evolve and keep up with the changes of time. To celebrate our 50th anniversary we have developed a completely new series that contains the-best-of-the-best and represent all of our experience and heritage. Each model with a specific purpose and target audience. Listen to Jonas introduction to the Nimbus 9 series.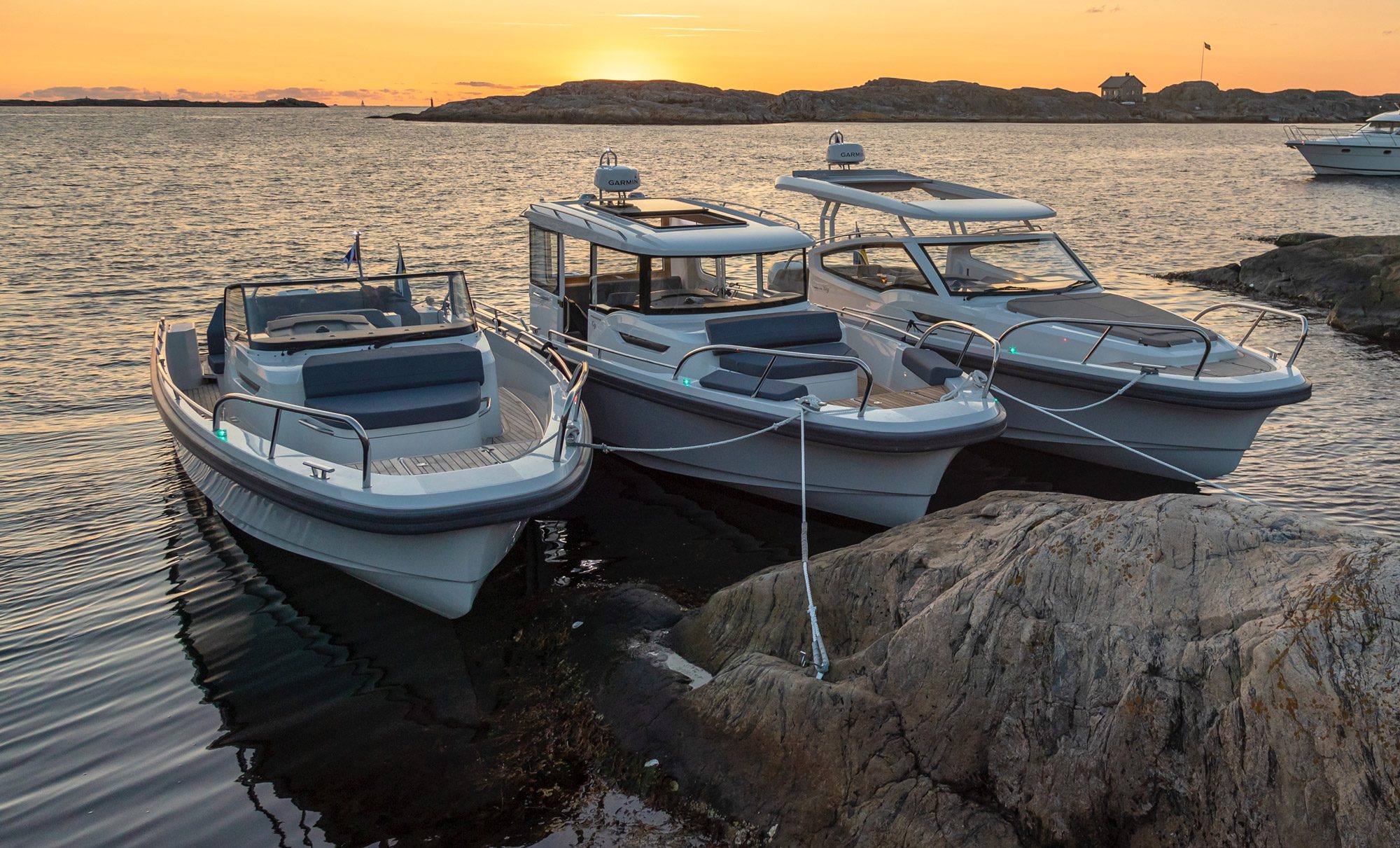 The large, sturdy bowsprit is combined with a stainless steel pulpit for safe and easy boarding and/or loading. Anchor box hatch in the bow. Integrated bow and stern windlass in stainless steel frame. Easy to get at and reduces the risk of stubbed toes.
The new W9 is a reinterpretation of the classic Nimbus day cruiser intended for those with an active lifestyle. The W9 is a high-speed day cruiser and weekend boat for social activities, offering overnight accommodation for 4 people.
Functional design
 for social activities.
The cockpit provides protection for everyone on board with its large window screen. The interior layout and furniture arrangement is specially designed for social activities and entertaining in a variety of situations. One significant asset of the W9 is the unusual ease with which it can change use, for example when it's time to take a dip after a meal on board.
Fast and seaworthy
The Nimbus development team has purposely made every effort to maintain a low centre of gravity and to obtain a beneficial length to width ratio that causes the boat to take a certain wavelength and cover the ocean safely. The new hull makes the W9 fast, with a maximum speed of +40 knots.
Our vision of the perfect day boat that offers great opportunities for individual adaption and is intended for all types of day-to-day activities, such as transportation, water sports and leisure activities.
Versatile wherever you are
The T9 is something of a chameleon and can adapt to most situations, for example transportation to and from a holiday home for most of the year, as a tender for a larger boat, for a variety of water sports, fishing, overnight accommodation or onboard social activities with friends and family. The advantage to the fact that at the design stage we were already considering the need for versatility with many areas of use, is that there are a great many options available when equipping the boat, depending on its intended purpose.
The C9 is a purpose-built, rapid commuter vessel, designed to equally meet the needs of year-round commuters, active day-trippers or those planning longer, staged journeys with overnight stays.
Stay comfortable all year
The C9 is a boat for people who use their boats to get around on a daily basis, who travel in typical Nordic weather throughout the year. Unlike other boats in the commuter category, the C9 offers excellent overnight facilities, with room for three adults and two children thanks to its spacious fore cabin and convertible salon.
Freedom of movement
The C9 is designed to make daily life onboard as easy as possible, irrespective of whether you are travelling alone or with passengers. We have prioritised freedom of movement over interior volume in order to make it as easy as possible to load, board, move around and disembark the vessel.