Electric, silent and zero emissions.
Nimbus 305 Coupé E-Power
The 305 Coupé E-power – an electric Nimbus. The boat is extremely quiet and the loudest noises under way are made by the lapping of the waves and the voices aboard. The boat is primarily intended for use on the waterways of Europe and meets their strict environmental regulations.
Smart Speed Concept
We have worked pro-actively on environmental aspects in all parts of our operation at Nimbus for a long
time and we take our responsibility for the environment very seriously. We have documented our
environmental work within design, production, choice of materials, innovation and construction for several
decades. Building an electrically powered pleasure boat now that the technology is sufficiently mature,
seemed like a natural course to take,' says Jan Erik Lindström, managing director, Nimbus.
The new electric boat is the prize-winning 305 Coupé launched a year ago when Nimbus introduced the
Smart Speed concept – which is based on comfort and safety being more important than high speed.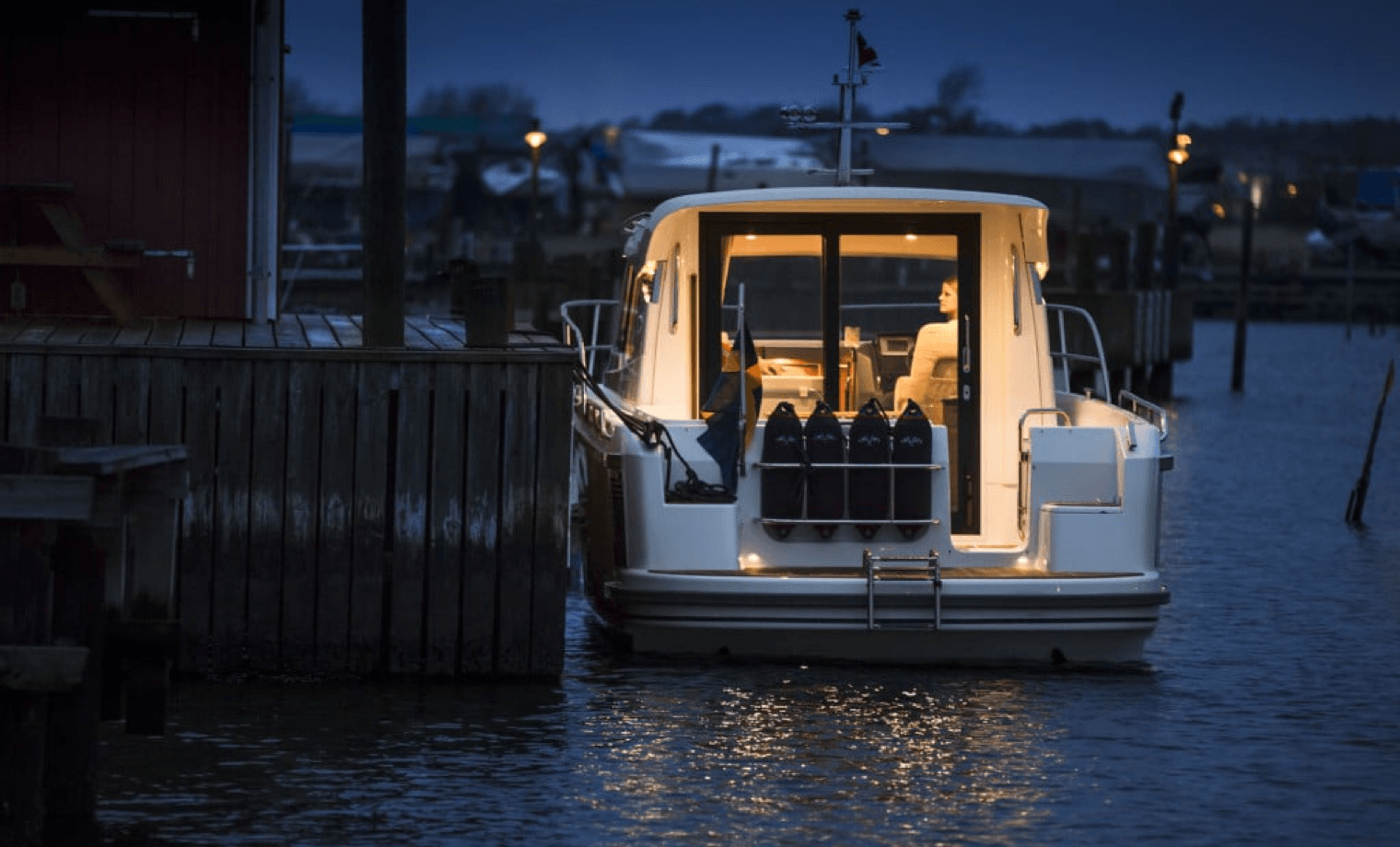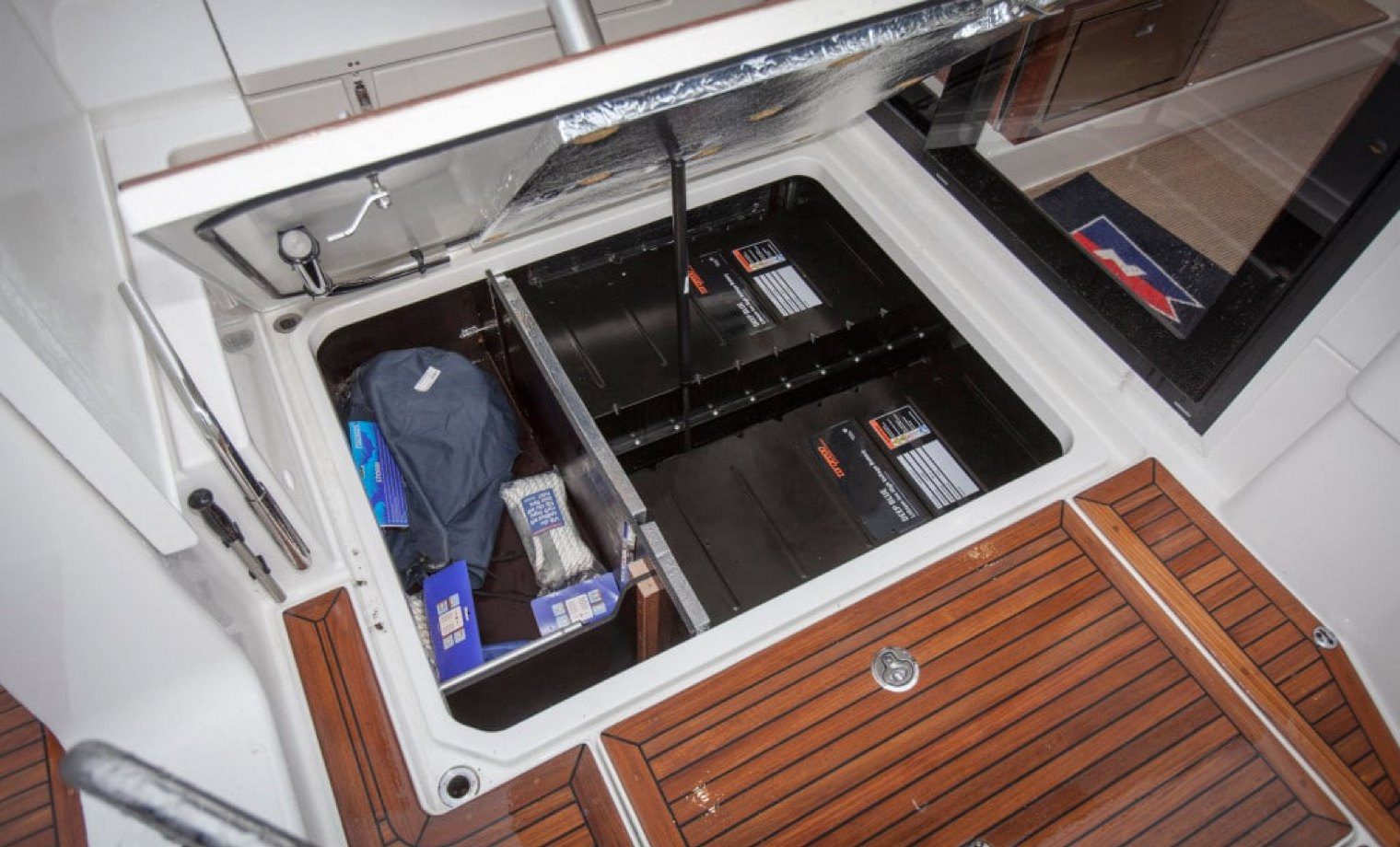 The boat is fitted with a Torqeedo Deep Blue i 1800 rpm drive with two 12.8 kW high voltage batteries
totalling 25.6 kW. Charging takes 8 hours from a 230V source or 4 hours from a 380V. Cruising speed is
5.7 knots with a range of 22 Nm. At 3.5 knots the range increases to 37 Nm. The engine installation can
be upgraded from two to four batteries, giving a total capacity of 51.2 kW and increases the range by more
than 90%. When the boat is driven faster, the batteries empty more quickly.
Electric motor and battery technology have developed quickly in recent years. We had already allowed for electric power in the design when we entered the construction stage of the new 305 platform. The bottom of the 305 is optimised for lower speeds (0-22 knots) and designed to function well with smaller engines. Consequently, the Torqeedo electric motor suits us perfectly
Mats Jacobsson
Chief engineer at Nimbus AB
'Top speed is not a factor in this kind of boat and she should not be compared with other motorboats. A
better comparison could be made with sailboats or gigs that glide along slowly and quietly. In our opinion a
speed of 5 to 6 knots provides the optimal combination of speed and good range,' says Jonas Göthberg,
marketing manager at Nimbus.
Torqeedo is one of the world's leading manufacturers of electric drives for marine use, both private and
commercial. Deep Blue i 1800 is a well-developed and proven system in use worldwide.
The 305 Coupé E-power will be unveiled at the "Boot Dusseldorf" boat show 23-31/1 2016. The 305
Coupé and the new 305 Drophead E-power can be ordered as from this time. The boats are supplied built
on order.
Engine
Torqeedo electric Deep Blue 1 1800 rpm – 80i (80hp)
Battery Power (2×12.8 kW) High voltage (alt. 4×12.8 kW)
| | |
| --- | --- |
| Jonas Göthberg | Niclas Augustin |
| Commercial Director | Technical support & sales |
| | |
| +46 70 535 58 28 | +46 70 720 13 14 |
| jonas.gothberg@nimbus.se | niclas.augustin@nimbus.se |
Nimbus Boats Sweden AB manufacturer leisure boats for the European market. Our brands include Nimbus Boats and Paragon Yachts. Nimbus head office with its permanent exhibition and full service marina is located at the Royal Gothenburg Yacht Harbour in Gothenburg on the west coast of Sweden.