360° Experience
We'd like to think that you instinctively feel it's not just our passion for boating or the quality of craftsmanship that sets Nimbus apart. It is the result of generations of experience made stronger by modern technology.
Here below you can experience the Nimbus C11 up-close in a virtual tour.
The C11 is a fast and spacious year-round Commuter designed for long distance transport with high comfort. What distinguishes C11 from traditional Commuters is that it can easily change its characteristics from "closed" to "open" to better suit day-to-day activities or as a family holiday boat.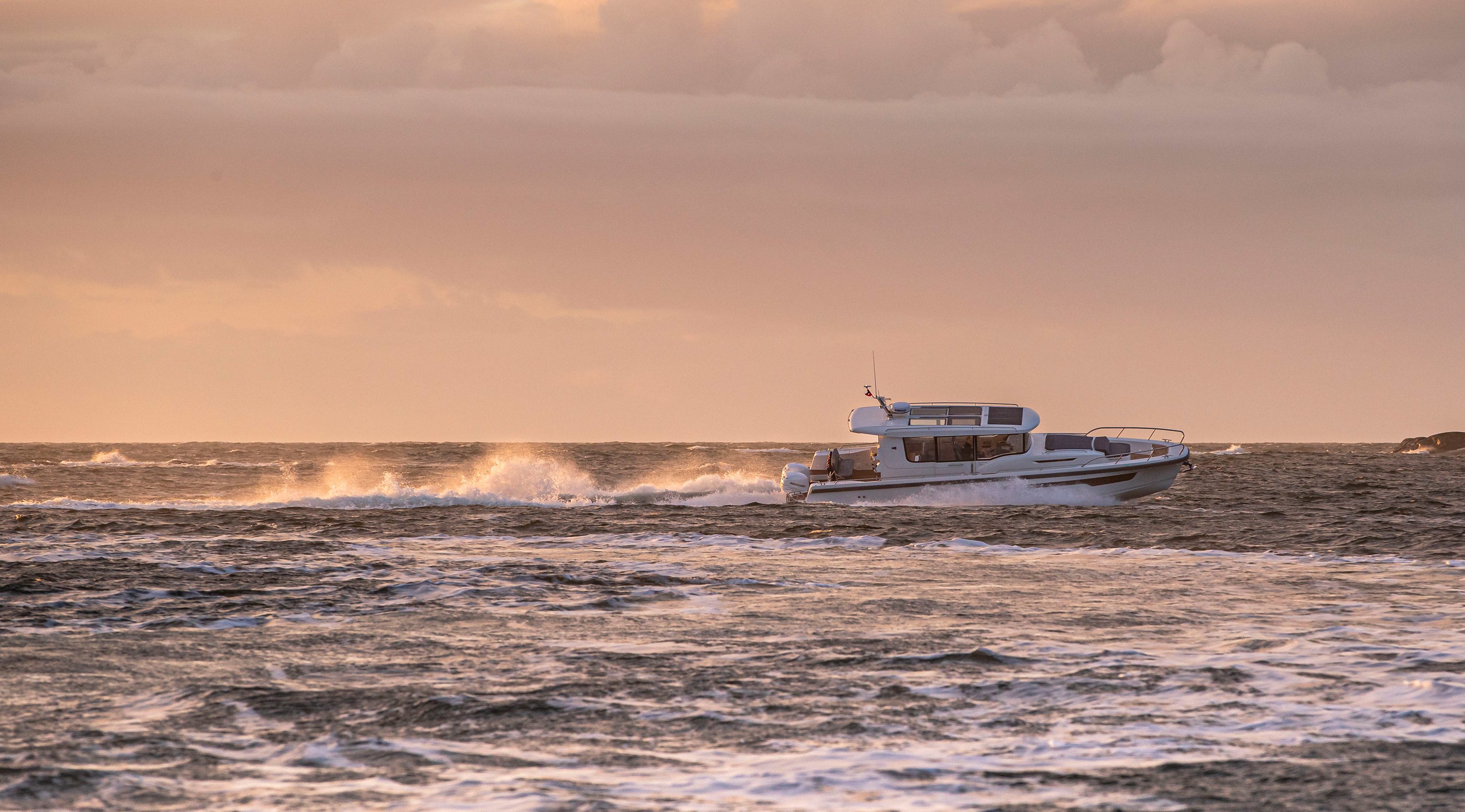 Fast and seaworthy
C11 offers the same solid handling and seaworthiness as the T11. The speed register is between 20-40+ knots and it can easily handle long distances at high speed while maintaining comfort. The range is approximately *225 nautical miles with outboard and approximately *300 nautical miles with inboard (* preliminary data).
The 11-series models are built on the same well-balanced, air-lubricated twin stepped hull that has very good high-speed characteristics combined with low planning threshold. The hull has a sharp bow section for splitting the waves and an added "flare" leads away water spray so that the boat runs dry. The boat is equipped with two Mercury Verado V8 300 as standard.
- "C11 is a multifunctional Commuter that fits several markets with different needs. Regardless of the market, high speed, protected comfort and good seakeeping are valued. But if the boat is used on the Norwegian West Coast, around the Mediterranean or on the North American east coast, the needs will look different when traveling and at destination. Therefore, we see a clear advantage that the boat has naturally high flexibility and more uses than a traditional Commuter," says Jonas Göthberg, Commercial Director at Nimbus.
Flexible spacious saloon
The C11 is designed to easily transport up to 9 people fast, protected and comfortable year-round, regardless of weather conditions. What stands out is the flexibility of the boat which gives it more uses.
The heart of the boat is the cozy spacious saloon with large light inlets and a seating arrangement that can easily be adjusted depending on activity. For example, transport for 9 people in the direction of travel, dinette for lunch or a large u-sofa for socializing. The flexibility comes from the fact that the two sofas can be folded and moved to different positions depending on the desired functionality with simple handles and that the table can be raised, lowered, rotated and folded. The saloon has several easily accessible stowage compartments.
The high ceiling height and natural lighting in the salon combined with fully opened side doors, open stern door and fully opened roof hatches gives the feel of an open boat.
The helm seats two people in typical snug Nimbus manner and has plenty of storage compartments. As a driver you can choose to stand or sit while driving. The dashboard has space for two 12-inch plotters. Options include professional suspension seats and joystick steering.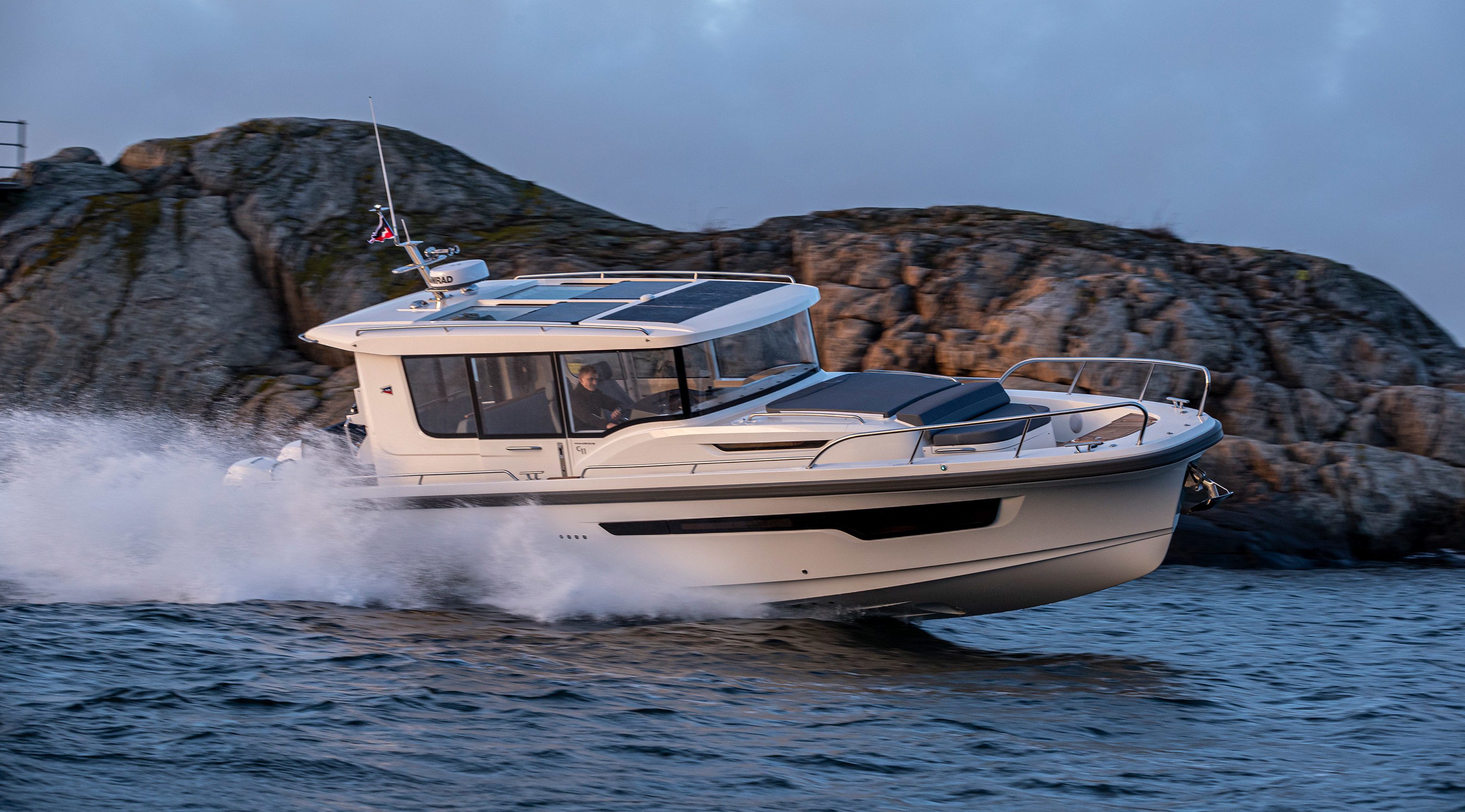 The panoramic windows providea a feeling of 360° field of view.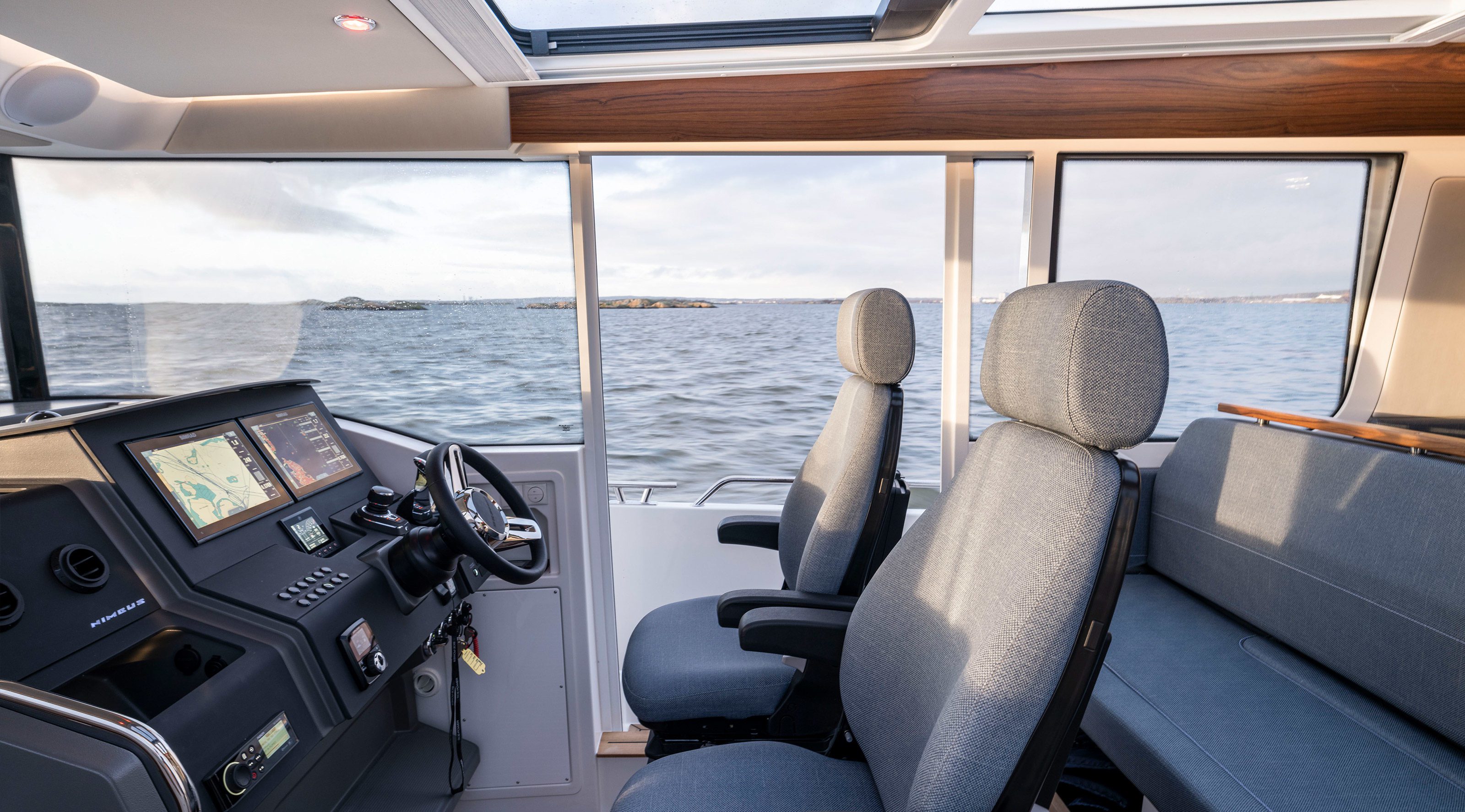 The dashboard has space for two 12-inch plotters. Options include professional suspension seats and joystick steering.
Wide passages for extra freedom of movement
Like the sibling T11, the C11 has plenty of social areas on deck, a wide walk-around with extra generous deck space and wide passageways that provide significantly good freedom of movement on board. The wide sliding doors allow two people to easily pass each other in the doorways without being crowded. The C11 is easy and convenient to board or disembark and is easy to load or unload.
The large aft deck can be used as a load surface and has a folding bench with fender holders. The aft deck holds an easily accessible storage space that measures 2500 liters intended for gear, tools and luggage. The bathing platform and aft deck are well sized and can easily accommodate several people at the same time. There is an option of an extra external helm with plotter and joystick on the starboard aft deck.
The foredeck offers room for a divan and a sun bed as well as a large cargo hatch with access to the front cabin. Thanks to the large gunwale sides, the foredeck can also be used as a seating area and socializing space.
Below deck you will find a fully equipped galley, two separate cabins with space for two couples or a family of four and a spacious head with toilet and shower with sufficient headroom.
The C11 is prepared for air conditioning, diesel generator (genset), gyro stabilization, joystick steering, roof racks, professional suspension seats, solar panels and much more.
Technical specification
On the link below you'll find a browsable and downloadable technical specification where we'll explain and show you images, features & functionality and more of the Commuter 11. Enjoy!
Nimbus C11 - Brochure 2020
Our ambition has been to create a multifunctional contemporary Commuter that feels natural to use for several activities such as fishing, swimming, socializing or vacation. It should be just as useful for social contexts in the sun as for transport in rain and cold. Normally we protect against the weather and wind, but the C11's saloon can easily be opened in sunny weather and let in the sun to let everyone on board take in and enjoy the light. If there is too much sun, you simply fold out the sun protection or start the air conditioning.
Joacim Gustavsson
Chief Designer at Nimbus Boats Sweden AB
Who is the C11 for?
Nimbus C11 is a fast, multifunctional Commuter for long distance transport in Scandinavia, the Mediterranean and North America. It's an easy-to-use, smart boat for those who want greater freedom, more uses, who value seaworthiness and caring contemporary Scandinavian design.
Quick facts
Speed characteristics +40 knots, cruising speed 20-40 knots
Air lubricated twin stepped hull design with low planning threshold
Built for speed, exceptional seaworthiness and handling

Walk-around design

Spacious saloon with large light inlets
Sofas in saloon with three functional modes (transport, dinette, u-soffa)
Extra wide side doors and sliding glass door in aft
2 x electric glass roof hatches
Extra-large aft stowage 2500 l
Cargo hatch on fore deck with access to fore cabin
Sun shade on fore deck and aft deck
Double bed in front cabin
Mid cabin with double bed
Separate head with shower
Sunbed and divan on foredeck*
Diesel generator and air conditioning*
Humphree active stabilisation*
Gyroscopic stabilization*
Joystick steering*
Roof racks*
*optional equipment
Technical Specifications
| | |
| --- | --- |
| Length | 12,40 m / 40´ 7" |
| Width | 3,46 m / 11´ 4" |
| Weight (no engine) | 6600 kg / 14550 lbs |
| Draught | 0,9 m / 3´ |
| Height | 3,75 m / 12´ 3" |
| Fuel Capacity | 850 l / 224,5 US gal |
| Water Capacity | 135 l / 36 US gal |
| Black water tank | 80 l / 21 US gal |
| Grey water tank | optional |
| Refrigerator Capacity | 75 l / 2,65 cu/ft |
| Design Category | B10, C12 max 12 persons |
| Number of beds | 4 (2+2) |
| Speed | +40 knots |
Engine Alternatives
| | |
| --- | --- |
| Mercury Verado V8 | 2x300 hp |
| Mercury Verado V10 | 2x400 hp |
| Volvo Penta D4 DPI (awaiting sales start) | 2x320 hp |
Standard Equipment
2 x Mercury Verado V8 300 hp (COLD FUSION WHITE)
Zip wake automatic trim system
Bow thruster SE100
Fresh water system
Separate head with shower
Shower on transom
Refrigerator 75 liter
Simrad Plotter, NSX 12"
LED deck lights
Interior LED lights with dimmer
Seating with large sofas and table